For many families, summer in Costa Rica means a family trip to the coast. In Guanacaste, days full of sun during this time of year are well suited to outdoor activities, and Las Catalinas is a town that particularly fits summer family vacations in Costa Rica.
There's an easy permeability between indoors and outdoors that lets days flow between home, town, and nature. Town's walkability means that activities are never far away, kids can experience freedom, and chance meetings with friends and family are common.
There are also quite a bit to do in the water with the family, experiences which range from active outdoor adventures to beautiful dinners out on the cool evening sands of the beach.
Citizen Science Catamaran with ConnectOcean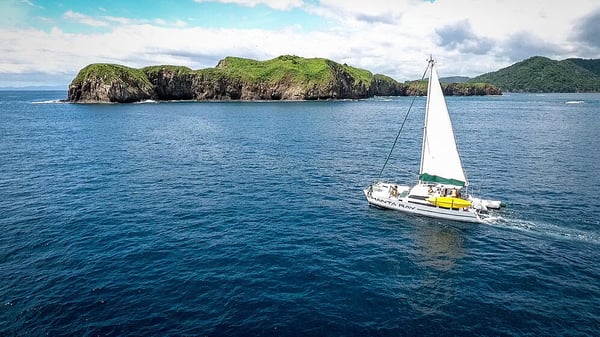 One of the best ways to experience the coast of Guanacaste is aboard a catamaran sailboat, surrounded by the gentle waves, warm breeze, and panoramic views of the coastline. There are many ways to enjoy a catamaran trip in Guanacaste, and one of the most diverse and interesting is with ConnectOcean's Intertidal and Coral Reef Explorer trip.
What is ConnectOcean?
ConnectOcean Expeditions is a PADI certified diving school and Marine Ecology Center that offers an Open Water Certification Course with access to some of the best diving experiences in Costa Rica and education about the conservation of the country's vibrant aquatic ecosystem.
The Intertidal and Coral Reef Explorer trip combines two of ConnectOcean's programs into one experience that explores bays, beaches, and tide pools on the Guanacaste Coast.
Focusing on the two very different ecosystems of the Intertidal zone and Coral Reefs, the family has a chance to discover the natural beauty and wildlife of the area up close, with a shore excursion, multiple snorkeling sites, and an optional dive. Along the way, the ConnectOcean team provides an educational and conservationist's perspective on these interconnected environments that they are working to protect, and there are a wide variety of snacks, fruit, and an open bar for refreshments.
A Paddle Around the Bay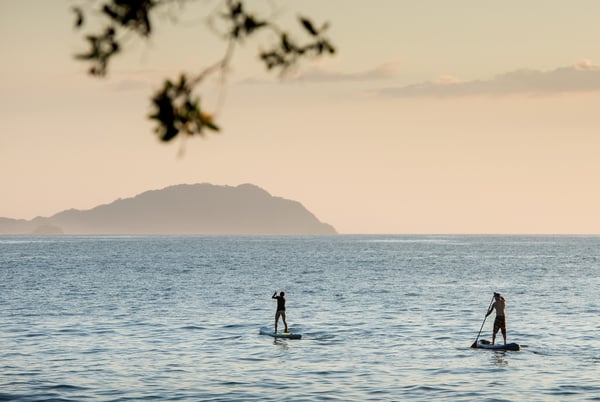 Set out from Playa Danta onto the calm waters of the bay beyond town, where the islands, rock reefs, and gentle waves play host to a colorful variety of birds, reef fish, rays, and other creatures. Sheltered by the Islotes Pitahayas, the cove just offshore is a gentle start for paddlers of all skill levels to get used to a paddle board or kayak, and during the summer it's only a short paddle out to see the sun hit the Pacific.
A paddle experience is adaptable to the interests and skill of each family. Local outfitter Pura Vida Ride offers rentals of paddle boards and kayaks for all skill levels to freely explore the bay, and also offer a few guided trips.
Beginner paddlers can set out with a guide to learn the basics of paddling and explore the bay. Intermediate paddlers can book SUP Yoga out on the water, or go on a longer guided tour around the bay, returning towards Playa Dantita.
For more experienced paddlers, guided trips venture beyond Puntas Guachipelines and Penca, requiring more fitness and skill on the board to handle more active waters. To the north are Playas Carmel, Playa Guacamaya, and Playa Zapotal, each of which feel like hidden destinations of their own to discover on a paddle adventure.
Learning to Surf with Frijoles Locos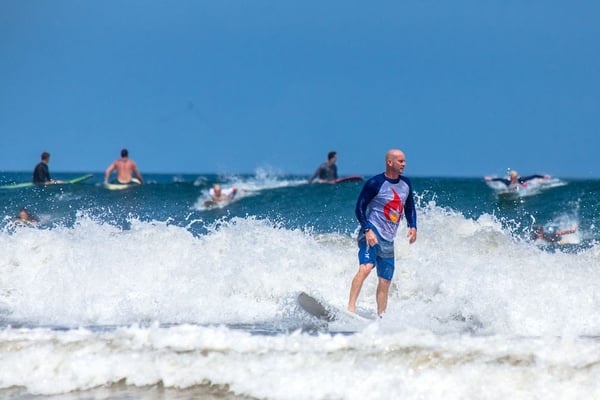 Guanacaste is a world-class surfing region, with more than a dozen breaks in the area including some of the world's most famous surfing locales like Witch's Rock and Ollie's Point. Thanks to this wide variety of waves, Guanacaste is also one of the best places in the world to improve as a surfer. Those just starting out on a board can ride gentle waves to get a feel for the water, intermediate surfers can refine their technique and get pointers on their form, and experts can find challenging waves to push themselves to the next level.
For a family trip, Frijoles Locos at Playa Grande are a surf shop with a friendly and experienced team of instructors. Frijoles Locos offers rentals and lessons for surfers ranging from those just learning the ropes to surfers looking to hone their skills on short boards. It's a chance to learn and practice an active and fun ocean sport, and thanks to the varied surf at Playa Grande the whole family can learn to surf together.
Sunset Barbecues on Playa Danta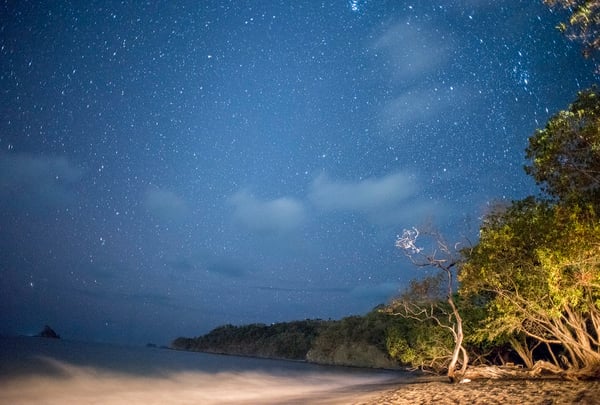 Time in Las Catalinas provides a chance to slow down and connect with nature in many ways. A day on the waves or the trails, a hike around town, or sitting on a front porch enjoying the clean summer air all present a chance to unplug, take a breath, and embrace a more natural rhythm.
Another way to embrace this rhythm is with a sunset barbecue on Playa Danta, surrounded by the forested beachfront, the waves breaking just down the beach, and the starry Guanacaste skies just above. Lit by torchlight, these flame grilled meals take a few steps in time to a more primal way of dining, with fish sourced from Guanacaste waters, fresh regional meats, and seasonal vegetables and herbs.
Fresh Water Experiences Inland in Guanacaste
The trails and the ocean at Las Catalinas provide a wide range of activities that can fill a stay with any length. However, there are also a few trips inland to explore the freshwater rivers and springs throughout Guanacaste.
Hot Springs of Rio Perdido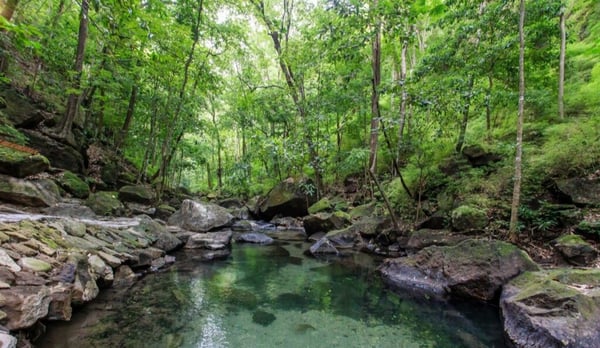 Hidden away in the inland canyons around La Fortuna and surrounded by lowland tropical forest, Rio Perdido presents a relaxing day trip. Foremost are Rio Perdido's hot springs, and the area also features a full spa, and trails with expansive views of the canyons, sweeping landscapes, and the volcanoes beyond, all just under 2 hours drive from Las Catalinas.
The Waterfalls of Kiwanda Maji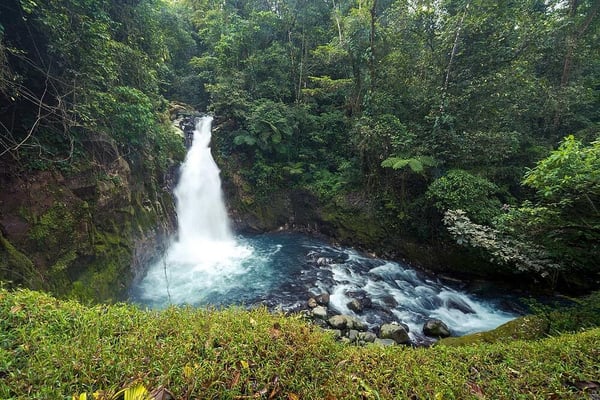 A chance to immerse in the Costa Rican rainforest around Kiwanda Maji following an easy walking trail leading to four different waterfalls. Along the way is Laguna Azul, a spring water lagoon whose water is tinted an electric blue and sources directly from the nearby volcano, and there is also a local farm and restaurant for a meal sourced on property. Driving time is a little over 2 hours.
Tenorio River Rafting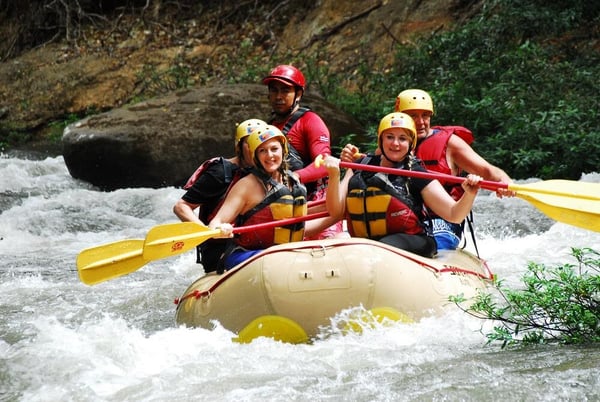 Departing from Las Catalinas, the nearest white water rafting is a little over an hour and a half away on the Tenorio River, which features a mix of class I, class II, class III, and a single class IV rapid on a stretch through the rainforests of Tenorio Volcano National Park. It's a thrilling family adventure through the heart of a tropical rainforest forest, with stops at hidden waterfalls to swim, a vibrant surrounding filled with wildlife like sloths, and plenty of excitement on the rapids.
A Beach Day at Danta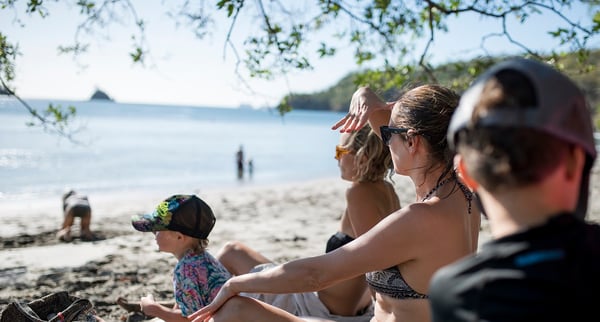 In addition to the many experiences to discover in the waters Las Catalinas, all that's needed for a beach day can be found steps away on Playa Danta, a .5 km long black sand beach surrounded by the calm waters between Punta Penca, Punta Guachipelines, and the Islotes Pitahayas. Volcanic rock formations on north and south ends of Playa Danta form tidepools at low tide and offer snorkeling any time of day, and there are trees all along the beachfront that offer plentiful shade.
Nearby, Pura Vida Ride outdoor outfitter has boogie boards, snorkels, towers, water balls, balls for every beach sport, as well as snacks and coffee. Limonada restaurant has a selection of games like corn hole, slack line, giant jenga and a diverse menu of beach bites. Evening events like Sunset Gin & Tonics at the Santarena Hotel punctuate an evening, and Ponciana restaurant opens to Plaza Danta for an afternoon cocktail and pintxos, or dinner.
Whether out in the sand and surf, or under the shade of the beachfront, Playa Danta presents all the pieces for a classic beach day. To add to the trip, book a base camp at the Santarena Hotel or with the vacation rentals of the Las Catalinas Collection, for a cool and comfortable room at the Hotel to use as a space to rest, change, and relax during a lively day on Danta.
Visit for a Family Vacation
As the winter rolls on in the colder climates, the summer is in full swing in Las Catalinas, bringing lots of sun and more of the warm, welcoming weather for family time in nature and the outdoors throughout the year.
Once in town, the concierge team at Las Catalinas can organize each of the above experiences, as well as any other activities around town and the surrounding areas. To learn more and reserve a spot for your family, simply reach out to them at concierge@lascatalinascr.com.