Beach Town Travel presents three-fold options for travelers to the destination of Las Catalinas: the cultural and ecological tourism the country's tourist industry was founded on, a perspective on the New Luxury of pampering through connection, and as a growing trend of sabbatical-style stays. Within the walkable beach town on the coast of Guanacaste, there's something for every form of traveler, in a Town built out of the pursuit for a better way to live.
Beginning in the latter half of the 20th century, travelers were drawn by the natural beauty of Costa Rica, which became the founding place for ecotourism. As this burgeoning tourism industry began to mature, the travel options available in the country diversified, including a new wave of luxury brand hotels and resorts that offered an alternative to more traditional ecolodges.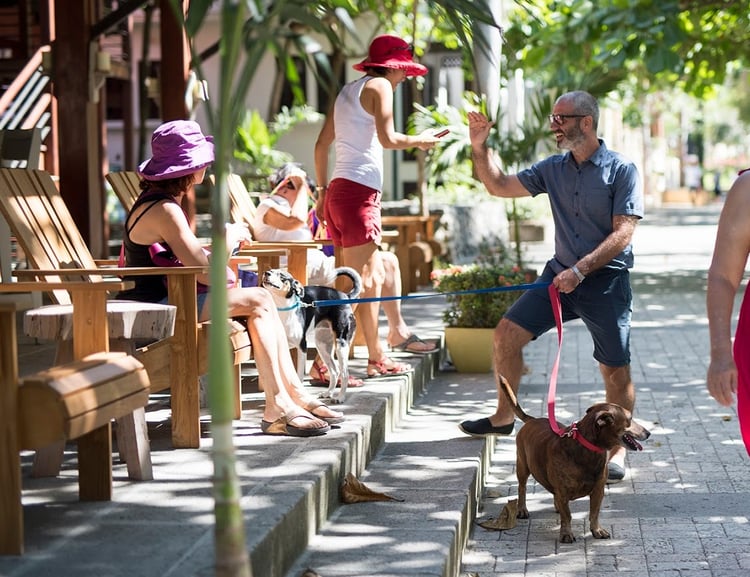 Las Catalinas blends an ecologically conscious, walkable urban plan with timeless traditional architecture
Recent years lead to the emergence of a third travel trend, of which the Baranda collection in the Las Catalinas Collection of homes is at the cutting edge. In a world that continues to grow faster and more hyperconnected, the need to take a break and downshift to a more sustainable way of life for a day, a week, a month, or a full sabbatical year is more needed than ever before. This need has led to a new form of travel, the modern sabbatical.
This new form of travel offers the chance to step away from the busyness of life to engage and connect with nature and others. In Las Catalinas, this experience is made possible by combining the comforts and luxury of vacation, a thoughtfully designed town built around people and their wellbeing, and the authentic warmth of the country.
The vacation rentals of the Las Catalinas Collection have lodging experiences for travelers seeking quality options for all three of these forms of travel. The homes of 229 offer well-appointed home bases, with services and amenities ideal for a beach stop on an ecotourism tour of Costa Rica. Bon Vivant vacation rentals offers luxury through thoughtfully crafted travel experiences, attentive and insightful service from a designated concierge team, house mom service in beautifully designed and elegantly appointed residences. Baranda homes provide a chance to immerse in town and nature, become a true resident for a stay, and connect with the way of life in Las Catalinas on a modern sabbatical.
Ecotourism in Costa Rica
Costa Rica's 28 national parks and protected areas are the home of more than 6% of the planet's biodiversity, offering a biologically intense landscape with enough variance to explore for a lifetime. Combined with the vibrant local communities and welcoming culture, the country became very attractive to travelers in the late 1980s.
Wildlife tracked in the reserve at Las Catalinas
Recognizing these strengths, the Instituto Costaricense de Turismo (ICT) positioned Costa Rica at the forefront of the responsible travel movement. This led to the birth of ecotourism in Costa Rica, where travelers would tour multiple biologically notable destinations for a few days each during a circuit around the country. The tourism industry in places like the Caribbean coast, Puerto Viejo, Osa Peninsula and Santa Teresa blossomed as a result, including the rise of the town of Monteverde as one of the country's premier destinations. This same care for the natural world has deeply influenced Las Catalinas as well, which has grown to provide a new perspective on ecotravel in the country.
229 for the Ecotraveler
Ecotourism travelers traditionally book a few nights each on a multi town tour through Costa Rica and is still the most common form of travel to the country. Over the years, these journeys have evolved. Ecotourism travelers often thrive on the independence to explore, and care more about the experiences they pursue in the country than specific amenities provided as a part of their lodging experiences.
229 offers this balance, providing the smart ecotraveler options for conscious, healthy, active, and sustainable, recreational and adventure sports tourism. Comfortable and reliable lodging offers independence, and support services offer peace of mind and consistency without limiting freedom. Ultimately, 229 is a streamlined, independent travel experience, with any needed resources easily accessible.
The New Luxury in Costa Rica
Ecotourism's smart eco lodging accommodations propelled Costa Rica as a vacation destination to a global audience. From there, the influx of travelers to national parks, friendly towns, and pacific coast beaches opened the door to a new branch of tourism, luxury vacations.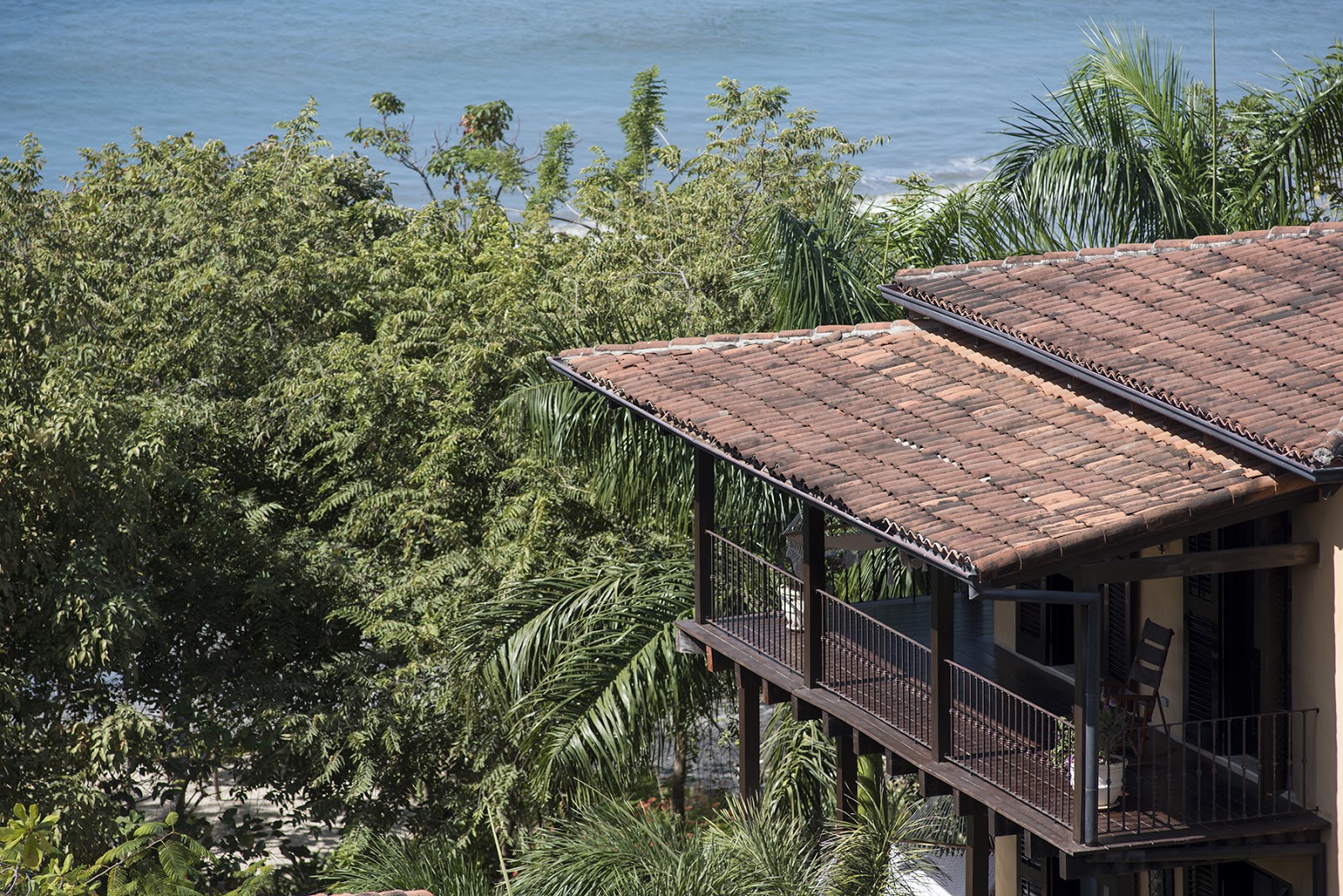 Luxury vacations followed ecotourism in Costa Rica, and are an evolving industry
Recognizing the influx of tourism and the natural strengths of a tropical climate with pristine beaches, ICT helped guide an expansion in the tourism economy, to invite multinational luxury brands to enter the country under careful regulation.
Both national and international hotels and resorts began to appear on the coast, including the Papagayo Peninsula in the Guanacaste province. Thinking luxury travel could not exist without seclusion and privacy, these brands built walls and gates around resorts often centered around golf courses or similar sprawling amenities.
This vision isolated luxury hotels from the nature, beauty, and culture that attracted tourists to Costa Rica. In response, other forms of luxury vacationing arose, which changed to focus on connection to people and place, beauty, walkability, and tranquility as much as attentive service and amenities.
Connection as the New Luxury
Modern travel has evolved to encompass trips for immersion in a different place, pursuit wellbeing, relaxation and pampering, and many combinations thereof. Throughout all of these different trips, modern travelers seek connection to others, to nature, and to themselves.
The new luxury is a form of luxury travel that offers the comfort and pampering of a luxury vacation infused with cultural and natural immersion. These trips provide an experience where thoughtful and attentive service is infused with a sense of locality, and travelers have the chance to truly connect to the place they are visiting.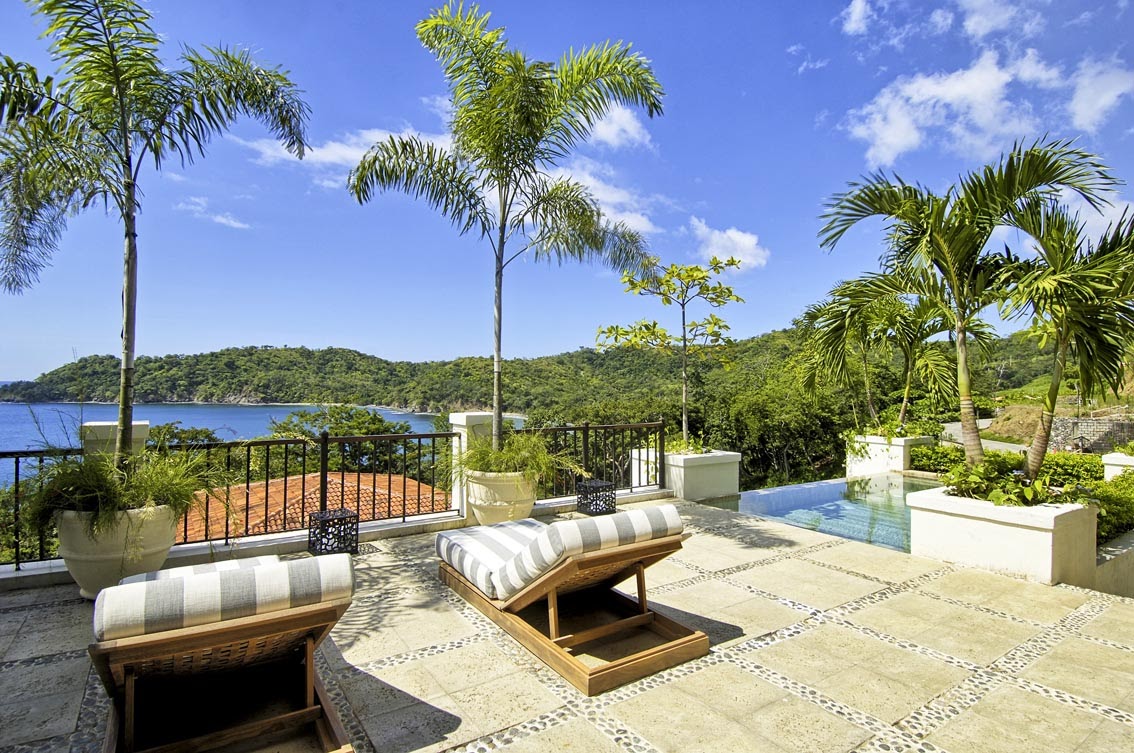 The new luxury comes with an integration into surroundings, and embracing natural beauty
The new luxury values time, and flexibility. Activities, amenities, and service are available quickly, and there's very little time spent waiting, so travelers can focus on exploring and having fun. Service in the new luxury is personal and attentive to travelers' needs, but not excessively subservient, instead focusing on creating a valuable connection between traveler and hosts, one that makes travelers feel special and immerse in the place. Finally, the new luxury is sustainable and conscious, providing the traveler a sense of independence and often involving them in the feeling of making a difference.
Bon Vivant in Las Catalinas
In the walkable beach town of Las Catalinas, this vision of a new luxury has given rise to Bon Vivant in the Las Catalinas Collection, a travel option that emphasizes a connection to town, its people, and Costa Rica. In this new car-free beach town, attentive and personal concierge services, a wide range of dining and culinary options, and casual local experiences provide an alternative to gates and walls, and replace sprawling golf courses and other standardized luxury amenities with natural dry forest trails and welcoming beaches. In doing so, this new perspective on luxury captures the natural beauty and friendly authenticity of the country, while ensuring a high standard of comfort and quality.
The Modern Sabbatical
The pursuit of connection has also manifested in a different form of travel in the Las Catalinas Collection. The modern sabbatical arose as a third travel trend focused on getting into the rhythms of life in a foreign country.
Drawing from the need to downshift from the hyper-speed of modern society, the modern sabbatical is a chance to connect to nature, others, and a different way of life. The naturally happy and healthy way of life in Costa Rica is a great fit for this kind of travel, and the modern sabbatical provides a stay that is in touch with nature, active, and still connected to Costa Rica and its culture.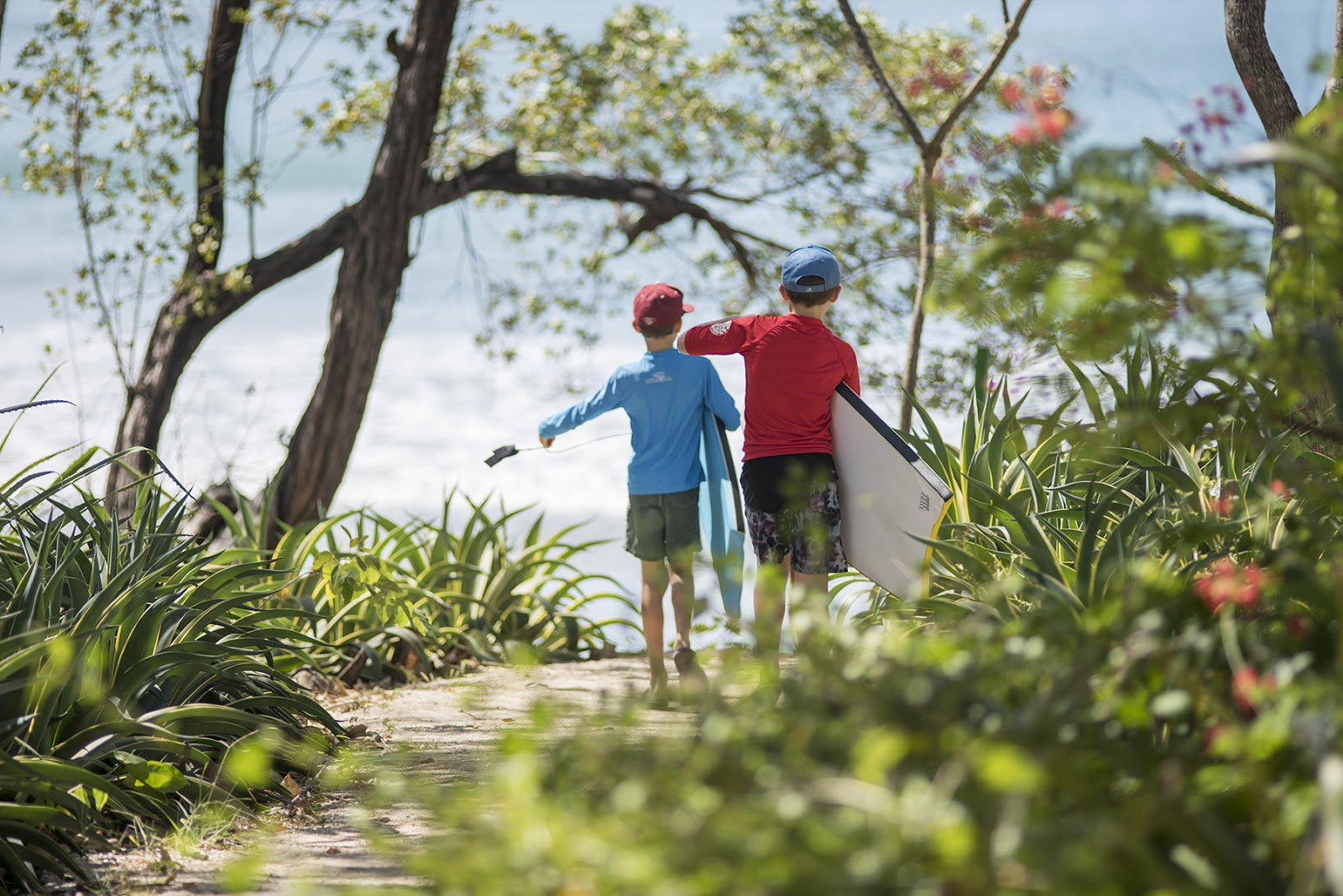 The freedom to explore and immerse in a new place is a major pillar of the modern sabbatical. In Las Catalinas, walkability and safety support this freedom for all ages
The Baranda Experience
At Las Catalinas, the Baranda vacation rentals collection presents one of the first perspectives on this modern sabbatical stay. Travelers have a chance to live abroad and explore a new place, while feeling truly at home thanks to attentive services, charming residences, and infrastructure comparable to a gateway city.
Un-gated from all that Costa Rica has to offer, and never more than steps away from nature, a Baranda stay can provide creative inspiration, spiritual and personal refreshment, or simply the chance to spend quality time on a stay of any length. Whether spending a few days, a week, a month or two, and even a more traditional experience of taking a break from work for a year, the effects are the same. Once in town, a vibrant natural world, excellent education, and plentiful options for physical activity ensure that visitors have all they need to step into a different way of life.
As a whole, this experience is an answer to the need to unwind, relax, and embrace a different culture and healthier way of life all on one trip. Taking a break to live differently, gain perspective, work on personal wellbeing, and connect with yourself and others, all with the support of top-class infrastructure, services, and amenities, is offered in each stay with Baranda.
Find Each Form of Travel in Las Catalinas
The Las Catalinas Collection has a number of different residences tailored specifically to each of these forms of travel. For visitors touring the country on a cultural and natural tour, 229 provides a streamlined lodging option and the ideal beach home base to dive into the many experiences possible in the area. Visitors seeking the connection and pampering of a luxury stay will find an elevated vacation with Bon Vivant through attentive service and unparalleled experiences in thoughtfully crafted residences. Finally, for a sabbatical style visit to embrace all that Costa Rica has to offer, Baranda provides a home away from home for a stay of any length.