(Note: this post was also sent as an electronic newsletter yesterday.)
Dear Friend of Las Catalinas,
Wow, there is a lot going on at Las Catalinas. First I want to share a couple of announcements that will be important for those of you who are potentially interested in real estate at Las Catalinas, and then I will provide a general update on things.
First the announcements:
The Flats
We are about to build the first condominiums to be available at Las Catalinas. They will be in a beautiful 12-unit building designed by
Ricardo Arosemena
with the working title "The Flats", a rendering of which you see pictured above .
The building is located directly behind my house on what will be a beautiful plaza. Pricing is between $200,000 and $450,000, plus a penthouse at $699,000. Our sales team now has a sneak preview package available, and is planning on a Valentine's Day release of the final package.
There is a lot of interest in The Flats already, and it appears they may sell very quickly. If you are interested I would recommend contacting our sales team now at 506-2654-4600 (Costa Rica), 866-357-3872 (USA), or
info@bloglascatalinas.devdoubledigit.com
.
The Valentine's release will only go out to their list of interested parties, so if you are interested please get on the list!

Paseo Punta Penca
Price Increase - We have now sold 11 of the 18 lots on Paseo Punta Penca, and we are approaching completion of the road and infrastructure to serve the lots there. In recognition of this, we will have a price increase of 5% effective April 1 for the lots that remain unsold at that time, if any. These are some of the finest lots we will ever have, with a great combination of proximity to the center of town yet some extra privacy and killer views.
In Other News: Las Catalinas Real Estate is Booming!
Things are great!
Sales are good and getting better. We sold 12 properties at Las Catalinas last year, and have sold a further four already this year. The two spec homes we started in November are sold. We are getting going on a new batch!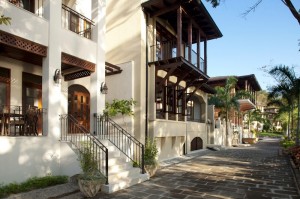 Our renters love us. To quote professional mountain biker Blake Harlan, who was staying in Casa Sirena last week:
"This place is hands down THE BEST ... Of course you can quote me, this place is the cat's meow! Seriously, this place is hands down the nicest, best run, most enjoyable place I've ever stayed..."
Thanks, Blake. Our rentals are definitely catching on. We have ten houses complete now, and 8 of them are in the rental pool. We are very nearly 100% booked for the whole spring break period of March 1 through the first week of April.
But That's Not All!
We have plenty of building going on. We are approaching completion on Paseo Punta Penca, we have four more houses underway in beach town, we are preparing to launch The Flats, and soon we will be starting on infrastructure work for the next large hunk of Beach Town. The more we build, the better we get.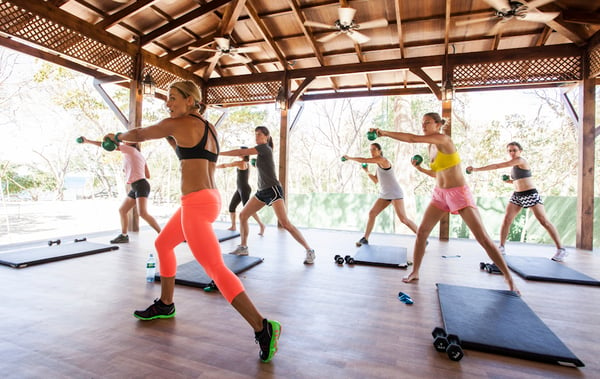 Vive Fit, our newest business at Las Catalinas, is up and running. Led by the dynamic Caralee Burton, it is a great contributor to life at Las Catalinas! See picture at right. Of course, I will miss having Caralee conduct morning classes on Paseo del Mar in front of my house. I always though that was a wonderful, and scenic, demonstration of the benefits of pedestrian-only streets...
We have committed to build the first community pool at Las Catalinas this year, and design work is beginning. Kids, start your engines.
We have updated our Statement of Purpose to be: "To build a delightful town that transforms the way the world thinks about "the good life" into something healthier, more connected, and more sustainable." One person at at time, I might add. That's why we are here.
The People Behind The Progress
I must give recognition to our Las Catalinas team. From our gardeners to our concierges to our construction masters to trail builders to our sales people to security staff and everyone else, our team has really come together.
Jim Berry has been a great leader for us. Our team has taken the Core Values and Beliefs - built around respect for the individual and honesty and integrity and making commitments with care and all the rest - and made them come to life.
We have weathered some storms, kept moving ahead, and now I think we are picking up some speed. Thanks everyone.
It is winter here in Atlanta as I write this, with a cold rain falling outside. I should be at Las Catalinas. So should you.
Cheers,
Charles Brewer
Managing Partner, Las Catalinas