(This newsletter was sent out to our mailing list today)
Dear Friend of Las Catalinas,
In June of 2006 I wrote "A Vision of Las Catalinas in 2016" (note: click that link and read it). At that time I had explored Las Catalinas (the land) pretty thoroughly and was hoping to lead a group of investors to buy it. The vision was meant to communicate to potential investors what sort of place we planned to create.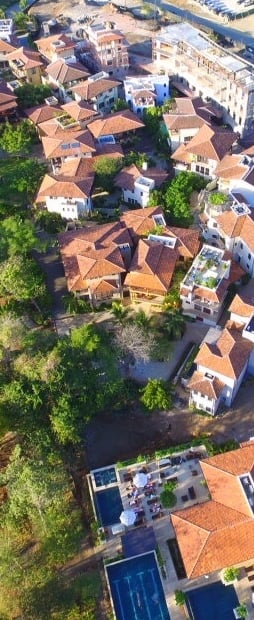 Looking back on that vision now creates some strange and powerful feelings in me. I guess it is some blend of pride, happiness, and amazement. The overall picture and even some of the details of the vision are incredibly descriptive of what Las Catalinas is today. And the process of getting here! When I wrote that vision, Las Catalinas had not a single structure of any kind. It was owned by a group of German investors who had owned it for 30 years and really did not want to sell it to us. There were many large and ambitious development projects getting going all up and down the Guanacaste coast, none of which have amounted to anything. The world economy was preparing to implode into utter disaster.
And yet somehow today we have - a town!! Just like the vision says! With wonderful morning activities out in nature, along with a most excellent morning social scene! With charming people working in the various establishments of town. With great food! Kids heading to school! Lunch with friends! A fascinating multi-national group of homeowners! A constant ebb and flow of visitors! Beautiful houses with terraces and courtyards! Little passageways, beautiful plazas, and stunning views! Monkeys! Swinging beds on upper terraces! Guitars! Naps! Sunset hikes! Evening promenades!
One of the coolest things about Las Catalinas is that every new addition to town makes it better. Way better. Everybody can feel it! I can't tell you how many times, after an important new addition of some kind, I'll hear people (including me) exclaiming "Oh, this is so great, it just changes everything, town is totally different now!" But somehow the next new thing is just as important.

Town now has two restaurants. It will be better when it has three, then four, then more. Town will be better with a school. Soon we will have our first hotel, and town will be better. We are adding more full time resident families - they make town WAY better. The Beach Club makes town better, and the neighborhood coming around it will make it even better. The new trail on Punta Guachipelines makes town better. Every happy kid riding a bike down Paseo del Mar, every charming House Mama, and every beautiful new tree - they all make town better.
We set out to create a lively walkable gem of a town, surrounded by beautiful nature on land and at sea. That is now what we have. And I promise you, it will keep getting better! Come and see!
Cheers,
Charles Brewer
Managing Partner, Las Catalinas