Costa Rica is one of the hubs for sustainable travel in the world, the birthplace of ecotourism and of some of the first ecolodges in Tropical America, a world leader in conservation, and a country on the leading edge of sustainable energy, decarbonization, and combating climate change.
The country's ecolodges are among some of the most visited in the entire world, and from this travel trend arose new perspectives on sustainability in travel within the country. A burgeoning example is the walkable car-free beach town of Las Catalinas on the coast of Guanacaste.
Taking architectural influences from the favorite cities of the New World Tropics and Europe, this car-free vacation destination shows how thoughtful urban planning can create a place that is sustainable for the environment, and provide a healthy, active, and connected lifestyle in the process.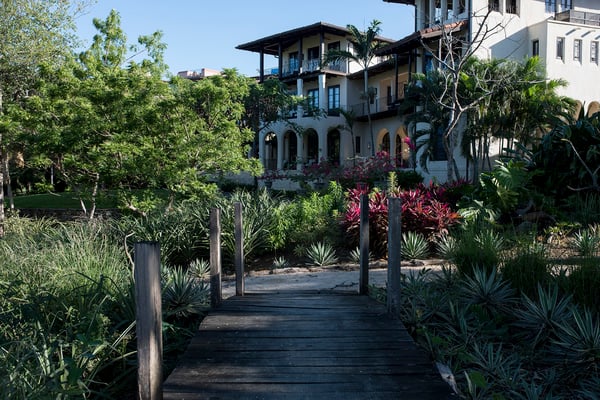 Traveling Sustainably
At Las Catalinas, visiting without a car is possible; all travel can be done on two feet or two wheels in and around town. Most of the streets within town are pedestrian- and cyclist-only, a conscious decision of urban planning designed into Las Catalinas from the very beginning.

By building to the scale of biking and walking, homes and buildings make clever use of space and topography. Anywhere in town is at a short walking distance, prompting some of the best car-free day trips and open air activities, which offers a drastically reduced town footprint that is better for people, more sociable, and better for the surrounding nature.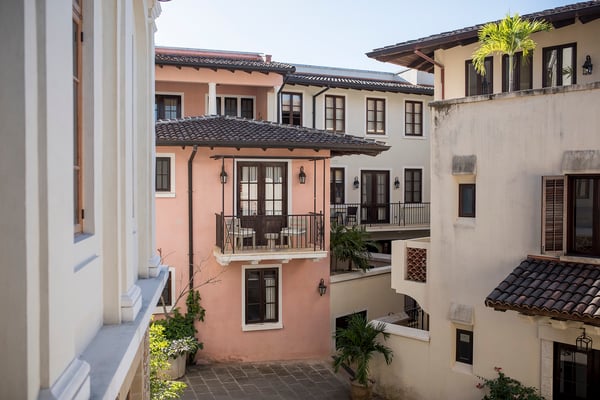 When town was first founded, much of the land in the surrounding 1,000 acre tropical dry forest reserve was unused pastureland. Careful wildlife restoration efforts over the course of the last decade have led to a strong recovery. The town now serves as a habitat for many native Costa Rican animals.
How A Car-Free Town Changes Things
Las Catalinas was designed with both people and nature in mind. Physically removing the need to plan for cars, parking, and garages gave the ability for town's own timeless traditional architecture to develop.
Homes maximize living spaces, including thoughtful touches that add beauty at the human scale, adapt to the topography, preserve views, and more carefully consider the surrounding environment to save energy. Many of the most interesting architectural features of town, like pools of many shapes and sizes or the walkable lobby in Hotel Santarena that serves as the "living room of town" are made possible by car-free living.
The way of life in a place off limits to vehicles is also fundamentally different from a destination built to accommodate cars. The urban density brings family and friends physically closer together. Walking along the street makes for a more social atmosphere, where it's natural to say hello and meet new people.
A car-free town is also better for children. Without cars on the streets, it's safe for them to explore and experience freedom that they might not have in a city with heavy car use. The atmosphere is one of a welcoming neighborhood, where kids can walk to a friend's house and then set out to explore the pedestrian streets, plazas, beachfront, and forested trails all within a short walk of home.
It's a change from the constant need to be driven around by mom or dad, and for the youngest visitors of Las Catalinas the difference is profound.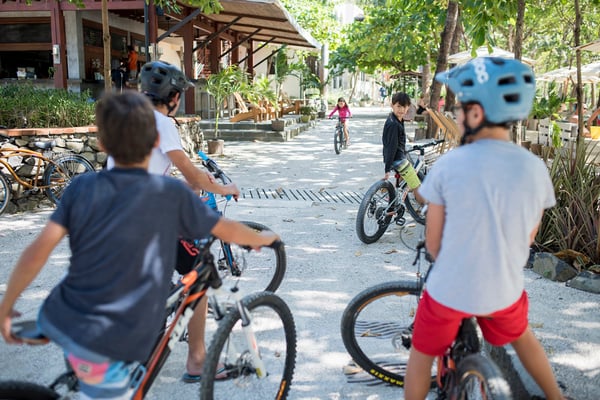 Travel Car-Free Anywhere, Anytime
In Las Catalinas, it's possible to travel sustainably, car-free, and take advantage of all the many activities available in and around town. Between experiences on land, in the water, and throughout its cobbled streets, the many pursuits of Costa Rica are at your doorstep, wrapped in a way of life that offers freedom and a strong connection to nature and each other.
There's no need to plan for traffic, which also means no extraneous emissions. Thanks to the work being done in town, the reserve, and in Costa Rica, visitors here embrace a memorable and fulfilling vacation car free that's also conscious of your ecological impact.