Las Catalinas was recently featured in Veranda Magazine, in an article highlighting the interior design of founder Charles Brewer ´s beachfront home. The article focuses on the collaboration between Ginny Brewer, Charles ´ wife, and interior designer Beth Webb. The pair found inspiration in both Mexico City and locally in San José. The home celebrates the contrast of local, dark wood features with light, modern furniture and finishings. As quoted in the article, Ginny remarks how ¨people can equate neutral with boring, but it ´s how you mix the quietness of the color with the surrounding textures that excites me. ¨
LIGHT TOUCH
Interior Design by Beth Webb. Residential Design by Lew Oliver. Landscape Design by Douglas Duany. Photography by Laura Resen. Produced by Leslie Newsom Rascoe. Written by Elizabeth Schulte Roth.
For an Atlanta family's retreat along the Pacific shores of Costa Rica, designer Beth Webb conjures an understated getaway where natural materials, regional influences, and a soft palette set the tone for carefree elegance.
WHEN A VISIONARY LIKE CHARLES BREWER SEARCHES FOR A FAMILY VACATION HOME, he doesn't settle for the ordinary. The founder of Internet provider MindSpring and a prominent Atlanta developer, Brewer couldn't find an escape for his wife and three children that combined his appreciation for pedestrian-friendly design with the requisite tropical locale. So he decided to build one. He discovered the ideal location in 1,200 acres of untamed wilderness on the Pacific coast of Costa Rica and set out to create a magical community called Las Catalinas, which would honor his sustainable mantra and attract others who treasure this unspoiled definition of the good life.
To foster a hospitable vibe, Charles enlisted his wife, Ginny, a leader in Atlanta's philanthropic circles, to fashion a home that would not only be the family ´s holiday spot but also serve as the development ´s de facto inn. They called on urban planner Lew Oliver to conceive an H-shaped house with loggias on both floors. It seems like a significant estate, Charles says, but our house is on a modest piece of land that we use intensely.
For the decor, Ginny says it all began with a ceiling fan. I always need a starting point with a project, so I can wrap my head around it, she says, referring to a chic propeller she had bought from Beth Webb. Ginny knew the Atlanta decorator socially but was a bit unsure of how her husband's vision would match Webb's glamorous résumé. I always want to be a supportive wife, but when your husband says, 'We're building a new town in another country,' it's a bit overwhelming, Ginny recalls. Beth helped me make it personal.
The pair agreed that casa Brewer should not be too casa Americana, so for design inspiration they visited Mexico City, where they discovered a sophisticated city bursting with high fashion and design talent. Antiquarian Rodrigo Rivero Lake introduced them to the work of Mexican artists, and textiles designer Maggie Galton produced everything from the bed linens to the napkins. And on a trip to the Costa Rican capital of San José, they found a tile company run by two brothers who were happy to customize flooring from sketches. I wanted the tile to contrast the white with dark brown, and it's hard to get a real espresso brown there, as everything has an orange cast, Ginny says. Thankfully, they were able to take the fire out of it.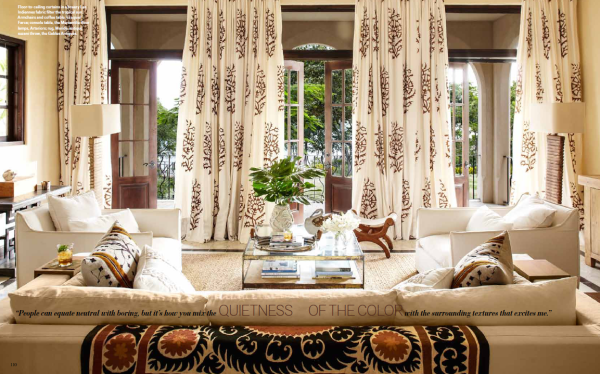 Webb also wanted to lighten things up, as dark wood is the typical interior in the country's coastal homes. People can equate neutral with boring, she says, but it's how you mix the quietness of the color with the surrounding textures that excites me. This cool allure continues throughout. As the couple entertains visitors frequently, Ginny insisted that everything be extremely washable. I kept repeating 'blanco, blanco, blanco,' she says of her effort to use light fabrics in spite of the ash that flies when sugarcane is burned in the field. Meanwhile, Webb introduced the caretakers to the fine art of bleaching and Sunbrella fabrics.
To take advantage of the temperate climate, the Brewers embraced the seamless indoor-outdoor setting, enjoying nature's symphony " from high-pitched parakeets to howler monkeys " as well as the entertaining sounds from within. A typical evening is spent on the loggia, where Charles serenades guests on the guitar while the diaphanous curtains sway to the tropical breezes. It's a serene scene that illustrates the art of living well.
FOR MORE ON THIS STORY, DOWNLOAD VERANDA ON YOUR TABLET
And for an even more in-depth interior design explanation of Casa Brewer by Beth Webb, check out this video: http://www.veranda.com/home-decorators/a1167/meet-interior-designer-beth-webb/