Costa Rica is rising to prominence on the world stage as a hub for sustainability, wellness, ecotourism, and better living. The country is also undergoing a growth and evolution of its culinary scene, driven by Costa Rican new and experienced chefs, the exchange of ideas and people from other culinary cultures, as well as the return to prominence of many rare or simply overlooked ingredients.
Expat chefs bring their own perspectives, many Costa Rican chefs venture abroad to broaden their skills before returning, and the chefs coming up with new cuisine in the country all contribute to an influx of new ideas that sparks the creativity of the whole culinary community.
A second push to bring Costa Rica's diverse and sometimes overlooked ingredients back to prominence provides a complementary set of fresh ingredients to fuel these ideas. The result is a bubbling culinary scene with a wealth of new dishes and concepts.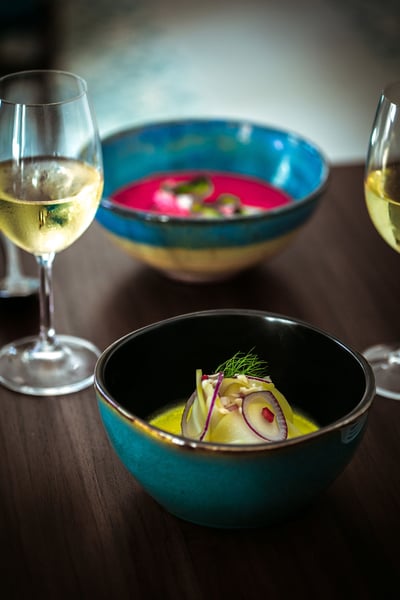 Two dishes from Ponciana in Las Catalinas: the Chayote and the Marinated Beet and Tomato Salmorejo
The province of Guanacaste is one of the hubs for this growing culinary scene. The region itself is shifting from a primarily tourist economy to a growing center of industry and innovation, and has seen a rapid evolution in food offerings thanks to both local and expatriate chefs moving to the region.
One example of this rapid growth is in Las Catalinas, which has opened three new culinary concepts in as many years. The executive chefs of Sentido Norte, Ponciana Restaurant, Bahía Group have each brought a blend of these international and local experiences to Las Catalinas, creating cuisine unique to the town and the region.
Las Catalinas is also the home of Guanacaste Nights, a culinary celebration focused on the front line of Costa Rica's evolving food identity.
The First Guanacaste Nights
Guanacaste Nights was envisioned as a coming together of many culinary minds to celebrate Guanacaste's cuisine and bring new ideas to the table. In the two night event, Chefs Gilberto Briceño, Justin Smillie, Monica Phillips, Deuki Hong, John Mooney, Warner Ortega, Fabrizio Giustiniani, José Lopez, and mixologist Liz Furlong each sought to create dishes inspired by Guanacaste's ingredients.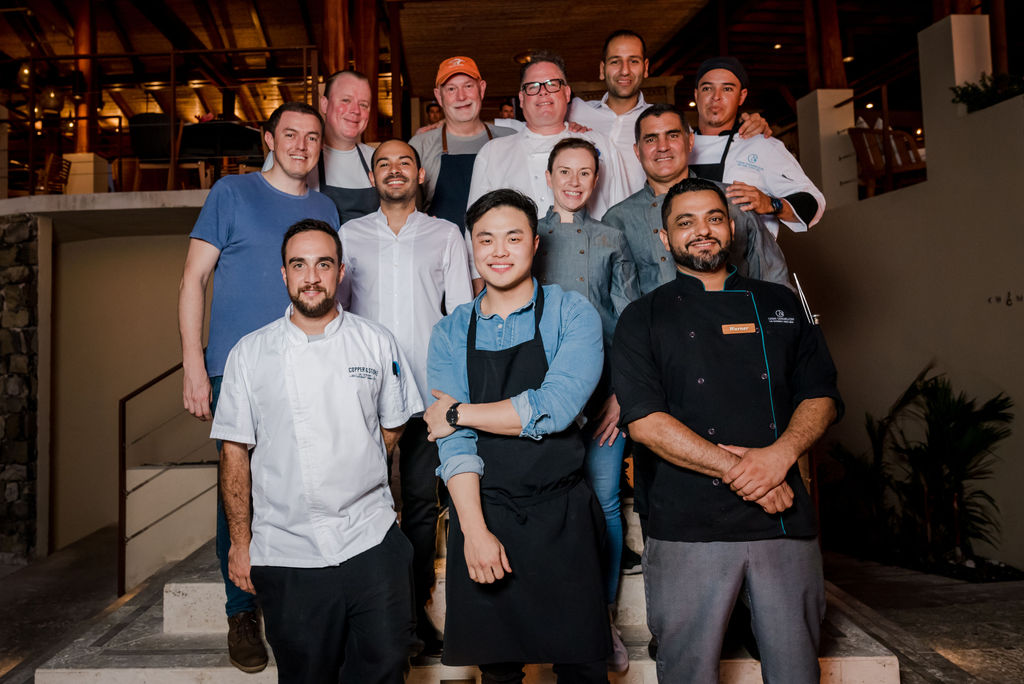 The chefs and support team of Guanacaste Nights in 2019
The field of chefs had a diverse set of backgrounds and styles, which came to life on the plate across two events: the Culinary Celebration in Sentido Norte which focused on six courses of finely crafted cuisine, as well as the Fiesta en la Plaza in Plaza Lucia, emphasizing festival-style bites.
The Chefs of Guanacaste Nights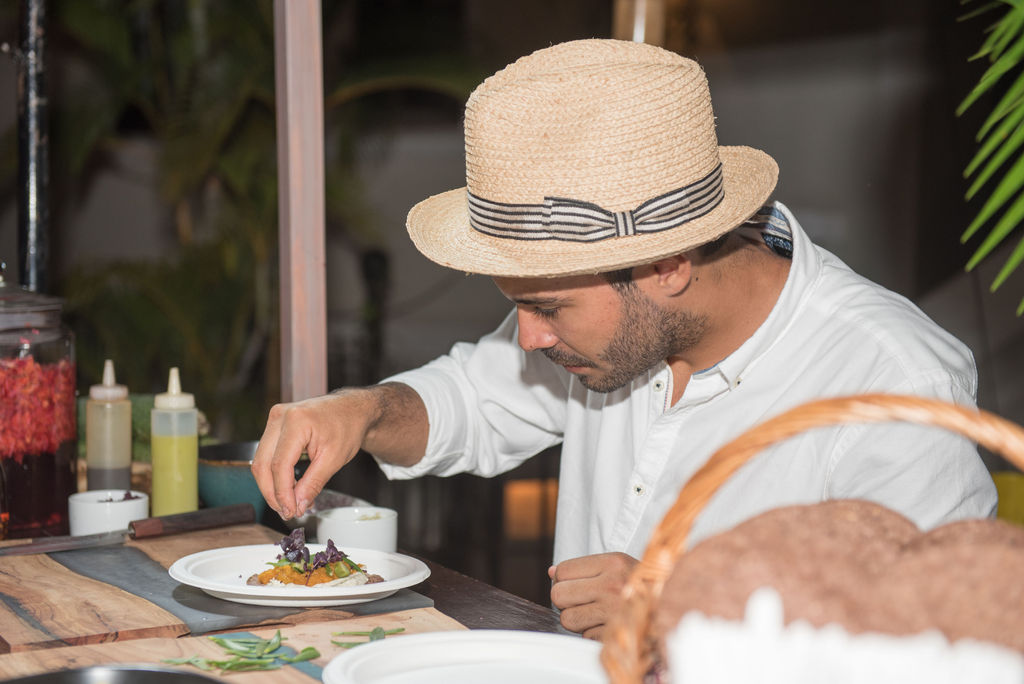 Chef Briceño preparing his Purple Corn Toasty
Gilberto Briceño, of Bahía Group in Las Catalinas, has a long-held love of local ingredients and a good story. His Mano de Cuadrado, Purple Corn Toasty, and Nicoya Clam Shooter focused on beautiful local ingredients like finger lime caviar, to emphasize the many culinary treasures still left to uncover and rediscover in the country.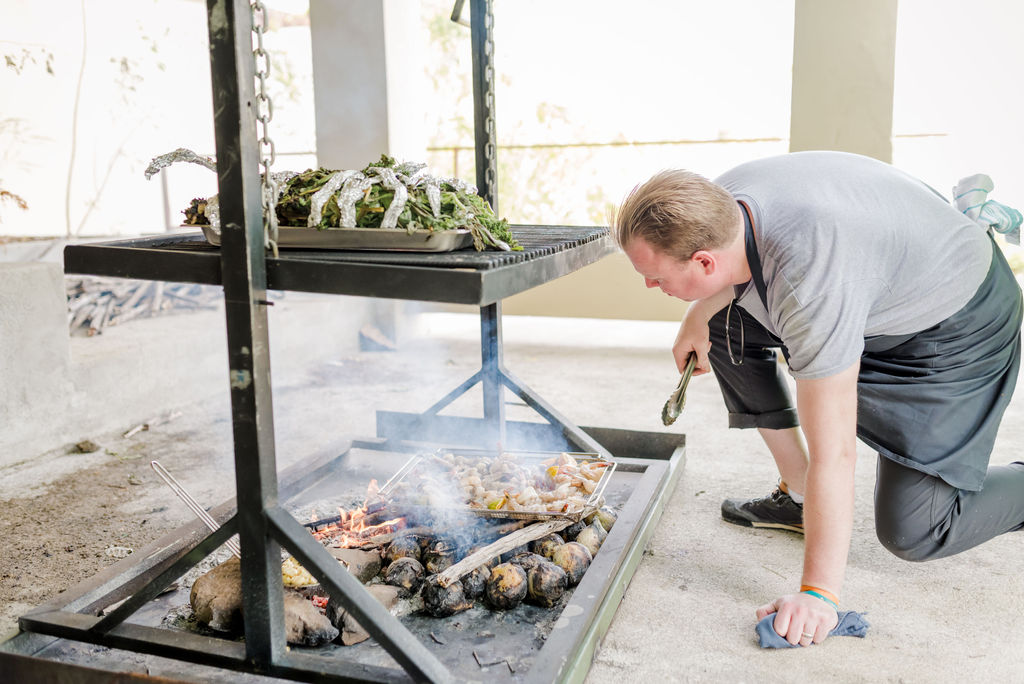 Chef Smillie slow cooking the vegetables for his Snook "Tapado" Stew
Justin Smillie, the head chef of Upland in New York, favors rustic, farm-to-table flavors that are elegant and inviting in their simplicity. His Beef Tacos and Snook "Tapado" Stew had a focus on the slow cooked and fire roasted, for a pair of dishes he described as "well, you take some yummy stuff, you cook it right, and you put it together with some other yummy stuff!"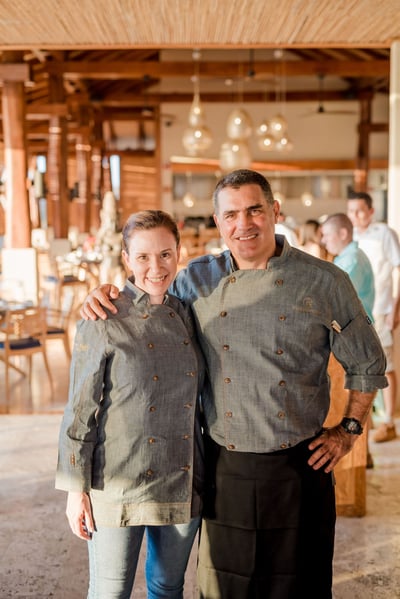 Chef Monica Phillips with Chef Jose Lopez before the Culinary Celebration
Monica Phillips is the head pastry chef at Crème Caramel, a concept where she curates Costa Rican ingredients of impeccable quality for desserts full of vibrant color and flavor. Her Hazelnut Sponge Cake offered a sense of sweet and tart with a tangerine gel and watermelon foam mango jelly, while Smoked Salted Caramel Truffles provided a counterpoint of rich and complex flavors.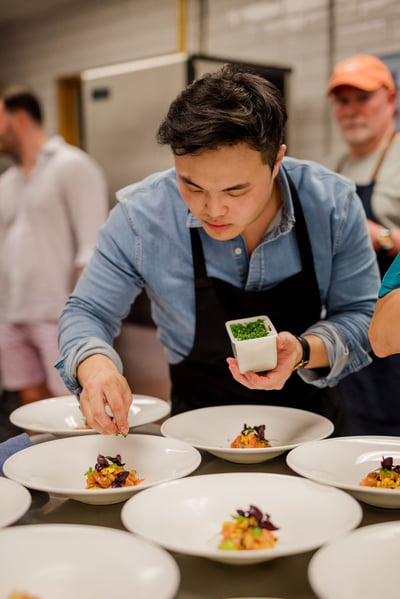 Chef Hong preparing his Kimchi Shrimp Ceviche
Deuki Hong, head chef of Sunday Bird in San Francisco, enjoys combining his own Korean identity with the styles and food of the places he calls home. His Shrimp and Calamari Tostada and Kimchi Shrimp Ceviche took this multicultural fusion to Guanacaste, for cross-Pacific dishes with an emphasis on seafood and spice.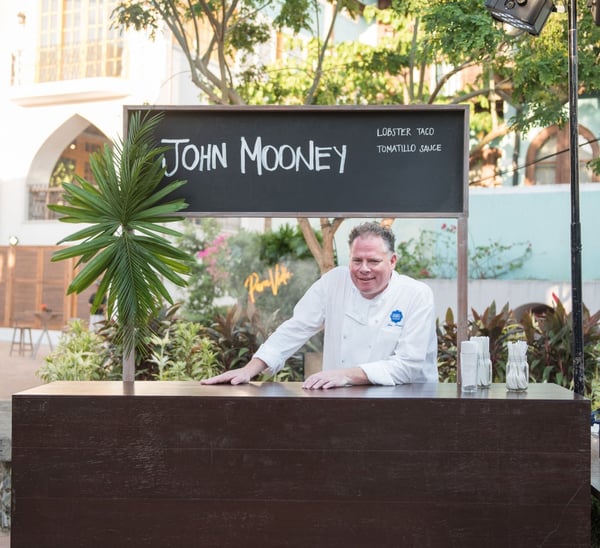 Chef John Mooney preparing for Fiesta en la Plaza
John Mooney is the head chef at Bidwell Restaurant, a contemporary American restaurant that has an emphasis on sustainable produce grown right on top of the restaurant. Fresh, sustainably sourced ingredients took the forefront in his dishes as well, with the sweetness of his fresh-caught Mahi Mahi and the spice of his responsibly fished Tomatillo Lobster Roll on alternating nights.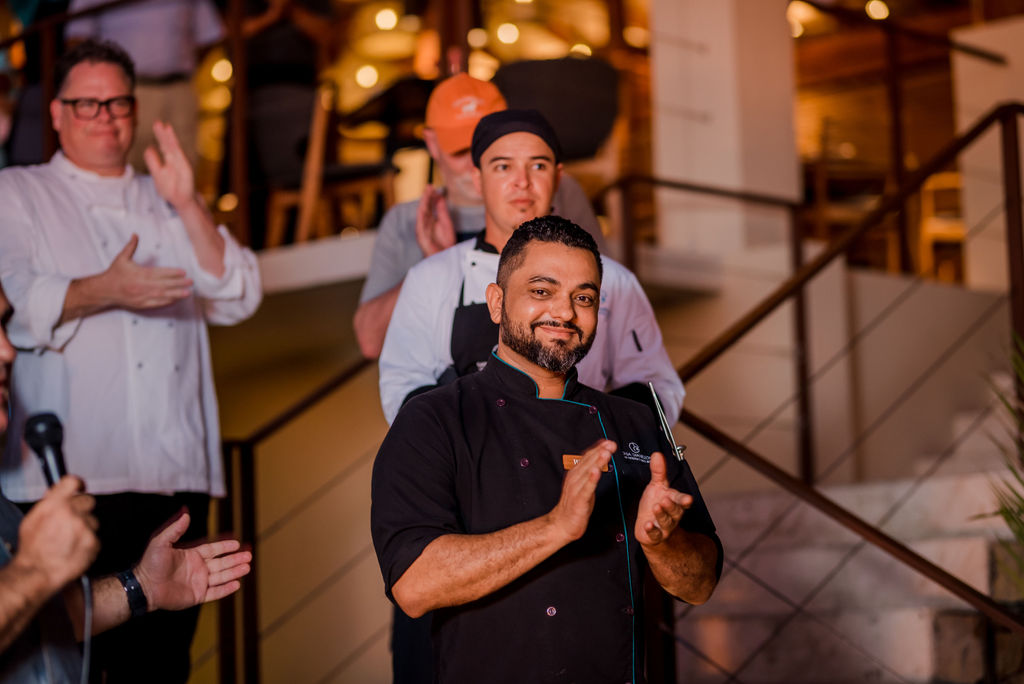 Chef Ortega at the Culinary Celebration
Warner Ortega is the sous chef at Sentido Norte, who has almost two decades as a chef in Costa Rica. Ortega used his intimate knowledge of Costa Rican cuisine in the preparation of Tuna Tartar and Carne Mechada Croquetas, which also emphasized local vegetables with complementing pejibaye huancaína and cilantro coyote ajou.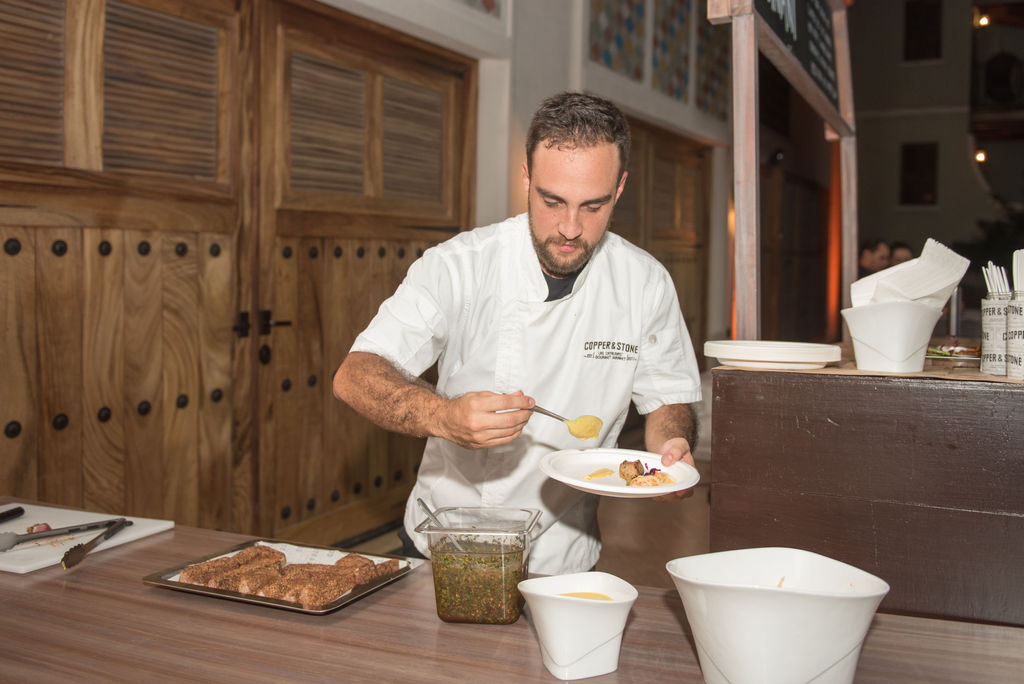 Fabrizio Giustaniani preparing his Hamachi Tuna at Fiesta en la Plaza
Fabrizio Giustiniani, one of the head chefs at Copper & Stone, is a versatile and traveled chef adaptable to many styles, and chose to focus on the ingredients available right in town's grocery. His Seared Hamachi Tuna and Lemongrass Crab Cake showcased the possibilities of a meal with ingredients available just steps away.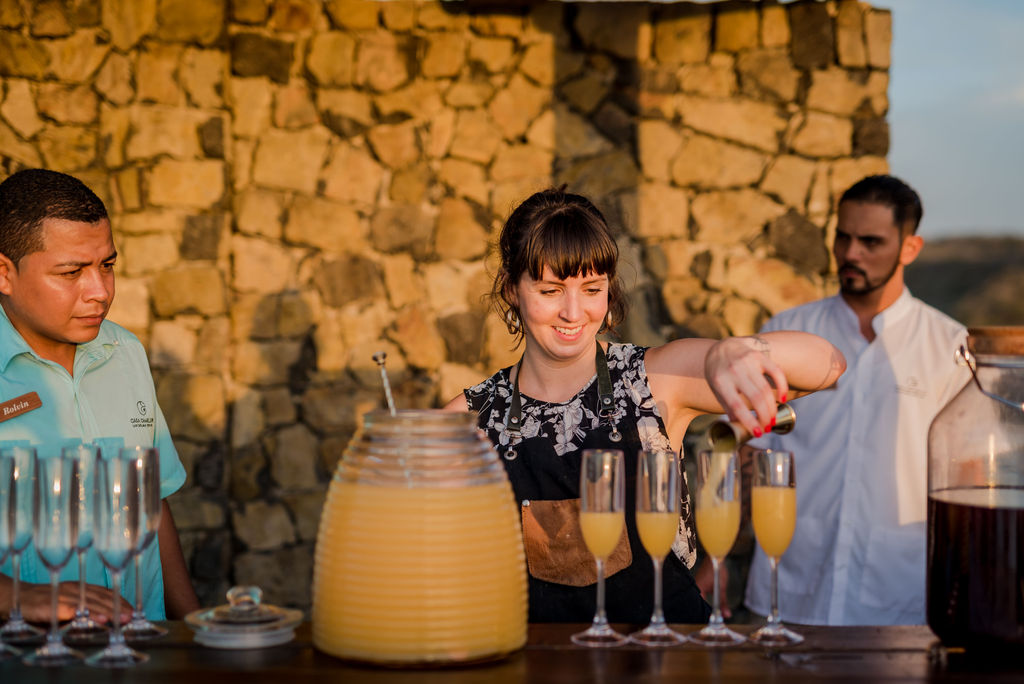 Liz's Verano en Guanacaste cocktail
Liz Furlong, the chief mixologist at Bebedero, blends a proficiency in preparation of classic cocktails with an adventurous streak that's led her to experiment with a colorful blend of Costa Rican fruits and flowers. Her Catalina Gin and Tonic was a vibrant interpretation of a world favorite with bougainvillea flowers and fresh caimito, while her Verano en Guanacaste was a fresh and flavorful cocktail of her own creation featuring pineapple and uchuva.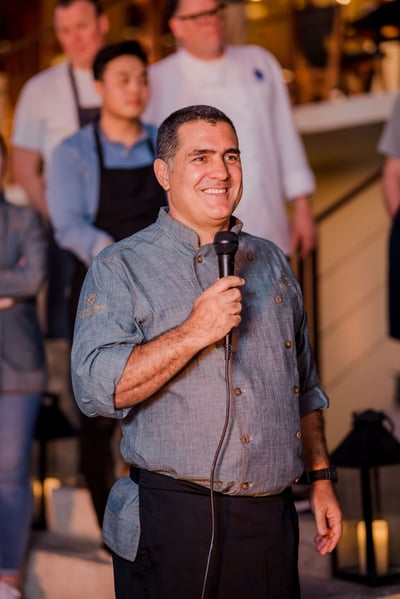 Chef Jose Lopez, head chef at Sentido Norte and de facto host of the Culinary Celebration
José Lopez, the executive chef for Casa Chameleon and their Las Catalinas concept Sentido Norte, knows as well as any the blend of different cultures and culinary styles that give Costa Rica its unique cuisine. As one of the organizers and de facto host of the Culinary Celebration, his experience around Costa Rica came to the forefront, and he was integral in recruiting the chefs for Guanacaste Nights.
During the celebration, his skillful mastery of the European, African, and Central American styles that form the pillars of Costa Rican cuisine came to the forefront in his Arroz de Maiz, Pork Tacos, and Ceviche Tico.
Join the Celebration at Guanacaste Nights 2020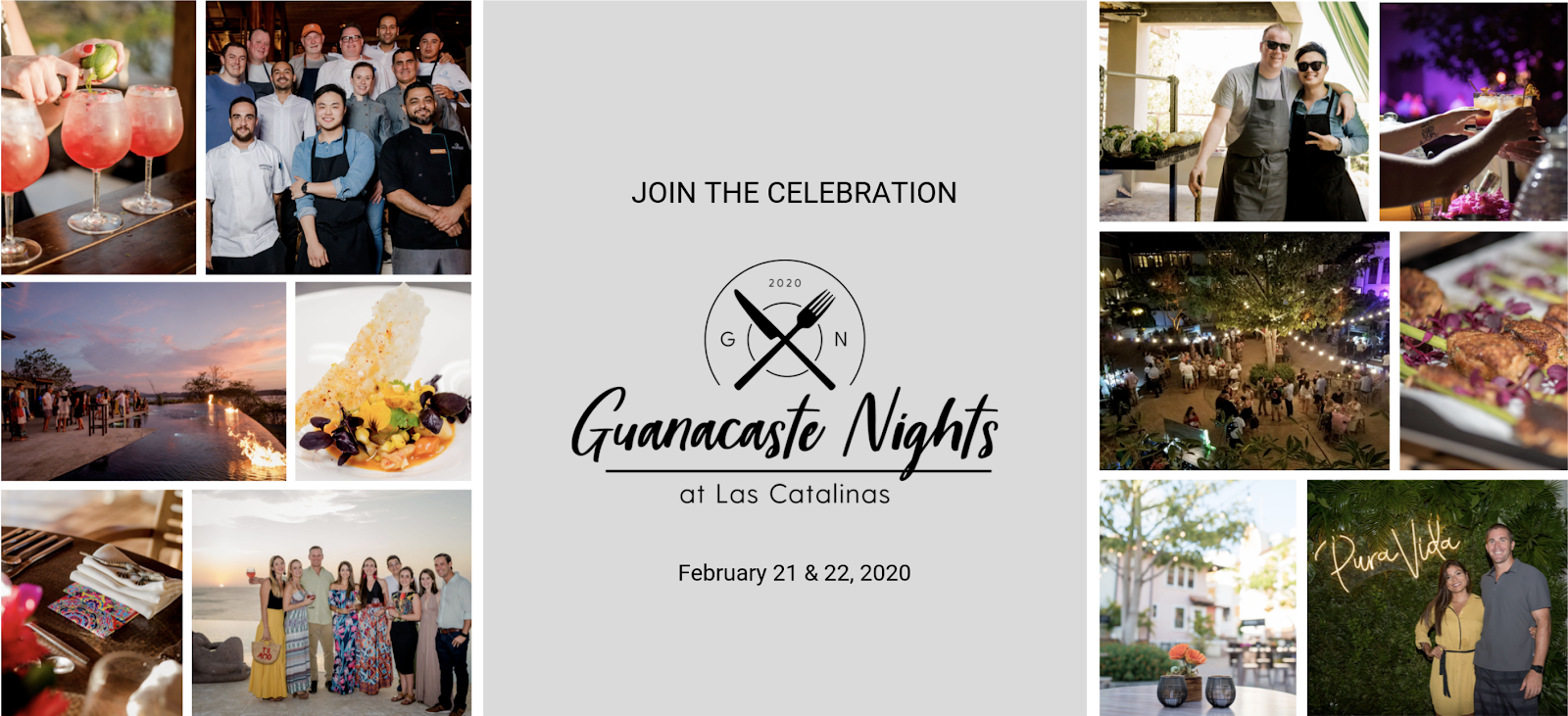 For 2020's edition of Guanacaste Nights, returning visitors will discover a familiar format to last year, starting first with the Culinary Celebration at Casa Chameleon on Friday, February 21st, followed by Fiesta en la Plaza at Plaza Danta on Saturday, February 22nd. The main difference will be a new group of chefs, who will be announced as the event gets closer.
The Culinary Celebration will feature finely crafted cuisine in a multi-course meal, with each guest chef taking lead for a different course throughout the evening, complemented by suggested wine pairings and short talks from each chef.
Fiesta en la Plaza is a festival gathering where each chef provides their own Guanacaste-inspired bites for guests to taste, with live music, refreshment, and an casual atmosphere.
In all, Guanacaste Nights is a chance to taste dishes inspired by Guanacaste and Costa Rica, from a group of chefs with a diverse set of backgrounds, styles, and influences, with pairings and refreshment to complement a vibrant culinary weekend. For these two nights, the culinary scene of Guanacaste and its many possibilities come to life.