Guanacaste Nights 2022
A soft ocean breeze carries with it the sound of live music and laughter, and the scent of delicious gourmet food. Set in a beautiful landscape of palm trees backed by the colors of a sunset over the pacific, creating the perfect mood to bring families and friends together.
Guanacaste Nights, May 5-8, 2022
This is Guanacaste Nights, an annual event hosted by Las Catalinas that celebrates the warmth of community and the love of food. This event has been delayed for safety, but now it's back and it's better than ever with two extra days of fun. Learn more here.
This year, guests of Guanacaste Nights will enjoy 4 days of culinary exploration and enjoyment with:
Live Cookings by Jenny Martinez, Alfredo Garcia (Freddsters), Shelby and Delaney Yates of Yessidothecooking fame, professional chef Victoria Tschop, Ben Bengini and Shihan Chowdhury, known as Chilipeppercooks,
enjoy the Feria del Agricultor,
Workshops: learn valuable life skills and tips from experts from the Earth University.
Come together on the beautiful grounds of Las Catalinas with friends and neighbours while you sip a tropical cocktail and discover the freshest of flavour combinations, prepared by your favorite chef.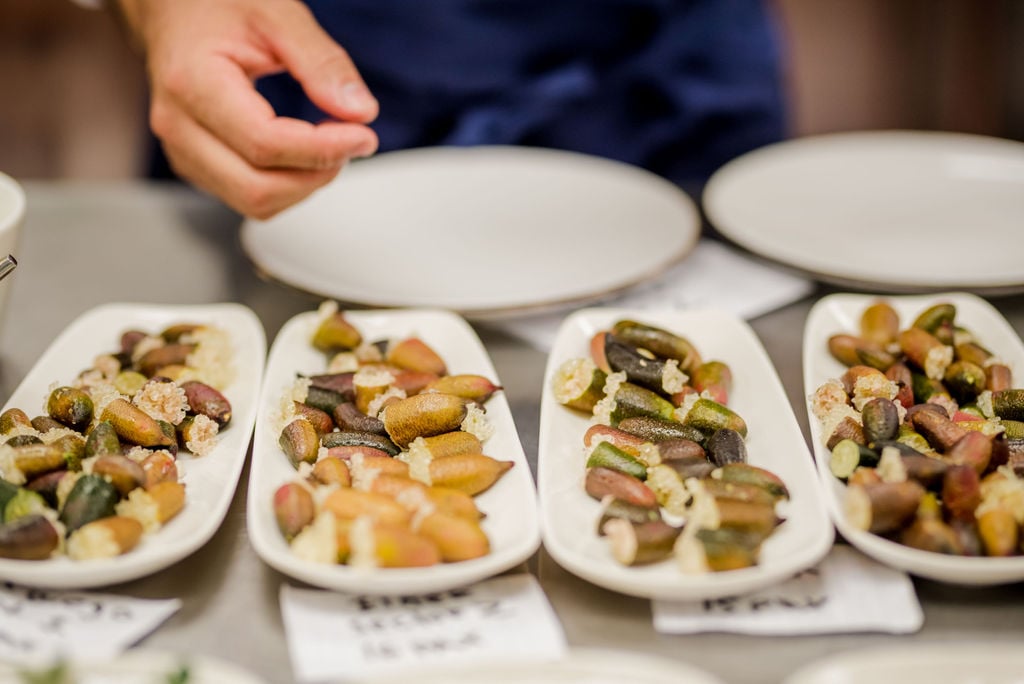 A Celebration of Local Flavor and Culinary Genius
With so many amazing things to see and smell and taste, this is an event you won't want to miss, so pack your bags and book a room, the fun is about to begin!



Thursday May 5th
4:30- 7:30 pm
Jenny Martinez is one of today's most influential Mexican food creators, and she will be joined by Alfredo Garcia (Freddsters), a Latin American food creator whose authentic and approachable dishes are renowned world-wide. Together, these two experts in authentic and delicious Mexican cuisine will be creating bite-sized delicacies for our Sunset Welcome. Gather with old friends and new, sip designer cocktails from the bar, and enjoy live music from local talent, while the sun sets over the nearby Pacific Ocean.
**food and drink tokens available at the entrance booth



Friday May 6th
10:00 am
Friday morning there will be a live cooking demonstration by Shelby and Delany Yates, the dynamic sisters behind Yessidothecooking of Instagram and TikTok fame.
Watch Victoria Tschop, a professionally trained chef from southern California famous for deliciously healthy cuisine and a yen for dancing, and learn some of her favorite Rainy Day Delights.
**Access to this event is subject to a voluntary contribution
1:00 pm
Victoria Tschop is joined by Chilipeppercooks, for this live cooking demonstration entitled The Perfect Cava Bowl. What is a cava bowl? It's an uber healthy meal made up of fresh ingredients like basmati rice, supergreens, fire-roasted corn,hummus or avocados. The variety of potential ingredients is endless, and the health benefits are obvious.
Prepare for a little spice when Shihan Chowdhury (Chilipeppercooks) is in the house, this Bangladeshi food creator has made a name for himself on Foodtok for his trademark use of chili peppers!
**Access to this event is subject to a voluntary contribution.
5:30 pm
Finish the day off right with a Delicious Slow-Roasted Pig Roast by Copper and Stone Gourmet
For only *$80 USD per person(taxes included), you can enjoy our all you can eat buffet, which includes:
a true Costa Rican Classic- Slow Roasted Pig,
Barbeque-style options like whole grilled chicken, shrimp skewers, or juicy beef burgers,
Homestyle favorites such as guacamole, potato bacon salad, cilantro rice, and refried beans,
Freshly baked bread station, with tortillas, and patacones,
Corn on the cob, and pico de gallo
Organic green salad with handmade Chef's dressings,
and a fresh platter of succulent tropic fruits grown locally.
Indulge your senses with this gourmet feast, a tasty drink from the bar, and the sounds of nature all around you as you watch the sun go down on a fabulous day of great food and fun.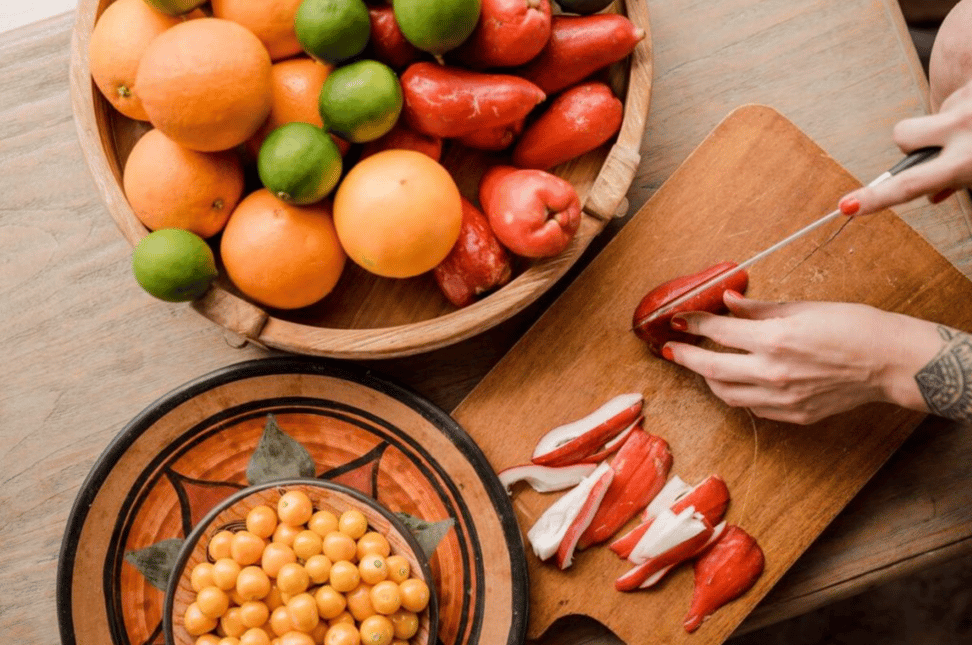 Saturday May 7th
Saturday will be a day for discovery, starting off with the Feria de Agricultor from 9:00 am - 3:00 pm.
Feria is a Spanish term that means "fair, or festival." It can be a grand occasion dedicated to a particular patron saint, or it can be a collection of booths where local farmers, artisans, and vendors sell their wares. Typically, this is where you can purchase the freshest fruit and produce.
Whether it's a large festival, or a simple collection of stands, a feria is the perfect excuse to engage with the local culture, explore the diversity of its offerings, and taste the unique flavours of Costa Rica.
Be adventurous, and try something new as you peruse the many varieties unique to tropical locations.
10:00 am
Enjoy a live cooking demonstration hosted by Bengini. Born in Israel, Ben is a New York Baker famous for his beautiful sourdough and challah breads. Much of Costa Rican culture and tradition is connected to some form of bread, from the tortillas that are part of every meal to the daily cafecito hour (around 3 pm) where families gather to enjoy a coffee and a sweet white bread or pastry. The warm, comforting smell of fresh-baked bread brings happy memories of childhood to many, and it's a skill that's easy to learn, so roll up your sleeves, it's time to learn The Art of Flour!
**Access to these events are subject to a voluntary contribution.
3:00 pm
By the time the afternoon rolls around, and you are full of flavorful food and frosty drinks, it's time to turn your attention away from the bounty of nature, and learn how to be more sustainable in your daily life. Composting at home is the perfect way to make household food waste work for you.
Our grandmothers knew the benefits of compost. In the 1960's, environmentally-conscious gardeners dedicated a corner of every kitchen garden for creating compost and then using the nutrient-rich humus to fertilize their prize tomatoes. Today the EPA posits that 30% of food scraps and yard waste ends up in a landfill where they take up space and create a potent greenhouse gas known as methane.
Our modern age of convenient pre-packaged foods and store-bought produce has lead to the loss of that kitchen garden compost heap, and the benefits that it produced, such as:
enriching the soil,

reducing the need for chemical fertilizers,

helping retain moisture,

suppressing plant diseases and pests.

reducing methane emissions from landfills,

encouraging the production of beneficial bacteria and fungi that break down organic matter to create humus, a rich nutrient-filled material that can be used as fertilizer,

lowering carbon footprint
This workshop, entitled Compost at Home is hosted by Earth University, and will teach you all you need to know to reduce your carbon footprint, and do your part to protect the world you live in. Stop throwing your food scraps in the garbage and put your compost to work for you!
6:00 pm Fiesta en la Plaza
After so much good food, you're bound to need a siesta, and that's okay. It'll give you time to rest up for the big finale which starts at 6:00 pm, and culminates in la Fiesta en la Plaza.
This selection of food stands features a combination of guest chefs and local culinary minds, gathered together to provide a fitting send off for a wonderful weekend of gastronomic discovery.
You will find food stands by some of your favorite names:
Enjoy live music and cocktails as you try to decide just how many delectable treats you can fit in, then load up on tokens at the booth and have fun!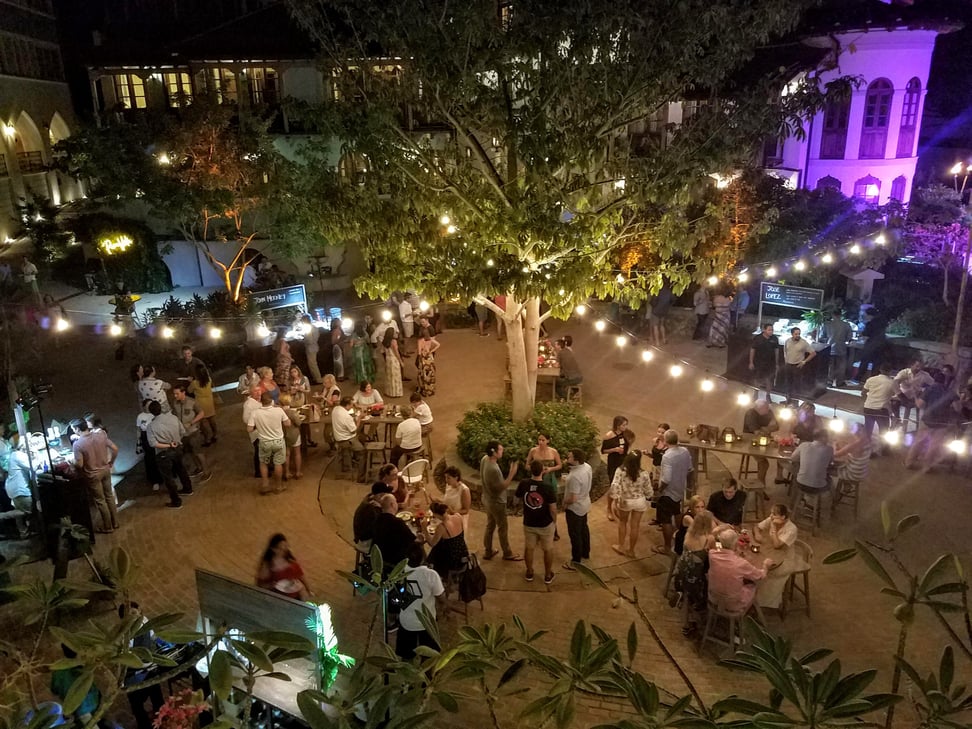 Sunday May 8th
11:00 am- 2:00 pm
Sunday is a day for rest, and relaxation. Sleep in a bit. Enjoy a delicious cup of Costa Rican coffee on your porch and enjoy the song birds outside your room. Walk barefoot through the surf in the sunshine. Take a stroll along the shaded streets of Las Catalinas, because at 11 am, the Sunday Brunch begins!
Enjoy a plethora of tasty dishes to tempt every taste bud as you listen to some live music, and enjoy the hospitality that our property has to offer, as you prepare yourself for the trip home, and a return to the everyday. May you take with you a new appreciation for good food, and fresh local ingredients.
*Buffet $44 USD per person, taxes included.
Come and Join Us!
Guanacaste Nights is the culinary event of the year. Whether you come for one day, or four. If you leave with a pocketful of recipes that you pass down to future generations, or just a full stomach and a smile, this event will immerse you in the culinary culture of Guanacaste. It will create memories you can cherish, leave you with a better appreciation of what can be done when you have access to so many fresh and delicious ingredients. We hope you will dig out that apron and use what you've learned to explore the culinary arts for you, your family and friends , and with ingredients that you have grown yourself using your own compost as fertilizer
The world of cuisine is constantly evolving and that means there is no end to the culinary adventures that you can enjoy, regardless of your experience or your skill-level. All it takes is a little bit of guidance and some inspiration. Guanacaste Nights is a gastronomic get-together created for just that reason. To teach and inspire, but also to celebrate all that we have discovered, and all that we have yet to explore, in the world of gastronomy.
It's been a while, but we are delighted to welcome you back, and share that love of food with all of you, so come on out and join us.
We can't wait to see you there!