Two Saturdays ago saw the finale of Guanacaste Nights. The festival was a two night event bringing Guanacaste cuisine to the forefront through the creativity of six international chefs. After a fabulous dinner at Sentido Norte featuring six courses on Friday night, the chefs brought a festival-style touch to the event at Fiesta en la Plaza with handmade street food offerings all across Plaza Lucia.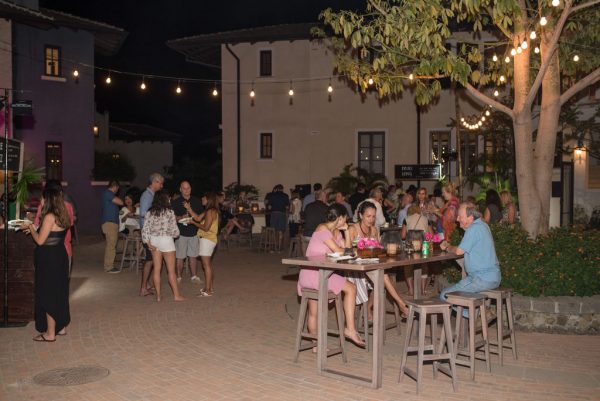 The focus of the event was on the culinary styling of the six chefs. A diverse array of culinary specialties and perspectives, each brought their own take on Guanacaste cooking. However, part of the fun of Fiesta en la Plaza was watching them team up with some of the familiar faces of cooking in Las Catalinas.
So much of the joy of Las Catalinas is the blend of new and old faces and the coming together of different personalities. Seeing each of these international visitors integrating into town in their own way was a fun testament to such a welcoming community.
But It's All About The Food!
The centerpiece of Guanacaste Nights, of course, was the food. A colorful selection of different street-style meals handmade to order for hungry guests. There were carefully crafted dishes which incorporated dozens of local flavors into a delicious harmony; as well as deceptively simple pieces, bringing one or two key tastes of the region to the forefront.
Altogether, it made for a delightful evening. Plaza Lucia came alive with twinkling lights, warm music, good company, and a colorful collection of meals.

Here were some of the highlights of each chef and the delicious food that they prepared for this event.
Gilberto Briceño
Purple Corn Toasty
- Crispy pujagua corn tortilla, topped with heart of palm puree, charred squash, starfuit and pickled wildflowers.
Nicoya Clam Shooter
-Nicoya Clam on the half shell with oyster liquor, heavy oil, starfruit + local herb garnish, and heart of palm chaser
A Costa Rican native turned international culinary wanderer. Then turned ecological explorer of flavor. Gilberto Briceño has returned to Costa Rica after learning in some of the most fascinating kitchens of South America and Europe.
After a stint with his Vestigio Creativo, a series of pop-up shops drawing from Costa Rican ingredients and culture, Briceño has made his home in Las Catalinas. He brings with him his signature storytelling style and love of local ingredients.
This meal was a sharp, punchy venture on a flavor frontier. Briceño's oyster shooter was an utterly foreign and totally exploratory hit to the palate. And we mean that in a good, delicious way! Fresh clams and the flavors of foraged herbs and fruits brought with them a feeling like seeing a new color in the spectrum.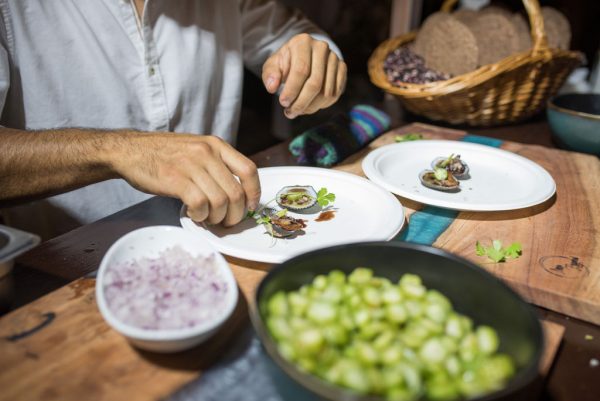 The corn tortilla brought things down to earth with a traditional selection of flavors from the region. Sweet and grounded, they served as an excellent counterpoint to the expeditionary flavor of the clams. Charred squash, purple corn tortillas, and the accents of starfruit rounded out the flavors. Locally foraged vegetables and ingredients were also incorporated.
Together with Briceño's sense for flair, presentation, and storytelling, they captured a unique vision for Costa Rica. The cuisine, like the country, was both familiar and adventurous. Also, delicious!
Justin Smillie
Beef Tacos
-Slow cooked beef taco with cilantro, greek yogurt, and avocado sauce topped with pickled vegetables
Born in Upland, California, and raised in New Jersey, Smillie has always been inspired by the rustic elements of the outdoors. In 2014, Smillie and Chef Stephen Starr decided to collaborate on Upland, an eatery where Smillie offers dishes that showcase his Californian roots and seasonal culinary sensibilities, which played excellently with the local ingredients of the region as he came to town for Guanacaste Nights.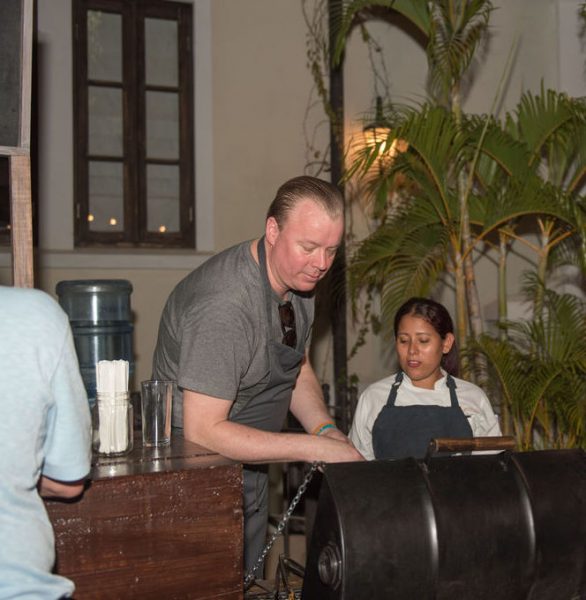 Chef Smillie immediately gives off an easygoing demeanor and a wry personality. When asked about the inspiration for the meal, he responded "well that's easy! We just put some yummy stuff on top of some other yummy stuff, and then we threw in even more yummy stuff."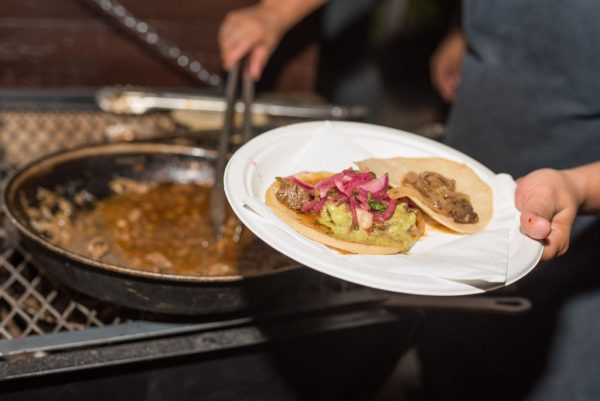 The beef taco Chef Smillie put together was a simple classic, but done to perfection. The tender, slow cooked beef had a bit of spice and kick, balanced by the creamy and flavorful sauce made with cilantro, greek yogurt, and avocado. On top, adding some color, tang, and texture were the mixed pickled vegetables, which complemented the flavors of the beef and sauce to truly complete the dish.
Deuki Hong
Seafood Tostada
-Grilled Shrimp and Calamari Tostada with Roasted Garlic Crema and Pico De Gallo Amor
Close followers of the culinary industry will recognize Chef Hong from his age-defying CV. Service at numerous Michelin starred restaurants including three-starred Jean-Georges. Recognition on Zagat and Forbes' 30 under 30 lists. Co-author of the NY Times best-selling Koreatown. The list goes on.
However, Chef Hong comes to town on heels of great success with his new fried-chicken restaurant, Sunday Bird, in which he brought his world-class pedigree to the world of more casual cuisine.

Walking up to see Chef Hong slinging street food you never would have known that he didn't live here. Between the friendly smile, the banter behind the scenes with his Catalinas sous-chefs, and the ease with which he embraced Guanacaste cuisine, it was clear that he was an excellent fit for town.

In the kitchen, Chef Hong aimed to bring Korean touch to Costa Rican cuisine. That might sound strange to some, but we'd call it a success! Drawing from a pair of Pacific seafoods, and the additions of pineapple and kimchi to the classic Costa Rican pico de gallo, the result was something that truly captured the concept of "Costa Korean."
The grilled seafood was tender and packed with flavor. The garlic cilantro sauce set an ideal base. The flavors of the kimchi and pineapple topped the dish to add a memorable splash of color and freshness to the meal.
Jose Lopez
Pork Tacos
-Pulled Pork served on a Soft Corn Pancake and topped with Fresh Slaw
Ceviche Tico
-Catch of the Day Ceviche with Local Citrus, Ginger Ale, and Onion
A local Costa Rican by birth with an international pedigree and experience. Look no further than Chef Jose Lopez who has traveled across the globe, opened up three acclaimed restaurants across Central America, and ultimately landed back in Las Catalinas. Here, he brings his local cuisine to the world stage. Chef Jose Lopez is currently the head Chef at Casa Chameleon's Sentido Norte where he has served the region's best dock-to-table seafood for years.

A long time staple of the culinary scene in Las Catalinas, it was obvious that Chef Jose Lopez would be at home in Guanacaste Nights. A generous, charismatic man; Chef Jose spent the evening in the heart of the action Dishing out pork tacos and ceviche with a smooth flair and a style is where he does his best work. And of course, he did not disappoint.

The pulled pork taco was sweet. The corn pancake added a slightly different take on the old classic. The toppings of gentle, sweet pork combined with the light creamy flavors of the slaw made for a warm and satisfying bite. Contrasted with the taco, the whip-sharp ceviche brought a punchy citrus flavor, a slight fizz from ginger ale, and the tang of the onion and cilantro to the tender and fresh fish for a refreshing end to the meal.
John Mooney
Tomatillo Lobster Roll
-Lobster in a Tortilla Roll, topped with a Spicy Tomatillo Sauce
Venturing to Las Catalinas via Hawaii, John Mooney brings with him a love of the fire pit and the open grill. A perfect fit for the atmosphere of Guanacaste Nights. With diverse international experience that has brought him across continents Mooney currently runs Kakele, a unique custom kitchen designed to bring guests into the preparation process.

John Mooney brought a wry smile and a punch of flavor to what otherwise looked like a simple traditional dish. A relatively small rolled tortilla topped with a rich green sauce sat alone on the plate. It was an interesting contrast to the complex designs and arrangements of some of the evening's other dishes.

However, the unassuming nature of the roll gave way to a wave of flavors. The buttery lobster layered with warm crusty tortilla and tomatillo was rounded out by a hint of jalapeno. A surprising, yet welcome dose of delicious.
Fabrizio Giustiniani
Seared Tuna w/ Lemongrass Crab Cake Skewers
-Seared Hamachi Tuna with a Cashew and Cilantro Seed Crust & Mango and 'Coyote' Cilantro Sauce
-Lemongrass Crab Cake Skewers with a Green Papaya and Chayote Slaw.
Chef Fabrizio Giustiniani comes to Guanacaste Nights with a love of ingredients and a unique style. After training in Paris, he has brought his experience across the world as a private, executive, and consultant chef.

His travels have ultimately landed him in town as a member of the Copper & Stone culinary team. No surprise he tackled this evening with the goal of showcasing a combination of Guanacaste ingredients, as well as the ingredients present right here in town. The result: delicately prepared hamachi tuna over papaya and soy sauce. The next step? Lemongrass crab cake skewers complete with a papaya and chayote slaw. Delicious!

The crab cake and slaw was a subtle but flavorful balance to the hamachi, benefiting greatly from the diverse and fresh flavors of the papaya slaw. However, the exclamation mark here was the hamachi tuna. Combining the buttery flavors of tuna, the tang of the sauce, and a surprising spice from the cashew crust, this meal was as delicious as it was memorable.
Featured Mixologist Liz Furlong
Catalina Gin and Tonic, Verano en Guanacaste
Liz Furlong has made a name for herself as one of the premier mixologists in Costa Rica. Owed, no doubt to her adventurous tastes, exploratory cocktails, and world-class skill. Currently working out of San Jose, Liz made her way across the country to bring her love for interesting ingredients and unique mixes to Guanacaste Nights.

Among her many mixes for the evening were the vibrant Catalina Gin and Tonic. This cocktail featured Gin, Pisco, Tonic, Local Cilantro, Black Pepper, and Fresh Caimito. There was also the Verano en Guanacaste. This creation mixed Pineapple, Uchuva, Campari, and Dark Rum.
Each adventurous cocktail brought cool and satisfying flavors that were a perfect compliment to the lively and warm evening and the flavorful street food.

In all, Guanacaste nights provided a colorful palette of culinary characters and flavors. It was a delightful event to bring to an already beautiful town. We eagerly await the next edition!
Until next time!