Ground is broken on Casa Luker, a home that welcomes those arriving in town from Camino Las Catalinas onto Calle Cartagena, borders the Monkey Corridor, and presents the terminating vista for Calle Virginia.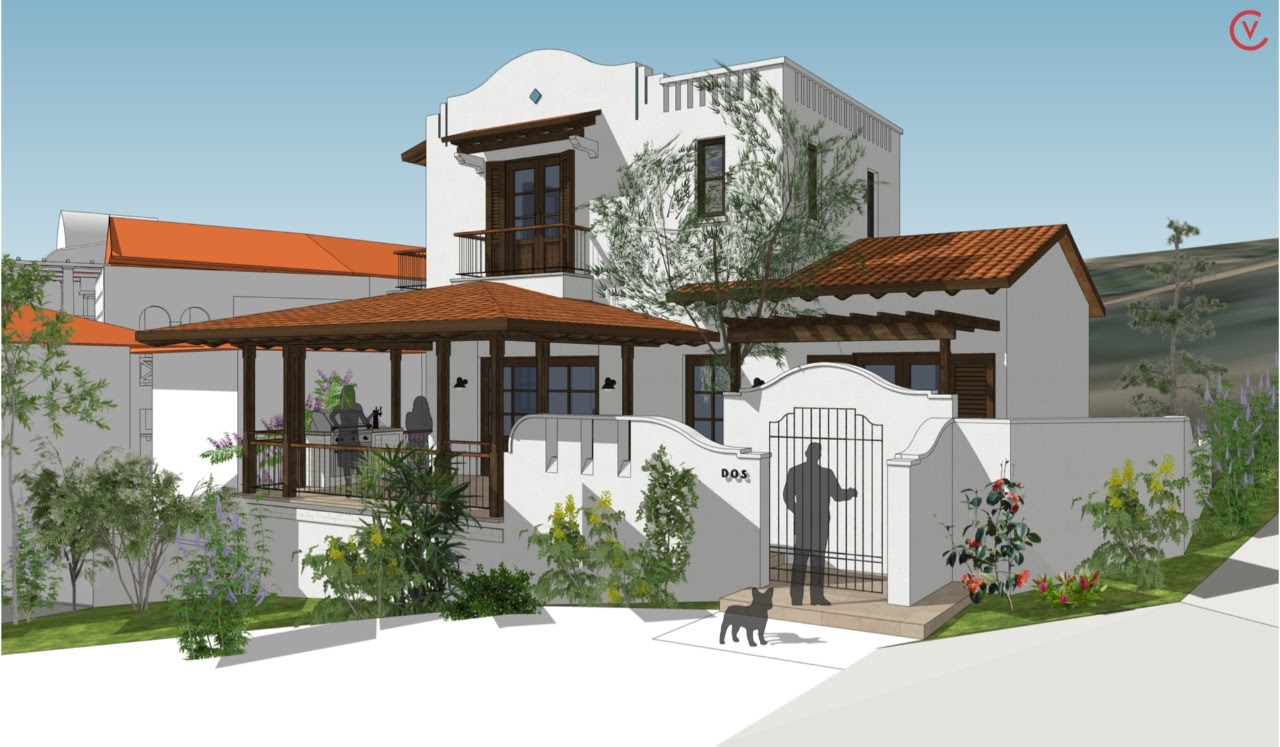 Casa Luker's facade from Calle Virginia
The home itself encourages a strong emphasis on outdoor life, both out of the homeowner's appreciation for nature and to have a space for beloved family pets to play, including Luker, the home's namesake. To execute this outdoor living, Casa Luker draws from the learnings of town's indoor-outdoor homes. It has two gardens and integration of a number of different open-air spaces into a design that is intended for the owners to live in town full time.
The Inspirations of Casa Luker
Some of the main inspirations for Casa Luker came from other homes in Las Catalinas, which is a continuing sign of the maturation of town's architectural tradition. Around town, many of the homes emphasize time spent outdoors with indoor-outdoor living that embraces the natural elements and beauty of Costa Rica.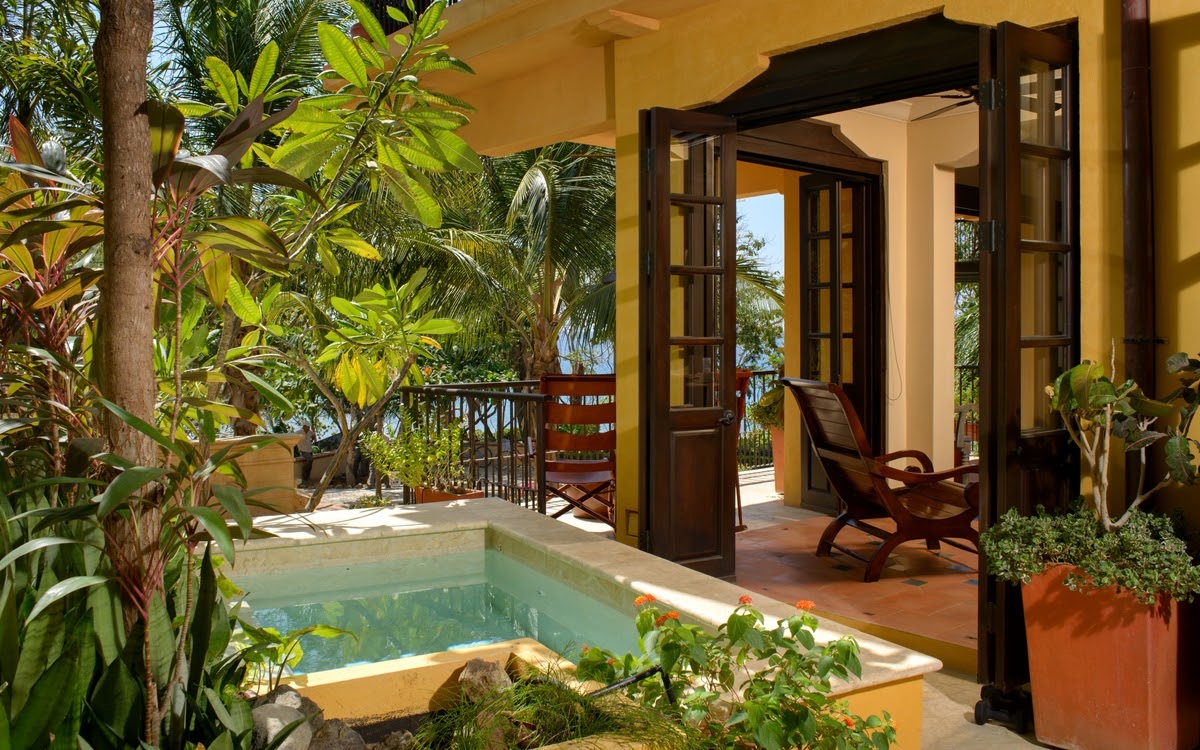 Casa Cielo (23 Paseo del Mar) is another home that embraces indoor outdoor living in many aspects of its design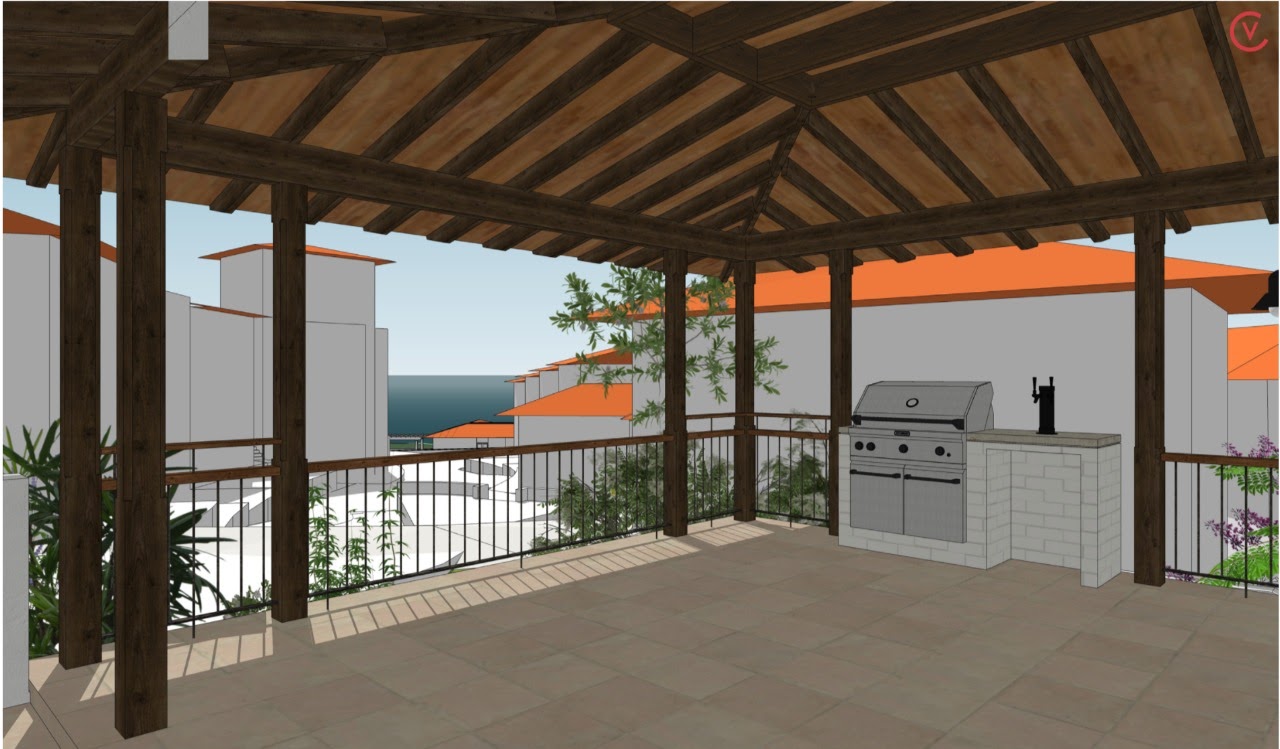 Casa Luker's outdoor terrace with an ocean view
Casa Luker is designed such that the outdoors aren't a place to visit, but rather an integrated part of daily life for full time living. Thanks to the hillside position with a view over the Monkey Corridor, there are garden spaces on two separate floors, including one that is purpose built for pets to play. Large windows, doors meant to be left open, and covered terraces make it such that in the home areas are more categorized by "roofed or unroofed" rather than "indoor or outdoor".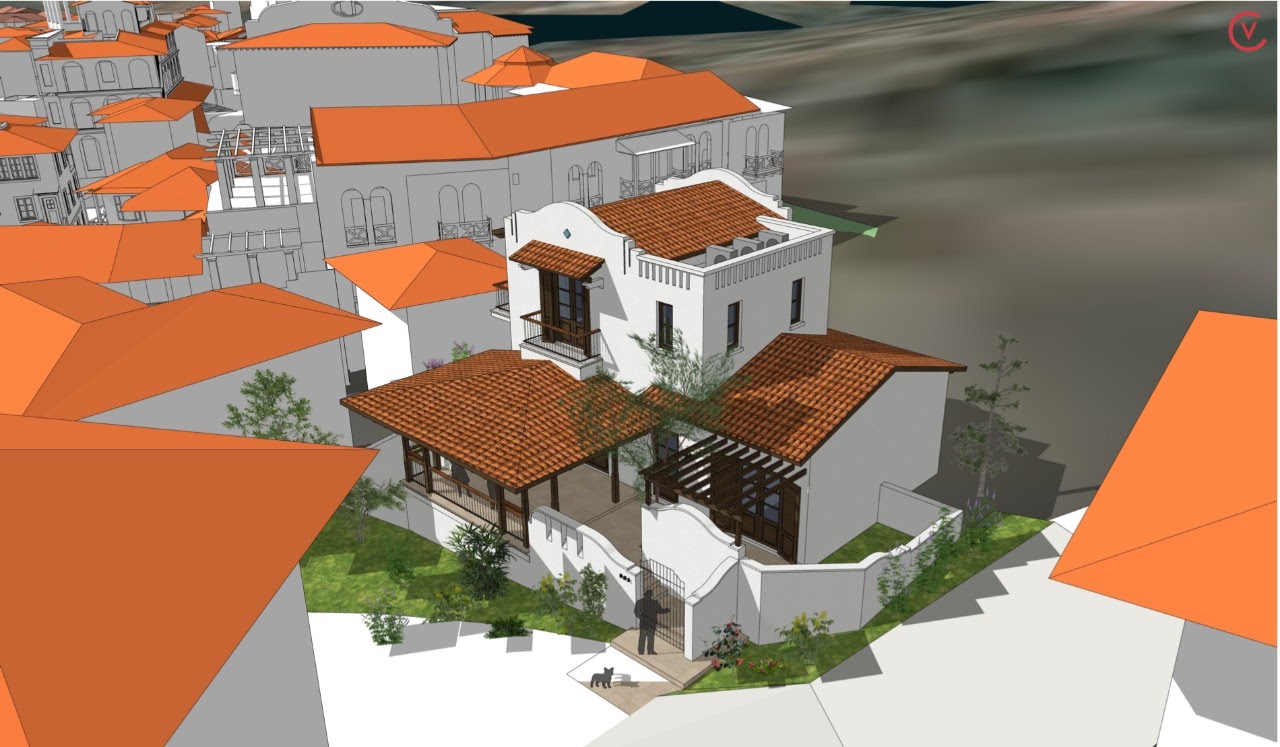 Gardens and open air spaces are prominent throughout Casa Luker
A Walk Through Casa Luker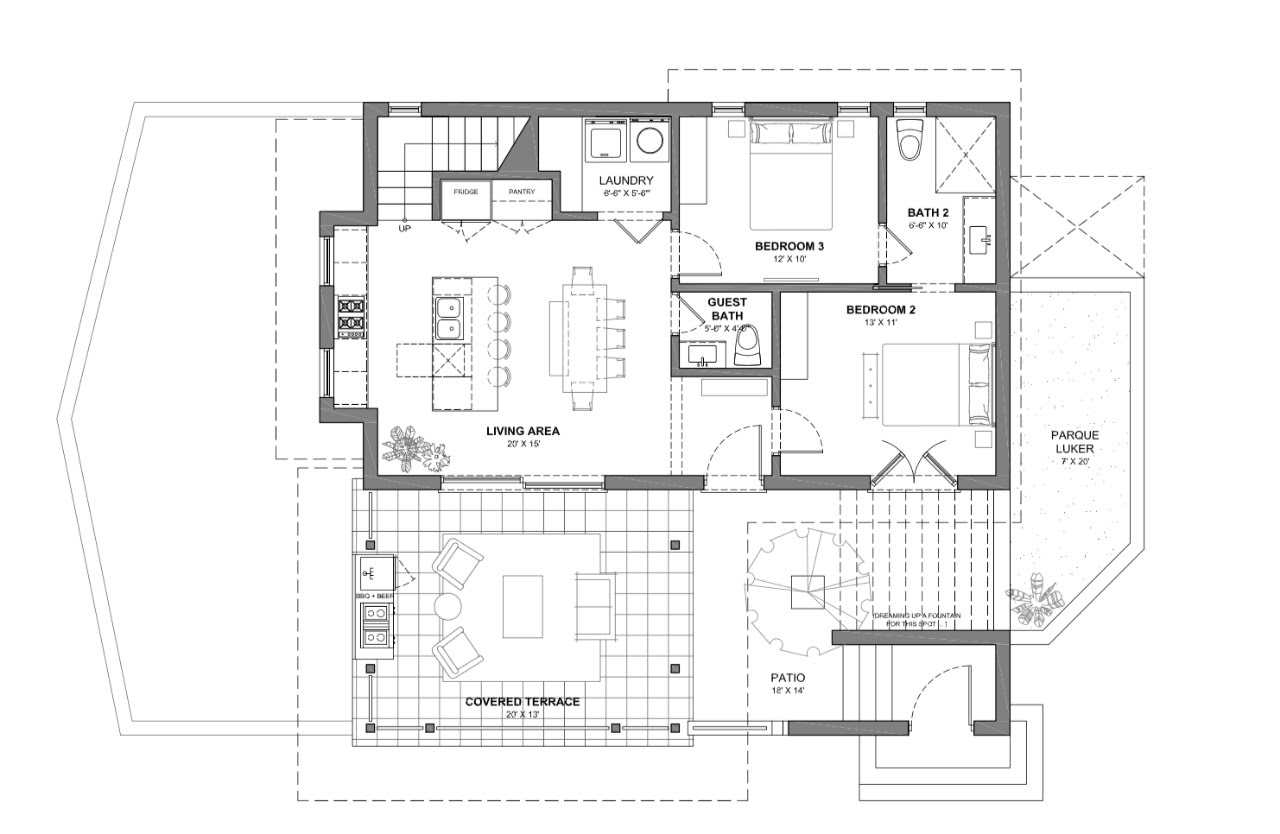 Casa Luker's entry floor
Entrance from Calle Cartagena into the home opens onto the large outdoor living room, covered terrace, and the pet garden nearby. Just past this partially covered space on the entry level, the kitchen as well as the two guest bedrooms make this space a natural gathering spot for movement in and out of the home, as well as mealtimes.
Casa Luker's second floor
Upstairs is the master suite, a fresh space that invites plenty of airflow and natural light from balconies facing two directions and large windows. The master balcony has a view towards the ocean down the Monkey Corridor, while the smaller juliette balcony faces the neighborhood, adding another element to the balconies of Calle Cartagena.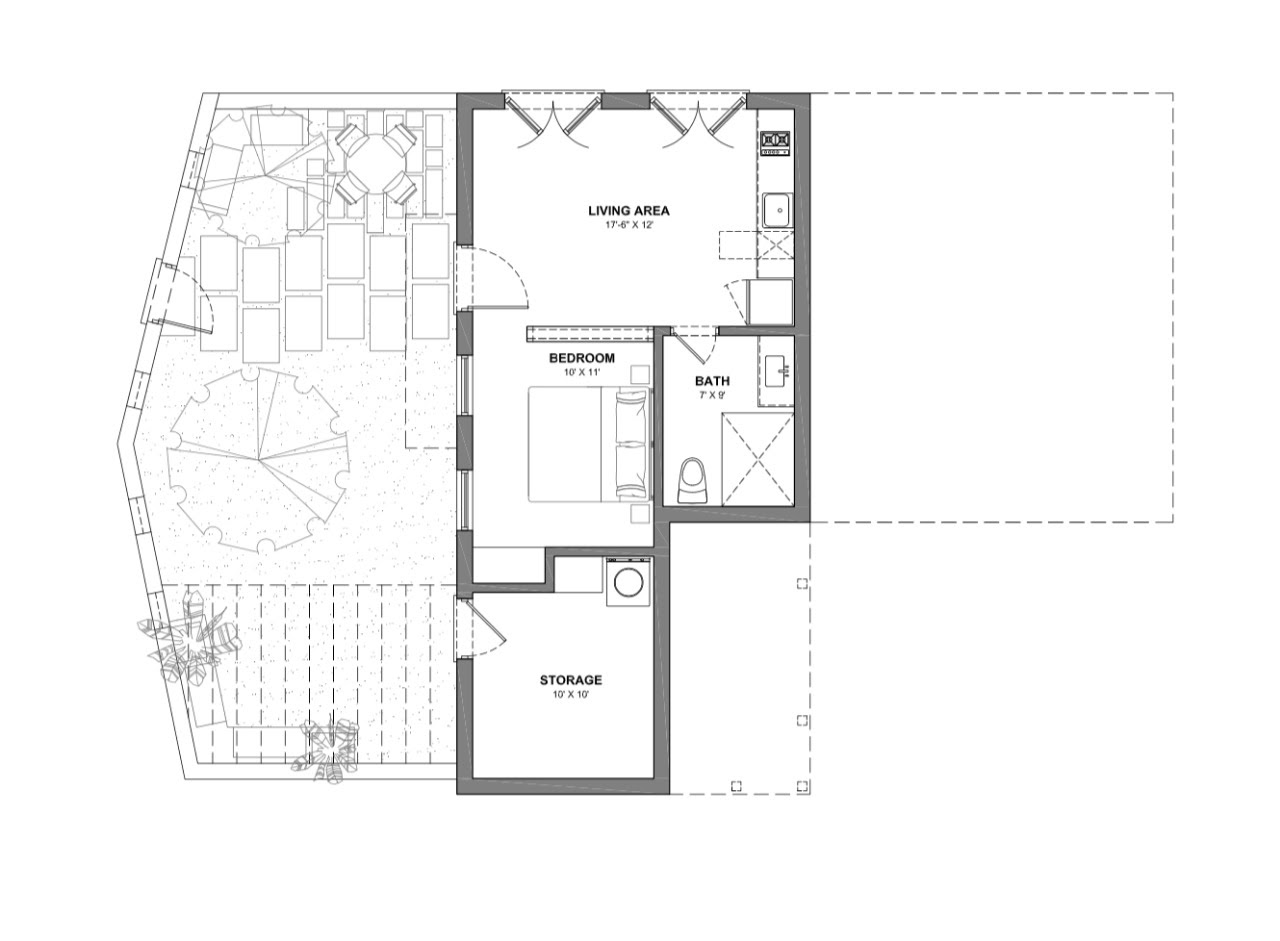 Casa Luker's ground floor
The lower garden level ties the home to the greenery of the Monkey Corridor, with a more private garden terrace and pergola that provides a balance to the open and social terrace on the entry floor. There is also an independent studio on this level, so that travelers visiting the home can share the Casa Luker's integration into nature within a private space of their own.
A Home for the Outdoor Lifestyle
Casa Luker's wholehearted embrace of the outdoors, with garden space on two levels, is a new perspective on town's culture of life surrounded by nature. Once complete, Casa Luker will offer a place where gardens, greenery, fresh air, and natural light are seamlessly integrated into the rhythms of everyday life.
In the meantime there are a number of homes throughout town that also offer indoor-outdoor living, and provide excellent spaces to host in the outdoors as well as natural integrations of the elements.
Explore them all when you stay in the homes and flats Las Catalinas Collection.