We aspire to create architecture that complements its context as opposed to disrupting it, architecture that is rational, beautiful and will last for a very long time."
Architect Ricardo Arosemana, of Arosemena & Soundy Arquitectos in Panama, played a pivotal role in the look and landscape of Las Catalinas. Ricardo and his team embraced the challenge of designing custom vacation homes fine-tuned to their owners' vision, while at the same time creating a pedestrian-focused master plan that fosters social interaction and a strong sense of community.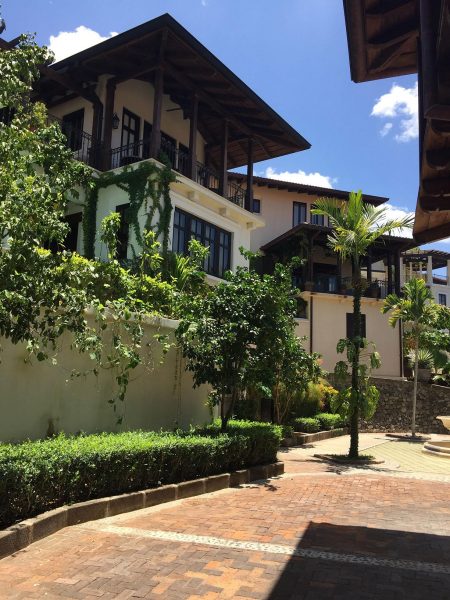 "By applying a combination of best practices in the form of dense, walkable, small scale urbanism with modern concepts such as an appreciation and care for the natural environment, Las Catalinas serves as an example of the types of ways in which humans could inhabit our earth in a more sustainable, rational and enjoyable way," says Ricardo.
In fact, walkability is one of architecture firm's primary missions. The studio is governed by a belief that the most successful buildings respond to the lives of the people who inhabit them and the things that they share in common with others. Their objective for Las Catalinas was to adhere to these architectural tenants, while seamlessly blending private and communal spaces, naturalism and urbanism, and traditional and modern design.
"It comes as a shock to most who visit Las Catalinas for the first time that many buildings are not accessible by automobile," says Ricardo, referencing the town's prominent New Urbanism design. While residents and guests may have to get used to abandoning their four wheels at the gates, Ricardo is confident that the town's walkways "set the stage for some magical spaces" and experiences – particularly for North Americans unaccustomed to such a lifestyle.
While pedestrian towns, mixed housing and connected neighborhoods may seem like a new concept, in many ways it's a nod to medieval European methods of urban planning. Arosemena & Soundy Arquitectos not only look to civilizations past for inspiration, they see all structures as creative fodder for an architect with a trained eye. Ricardo believes that every town, city and building is the cumulative expression of the cultures that constructed it over the course of history, each adding and subtracting elements in a flurry of quiet evolution.
There is a "language of architecture," he says, "which has developed throughout generations and with the combined efforts of people that worked together across time. We have our sights set on being a part of that continuum." And it seems with leading-edge projects such as Las Catalinas, Ricardo and his team most certainly are.