Wood is a noble material distinctive of the Colonial architecture style that furnishes the Tropical Americas. It's featured in decor accents, furniture, floors, and balconies, adding a warm, natural touch to designs and buildings.
At Las Catalinas, in the Guanacaste region of Costa Rica, wood is a quiet, leading character. Public spaces, houses, and stores are turned into close and intimate environments with the touch of handcrafted wood furnishings made in this beach town's very own wood shop.
Here, Town architects, designers and custom woodworkers sketch, plan, design and build one-of-a-kind fixtures with the help of skilled carpenters using some of Costa Rica's finest reforested wood.
Filled with the smell of fresh sawdust and populated by over 45 craftsmen, the wood shop in Las Catalinas is where most of its homes' creative interiors come to life. Everything from furniture, custom cabinetry, closets, hardwood floors, moldings, baseboards, doors, brackets and window frames are shaped by the hands of dedicated craftsmen.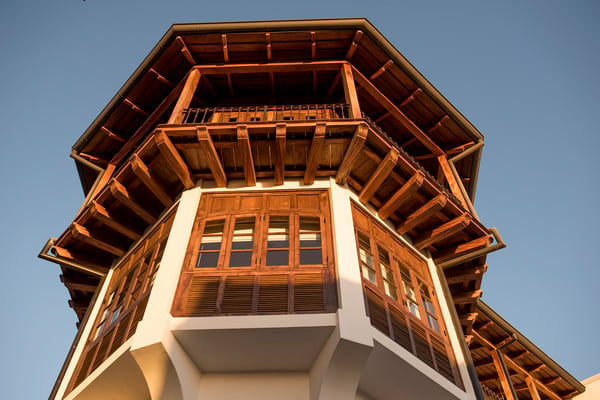 This shop is the cradle of many of the doors, home decor, and custom furniture seen in outdoor living rooms, facades, and public spaces around town. The cedar front door of Santarena Hotel and the wood eaves and windows in the Monkey Tower are the perfect example of outdoor wood applications.
While carpenters are available for consulting, many homeowners and their interior designers come equipped with furniture specs, magazine photos and even hand-drawn designs on cocktail napkins.
The talented artisans translate the owners' distinctive vision into beautiful pieces of custom woodwork that satisfy their specific needs. Some unique work is displayed externally on the facades of homes, while other works remain exclusive to the eyes of the occupants of the town's homes.

Las Catalinas is a car-free town in Guanacaste region designed as a dense urban walkable town with little infrastructure intended or built for the use of cars. Particular emphasis on reduced infrastructure allows for increased attention to detail and beauty for each walkway and building on the compact urban footprint.
With detail and beauty as the front running design philosophy, it's only natural that each residence has unique interiors that express every owner's personality and design aesthetic. Similarly, the only constraint is the imagination of its clients.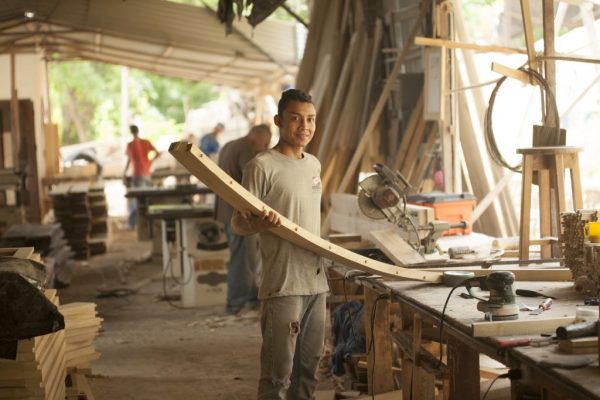 Types of Woods Utilized in Town
There are a few reasons for the use of specific wood materials. Town's climate in a tropical dry forest reserve on the ocean can be harsh for wood. While The average temperature is about 33 degrees Celsius for a high and there is a constant salty sea breeze, half of the year experiences dense humidity whereas the other half of the year has as little as 0 days of rain. As a result, woods are chosen carefully. Guanacaste and Melina woods are both local, native woods that are already adapted to this climate, so they perform well. They are chosen, in part because termites can't burrow into Guanacaste and don't like the taste of Melina.
Guanacaste is a very hard, durable wood along the lines of mahogany and often used for structural elements of a building such as roofing beams and structural columns. It also has a visually complex and beautiful grain, making it an easy choice to use for the exposed vaulted roof structure that has become a signature feature for the interior designs and facade eves of most buildings in town.
The Guanacaste is also one of the country's protected species of tree. Its use is highly regulated to ensure sustainable forestry practices that plantations like Finca Leola uphold. Sourcing Guanacaste wood through the proper channels fortifies the town's mission of working hard to protect and enhance nature.
Meanwhile, Melina is a softer blonde wood like pine, which makes it easy to work with. It can be stained almost any color, can be stained to match Guanacaste or take on tropical or vibrant colors. When used externally, it is often seen making up the doors and windows the facades of buildings. When used inside a building, Melina wood is primarily used for building custom cabinetry and shelving.
Similar woods such as cedar and teak are used on occasion in town as an upgrade option for anything from doors or windows to cabinets and custom decor.
It's a Wood Thing

Woodwork is part and parcel of the tropical timeless architectural vernacular and identity of Las Catalinas. It signifies both the depth of detail and traditional utility that characterize the pedestrian streets of town. From structural works like roof beams and columns to little details in carved furniture and windows, it's one of the things that makes town beautiful and special.