Pura Vida Ride is an integrated part of life in Las Catalinas, and has served as outdoor outfitter, repair shop, equipment rentals, event organizer for the Pura Vida Ride Paddle Battle, and frequent coffee spot for almost ten years.
It's a versatile role to play in town, and one supported by the adaptable, active, and friendly team who work day-to-day behind the scenes.
The Bike Shop
For the bike shop team, the day starts by rolling all of the bikes out onto the porch, and giving a few of the rental bikes a test ride to make sure they're in top shape. Once the shop is set up, there are three main parts to the day.
First is helping with visitors the shop, which includes accepting maintenance requests, and providing a helpful source of guidance for guests looking to purchase gear. Having an in-depth and first-hand knowledge of the products is key, and members of the bike team provide an experienced and inside perspective on the helmets, shoes, lights, grips, gloves, and other gear in the shop.
The second responsibility of the bike team is to manage bike rentals, matching riders to bikes and equipment while also helping facilitate guided tours, snacks, water, maps, and a bit of coaching. Finding riders an appropriate bike is key to a good ride, bike shop member Brauilo explains, and there are 8 potential sizes to choose from for both kids and adults.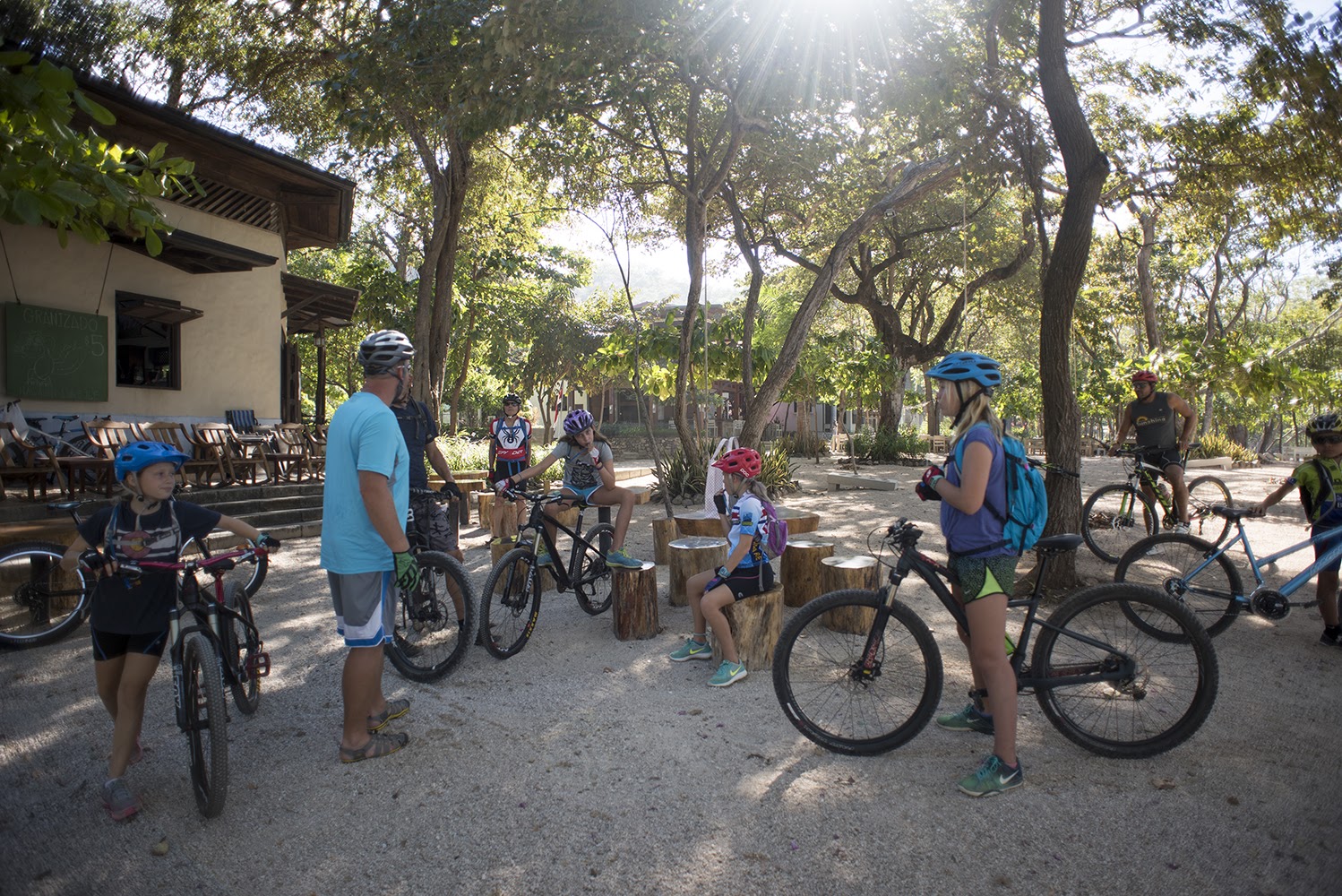 There are riders of many different sizes on the trails at Las Catalinas, and it's important to ensure that each has the correct bike
For mountain biking, youth bikes are measured by wheel size, and come in 20" (S), 24" (M), and 26" (L) sizes. For adult sizes, bikes are measured by their frames, which Pura Vida Ride has in 13.5" (XS), 14.5" (S), 16.5" (M), 18.5" (L), 20.5" (XL), and even 23.5" (XXL) sizes for a wide range of riders. Over time, Brauilo explains that he learned to match a bike to a rider relatively easily by height, and riders are encouraged to test drive their bikes in the plaza for comfort.
The final responsibility of those on the bike team is maintenance, which Pura Vida Ride holds to a very high standard as the preferred bike shop in Guanacaste. There are three types of maintenance tasks.
The first type are specific requests, for fixes or replacements of components, like a pair of worn down brakes or a faulty derailer. Second are "wash and tunes", which includes a bike cleaning and moderate adjustments like oiled chain, tires calibrated, seat adjustments, brake tightening, and other fine tweaks.
Finally are full tune ups, in which each component of a bike is broken down, then carefully cleaned, adjusted, and replaced if needed, before being reassembled and tuned to peak performance.
Throughout the day, these three overarching responsibilities ensure that guests are guided in the shopping process, find easy and well-matched rentals, and can trust that their bikes are left in good hands.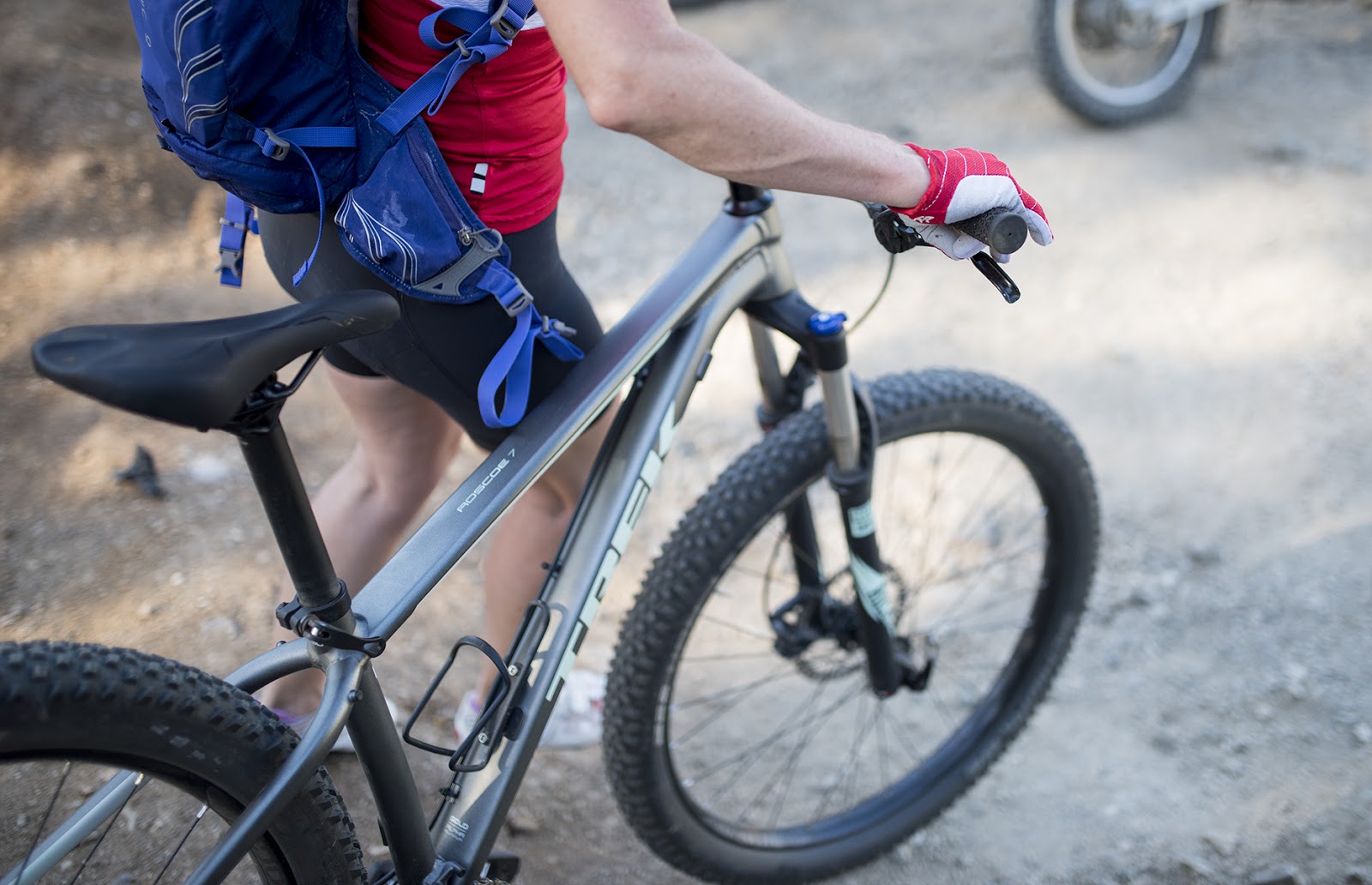 After a full service from Pura Vida Ride, bikes are left cleaned, tuned up, and ready to hit the trails
The Front of House
For the front of the house team, there are two main areas to focus on during the day: the shop, and experiences.
Manning the shop includes a little bit of everything. For example, Pura Vida Ride has homemade baked goods like empanadas and banana bread, snacks, soft drinks, gelato, and also coffee which makes the day-to-day atmosphere part lively café. The rocking chairs outside of the shop are a popular spot to sit and socialize after a ride or a paddle, or just to enjoy the atmosphere on Playa Danta, and PVR's team takes great care with each cup. Dennis, part of the front of the house team, jokes that learning to make the coffee right was one of the hardest parts of training.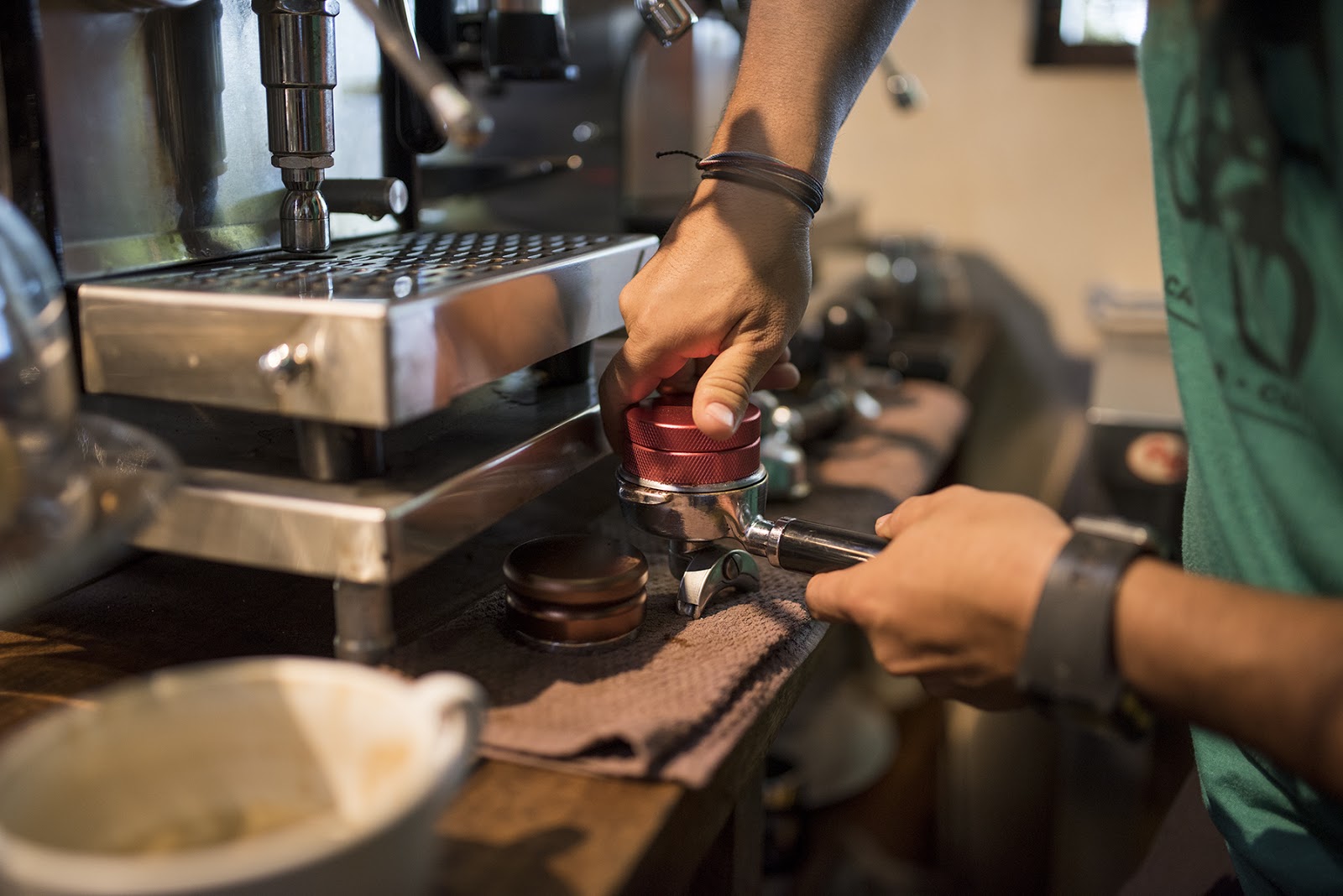 There's a lot of care that goes into each cup of coffee from Pura Vida Ride
On the outfitter's side, PVR's team greet guests upon arrival and serve as a knowledgeable guide throughout the shopping process. They take care to know each product available in the shop, guide guests to specific items they might be looking for, offer personal recommendations when possible, and then support guests with everything from try-on to check-out.
On the experiential side, responsibilities are different.
In addition to mountain bike rentals, Pura Vida Ride's front of the house has stand up paddle boards, kayaks, snorkeling gear, boogie boards, and beach games like bocci ball and volleyball. It's a wide range of rentals, and there's a lot to be done to ensure that they're in peak condition. Paddle boards, kayaks, and snorkeling gear need to be rinsed off after use to avoid salt damage, inflatables need to be adjusted to the right pressure, and all gear needs to be waxed and repaired from wear and tear.
Testing the gear, to ensure that all of PVR's equipment is at peak performance, is a particular favorite part of the day.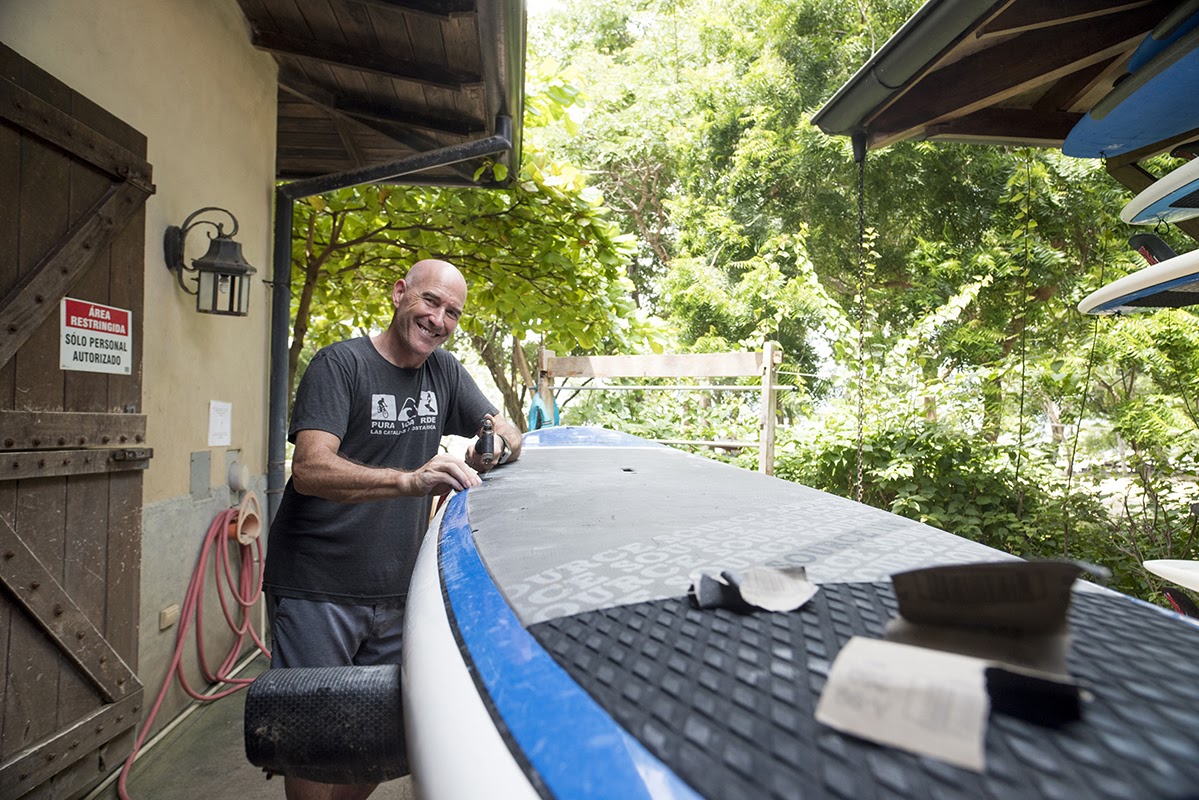 Jake doing some routine maintenance on one of the paddle boards
Like with the mountain bikers, matching each guest with the right gear is important, especially with a wide range of equipment and boards for all shapes and sizes. Whether helping decide between an inflatable or fiberglass paddle board, between two singles or a tandem kayak, between boogie boarding and snorkeling, or one of many other decisions, the PVR team is there.
Then, after guests return from their activities, the team welcomes them back (often with snacks and refreshments), receives the gear, and tunes it back up to peak condition again.
The team at PVR must be adaptable, especially considering the tours which cover mountain biking, paddle boarding, and interesting combinations like the kayak snorkel. Each member of the team is an expert on the activities land and sea, and while some specialize, like Jason with mountain bike, they can all lead any tour.
All of these pieces -- food, shopping, rentals, and tours -- working in concert are what make Pura Vida Ride a versatile outdoor outfitter, one that's an integrated part of life and a gathering hub for many outdoor activities in Las Catalinas.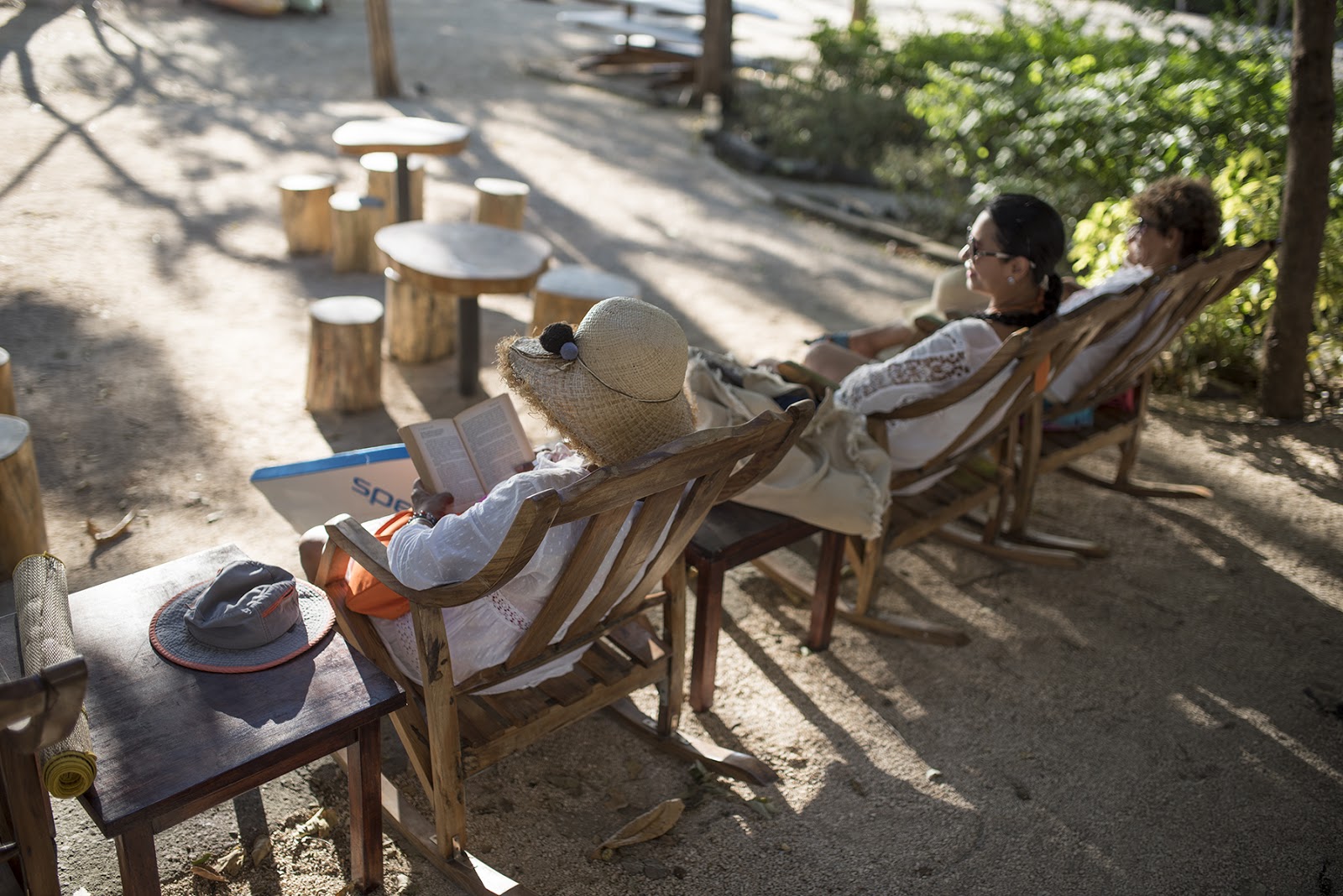 Whether returning from activities or simply stopping by for a cup of coffee and a chat, Pura Vida Ride presents a spot to gather, socialize, and enjoy the beauty of Playa Danta
The Life at PVR
A day in the life of the Pura Vida Ride team is an active one, constantly in touch with the outdoors and always attentive many guests who trust PVR for their equipment, snacks, clothing, rentals, repairs, and coffee.
The result is a shop that has been around for almost a decade, and lasted through the years as a place for athletes, sportspeople, beachgoers, and friends to come together over sports and the beauty of Playa Danta.