The town of Las Catalinas is located in Guanacaste, Costa Rica, surrounded on one side by a tropical dry forest reserve and on the other by Playa Danta and Playa Dantita, two sandy beaches on the Pacific Ocean.
It's a blend of environments that offers a rich selection of activities to those staying in town and helps contribute to the naturally active and physical lifestyle in Las Catalinas.
Visitors can mountain bike all morning before returning to the beach for a dip in the water to cool off. A scuba diving trip can be capped off with a stroll along the hillside roads before dinner. Sunrise hikes to the top of McHenry peak are a good way to start the day, before ending with sunset paddleboard yoga out in the bay. Yearly events in town also include triathlons, obstacle course races, and other sporting competitions that feature both the water and the town's diverse terrain.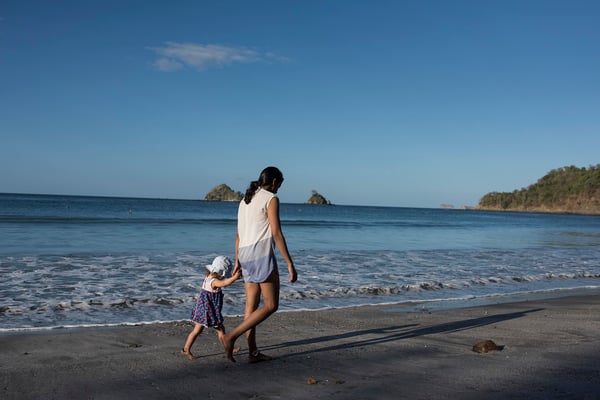 When the beauty of nature is only ever a few steps away, there's an instinctive desire to get out and explore. Town's man-made beauty and walkability are fundamental to this active lifestyle as well. When the first step of every journey is made on foot or by bike through a thoughtfully designed, engaging, and lively neighborhood, outdoor activities become an easy part of the rhythm of life, rather than a trip that needs to be planned.
Compared to life in a big city, where the beauty of the outdoors can be miles away and further separated by obstacles of inner-city traffic or busy main roads, it's plain to see how much easier it is to engage with nature here.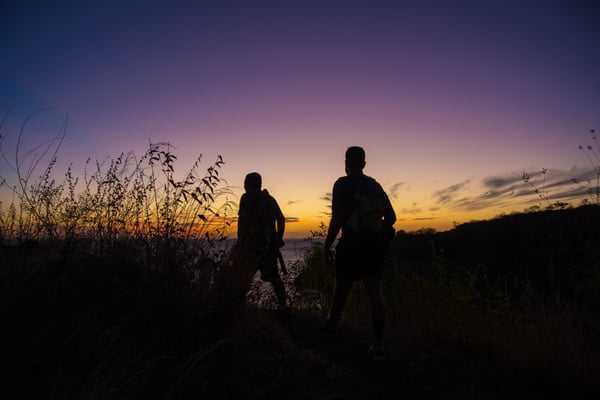 On both land and sea in Las Catalinas, there is a love for sports that ranges from surfing to mountain biking to scuba diving to trail running and much more. This passion for sports, combined with easy access into town, a versatile environment in which to perform, and a wide variety of lodging options, makes Las Catalinas the ideal location to host outdoor events like the Las Catalinas TRI, the Paddle Battle, the Intrepid Challenge, and much more.
Land Activities in Las Catalinas
Las Catalinas has 42 km of multi-use trails through a 1,000-acre tropical dry forest reserve, two beaches, as well as walkable hillside streets ranging from beachfront to hillside. It's a place that fosters hiking, running, fitness on the beach, yoga, beach football, street football, and more.
Another very popular option is mountain biking. Trail heads are scattered around town, so in moments riders can set off into the heart of the tropical dry forest and weave alongside the seaside cliffs. Each trail has been custom-built, and aims to offer a diverse set of trails accessible to most beginners and enjoyed by experts. There are sections with climbs, free flow portions along the hilltop, thrilling downhills, and more being built in the coming months.
Riders set out onto the trails in any weather all year round, departing morning, noon, and night. This is another key part of the active lifestyle in town. Whether rain or shine, windy or still, day or night, all the land activities power on, embracing the elements each in their unique way.
Ocean Activities
The variability of ocean conditions means that every day on the water is completely different, drawing the residents and visitors of Las Catalinas out in different ways depending on the day.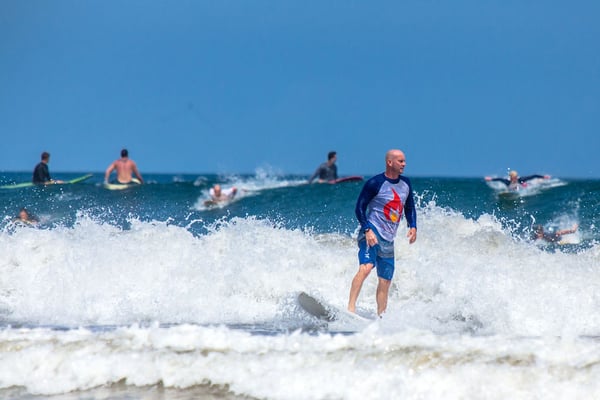 Some days, the water is crystal clear and calm, the perfect conditions for snorkeling and scuba diving with the help of our friends from ConnectOcean, along the vibrant rock reefs off of Las Catalinas as well as the Catalinas Islands. These days are also ideal for an open water swim out in the sheltered bay, a journey out on a paddleboard or a kayak to explore the coastline or a quick journey out to the swimming platform for a breathing practice or to lounge in the sun.
On other days, when the swell and the wind are a bit sportier, the waves on Playa Danta form perfectly to boogie board or body surf. These days are also excellent to get out and surf at one of the region's surf breaks, which range from gentle learning beaches to world-class breaks.
It's for this reason that Las Catalinas makes for an ideal surf base camp, scuba base camp, snorkeling site, and beach holiday spot all wrapped up into one. No matter what the day is like, there's something to enjoy out in the ocean, which is another key factor to the town's active lifestyle.
A Place to Train for Triathlons and More
Chip Beard, as well as a triathlon coach and former Iron Man Champion Jessica Jacobs, both put Las Catalinas among their favorite training destinations. To Beard, the accessibility of the ocean right outside the front door, especially so close to world-class trails, make multiple training sessions over several modalities while in town extremely convenient. To Jacobs, the combination of food options, friendly people, and the town's many activities (alongside training opportunities on land and in the water) made training in Las Catalinas "a pretty nice plus!"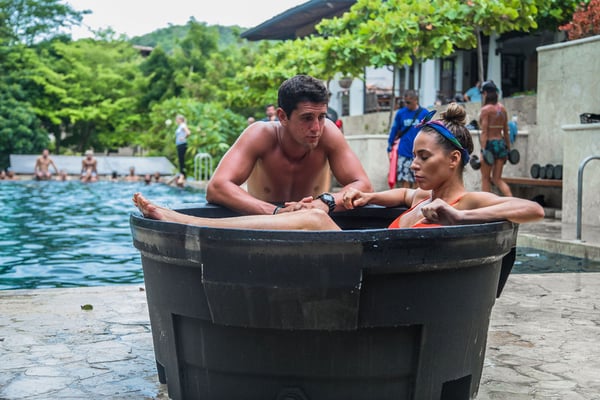 The XPT's Waterman Experience is an example of an event improved by the town's versatility. Waterman was designed to push athletes to their limits across a variety of different environments, and having pool facilities, ocean, mountain, beach, ocean, and accommodation in the walkable distance meant less transit time and more integrated experience.
The physically active and healthy lifestyle of Las Catalinas is also supported by many of the town's shops, restaurants, and partners. Athletes can stay nourished by gourmet groceries from Copper & Stone, recover with sports recovery massages at Wake Day Spa, and enjoy fresh, healthy, and flavorful cuisine at restaurants like Ponciana and in-home dining from town's chefs.
Being active and healthy, especially when training for a large event, includes a good diet and recovery, and both are readily available in Las Catalinas.
Major Athletic Events in Town
The Las Catalinas Triathlon, the Pura Vida Ride Paddle Battle, and the Intrepid Challenge are three of the town's largest outdoor events. Each of these events has something different to offer for athletes, and thanks to strong communities of athletes year after year they've become a part of the tradition of Las Catalinas.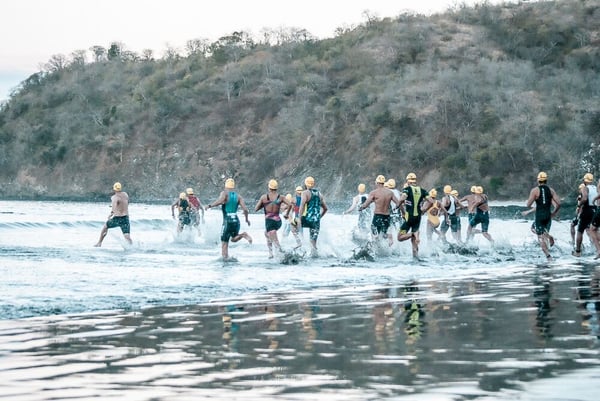 Kicking off the yearly events, the Las Catalinas Triathlon is an off-road triathlon that covers over 40 km of town's trails, beaches, waterfront, and streets. The TRI started in 2013 with 160 competitors, and in the ensuing years the event has grown to host over 400 racers who work solo or in teams to race across all that town and the surrounding environment have to offer.
Past winners include current Olympian Leo Chacón and XTerra World Champion Rom Akerson, and the event as a whole is inclusive for many skill levels, offering a team relay option, the Aguas Abiertas two-distance swimming competition, and a kids' race through the streets of the town. It's a lively time in town and an experience for the whole family. Athletes train and race, families offer support and cheer on race day, and then everyone gets to celebrate together at the end of the weekend.
The Pura Vida Ride Paddle Battle is the town's oldest running athletic event, starting in the earliest years of town back in 2011. Taking place in the bay just off of Playa Danta, the Paddle Battle is a collection of small-to-long distance paddle boarding races that cover distances of up to 10 km.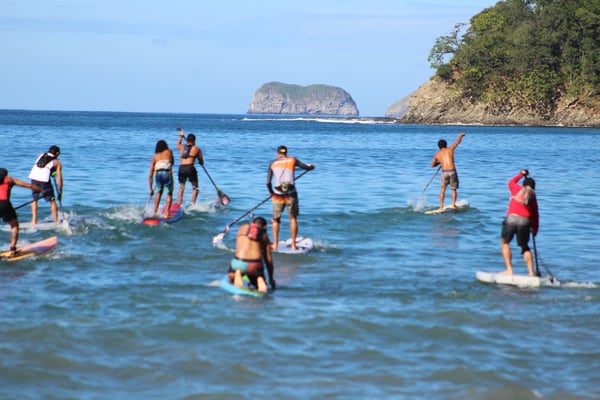 When the event started, it was a small group of competitors from around the country who gathered in an informal setting. Since then, the Paddle Battle has grown to cover elite, amateur, kids, and 4-person board Dragon SUP divisions, and hosts the country's best paddlers as they compete in the final race of the Costa Rican SUP circuit to qualify for the Costa Rican national team in the Central American Games.
The Intrepid Challenge is an obstacle course race that covers the ocean, beaches, and trails around town. Founded in 2015, Intrepid Challenge hosted its first beach edition in Las Catalinas in 2018, where it has continued to evolve each year.
The most recent edition of the Intrepid Challenge in early 2019 featured 15 obstacles and a 5k+ loop that was run once or twice, whereas this November's race featured 16+ obstacles, an 11k+ run, a 16k+ mountain bike ride, a 1k+ kayak, and a 1k+ open water swim. Future race obstacles and distance estimates are a result of the relative secrecy by the race directors and are closely guarded until race day.
Throughout the year there are also a number of other friendly competitions in town. On the trails, the Las Catalinas Reto just began, a time trial event that pits riders in a race for the best time on different sections of a set mountain biking circuit. Out on the water, events like the Pitahayas Challenge Open Water Swim have hosted swimmers on races of up to 3200 meters.
Each of these events offers something different to athletes from different specialties, but there's one thing that unites them. They would not be the same (and in some cases, would not even be possible) anywhere else other than Las Catalinas. During these weekends, town and the natural world around it are full of friendly faces and world-class athletes. It's an elevated way to experience what exists here already, a town full of people who love the outdoors.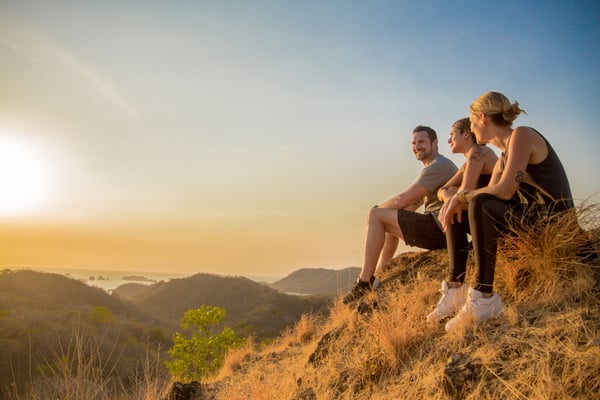 See You in Town Soon
Thanks to its 42 km of tropical dry forest trails, two sandy beaches, and a sheltered swimming bay, Las Catalinas is a haven for practicing and training for sports in Costa Rica.
It's also the best location to start preparing for next year's Las Catalinas TRI, which will be hosted on February 8th, 2020. What better way to train than becoming familiar with the area where the competition will take place, and knowing the way around the grounds? Registration is open and the event sells out quickly.