On my last couple of trips to Las Catalinas our guests and I have gotten a chance to try paddleboarding. Paddleboarding is a fast growing sport that is making converts of kayakers, surfers, and newcomers to water sports. To do it you stand up on what looks like a large surfboard. You use a long single-bladed paddle to make it go. It is easy to learn, a great full-body workout, and you get a great view of things both above and below the water. You can surf paddleboards as well - it is a wonderfully graceful thing to see. For me the wave-surfing part of paddleboarding is still an aspiration - but I'm going to learn! It looks way too fun.
Las Catalinas turns out to be a GREAT place for paddleboarding. Our beaches often have a breeze blowing offshore, which makes for nice smooth water. The dramatic coastline is great for exploring. Paddling out and around the islands just offshore is a really fun trip where you can get a close up view of the swells surging up and down on the rocks there. And our waves - typically gentle, smooth, widely spaced swells from thousands of miles away - are good to ride!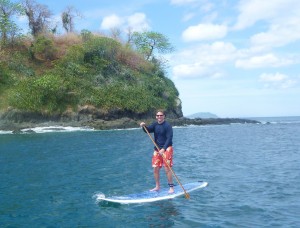 Todd Clark has been kind enough to bring over some paddleboards to Playa Danta and give us some instruction. Thanks to him for introducing this great activity to us. I'm sure it is going to be a mainstay of Las Catalinas water sports.
- Charles