Desayuno Típico is the typical Costa Rican breakfast, a simple, healthy meal that can be found in sodas and homes around the country. Much like the casado, there are regional variations, but the staples of the meal are gallo pinto, fruit, fried plantains, eggs any style, and usually a grain like bread or corn tortilla with a spread like natilla.
Add in a cup of local coffee prepared traditional style, and frescos from fruit picked around the home, and you have a meal that forms a staple of the Costa Rican diet.
The Origins of Desayuno Típico
This Costa Rican food comprises ingredients that were historically available throughout the country, could be found fresh in many regions, and were affordable and easy to store, making this meal accessible to everyone.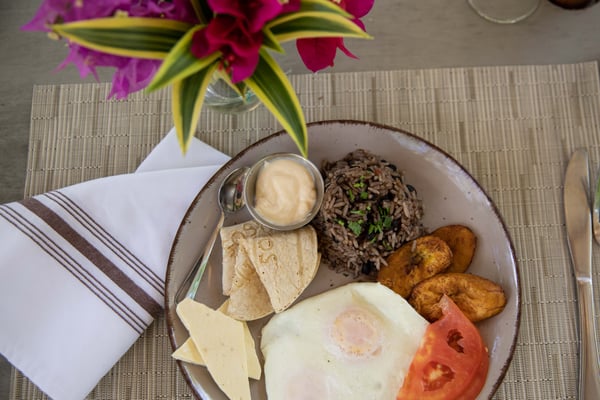 Photos by Robin Sugar
Today, these factors make this local breakfast a meal that all Costa Ricans and visitors can enjoy.
Another reason the Desayuno Típico has become a staple of the national diet is its nutritional balance. The breakfast has a balance of essential nutrients; carbohydrates from rice and grains, lean proteins from eggs and beans, complex sugars and vitamins and minerals from fruit, calcium from bread or natilla (a sour cream-like spread), and the burst of caffeine from a cup of coffee.
It offers immediate and lasting energy and satiety which gives the body the nutrients it needs to thrive day after day. Fresh fruits also provide a natural variation to each breakfast, which keeps this breakfast interesting and satisfying day after day.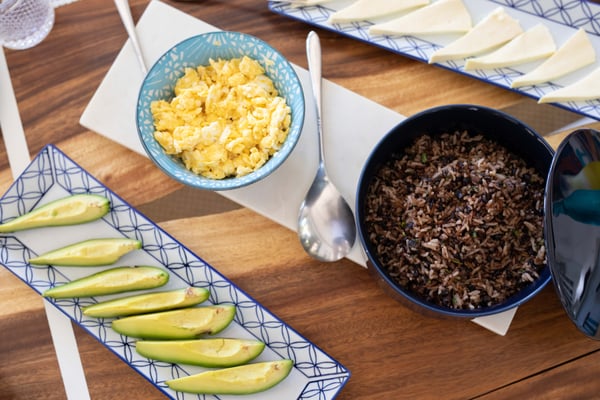 Chef Gilberto's Desayuno Típico
Each family has its own slightly different preparation. Sometimes this comes in the form of adding some favorite spices or a bit of meat to the Gallo pinto or varying the preparation of the eggs. In other preparations, a different grain or spread may be used, a different "salsa" or sauce may be introduced, or seasonal fruit from local farmers' markets or home gardens may be added.
Our Chef Gilberto shared his family's version of a Desayuno Típico:
One-pot of Gallo pinto with onion, red pepper, and cilantro. It should be enough that everyone can have seconds and thirds; even fourths.
A big plate of scrambled eggs made with butter and a pinch of salt. According to Gilberto, scrambled are best because you can pile them up on bread and wrap them in tortillas easiest.
A loaf or two of freshly baked bread with butter and jams from Friday farmer's markets (depending on how many people are eating). Gilberto's mother loves good, fresh-baked french-style breads. She uses them to serve Gallo pinto-avocado-and-egg sandwiches or spread with butter and jam for a sweet, tart, and fruity treat.
One bottle of Costa Rica's famous sauce Salsa Lizano to add to the Gallo pinto or spread on the eggs. According to Gilberto, it's not a Desayuno Típico in his house without this sweet and spicy salsa.
Fried ripe plantains, sometimes with a bit of cheese on top or a few extra spices like cajún or paprika.
A bowl of fruit from the market down the road. Usually papaya, banana, with seasonal fruit like a mamón chino from the stand on the corner.
Frescos made from the fruit trees in the yard. Cas, soursop, or lime are all easily blended up or squeezed, with little sugar but nothing else added.
Serve each dish on a big family table to pass around.

Where to Get Desayuno Típico in Town?
Staying in homes the Baranda and Bon Vivant collections, your House Mom can prepare her family version of a Desayuno Típico for breakfast, which is part of a wide range of Costa Rican cuisine options available to guests.
The key ingredients — rice, beans, plantains, loaves of bread and grains, sauces, and fruits — are all available from Copper and Stone, and you can ask her about any special ingredients that she likes to add.
House Moms are always happy to share a taste of their hometown flavors, and sharing breakfast with them is one of the many ways to quickly settle into life in Costa Rica and the "pura vida" lifestyle when you're in town.