The Las Catalinas Triathlon, or el TRI, showcases the many ways to make use of the natural world around Las Catalinas, with an open water swim, a mountain bike, and a trail run that comprises one comprehensive race around town and surroundings.
El TRI is one of town's oldest traditions, and from the beginning the best place to stay for el TRI has been right in town at Las Catalinas.
One benefit of staying in town is that it removes the complications of getting to town on race day. When staying in walking distance to the starting line, there's no need to pack up the car and drive into town, and no concerns of gear forgotten or misplaced, which makes race prep simpler on the day of and adds time to sleep and warm up.
Add in nearby access to groceries, restaurants, and in-home dining adaptable to a wide variety of diets and restrictions, as well as walking distance access to outdoor outfitter, day spa, and training pools, and many of the needs for a race are covered. All that's left is to wind down triathlon training with the taper for the race, and enjoy the lively community atmosphere of sports and the outdoors that makes TRI weekend such a good time to be in town.
Furthermore, many of the homes in town have something to contribute for athletes in town, which can make a difference on TRI weekend.
Casa Cazenovia | A Lap Pool in the Heart of Town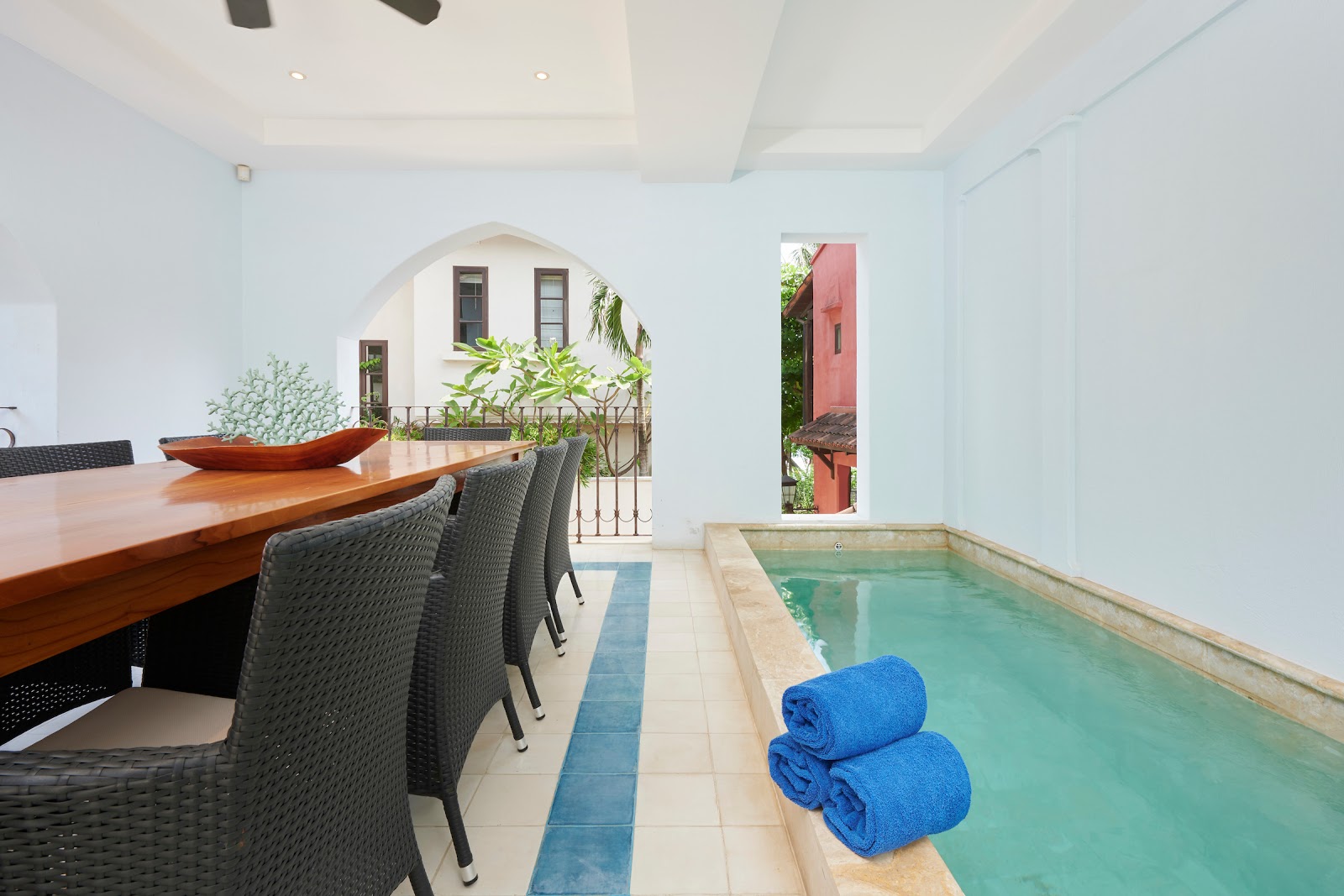 Casa Cazenovia's lap pool is a versatile space for a few warm up laps, a quick burst of training, or a recovery swim surrounded by family in the heart of town.
Casa Cazenovia overlooks the pedestrian street of Paseo de Los Niños in the heart of town, where Playa Danta and town's tropical dry forest trails are both just a short walk away. With a lap pool in the center of the home, and the outdoors right nearby, year-round Casa Cazenovia is a place to get out and explore nature, train in the home's lap pool, and embrace the naturally active lifestyle in Las Catalinas.
During TRI weekend, Casa Cazenovia's lap pool is a hidden gem in the heart of town, a versatile space to wind down after a taper workout, get a few reps in to stay fresh, and spend time with family while preparing for the race. The result is a home well-outfitted for the days leading up to el TRI.
16 Calle Virginia | Routine, Rest, and Recovery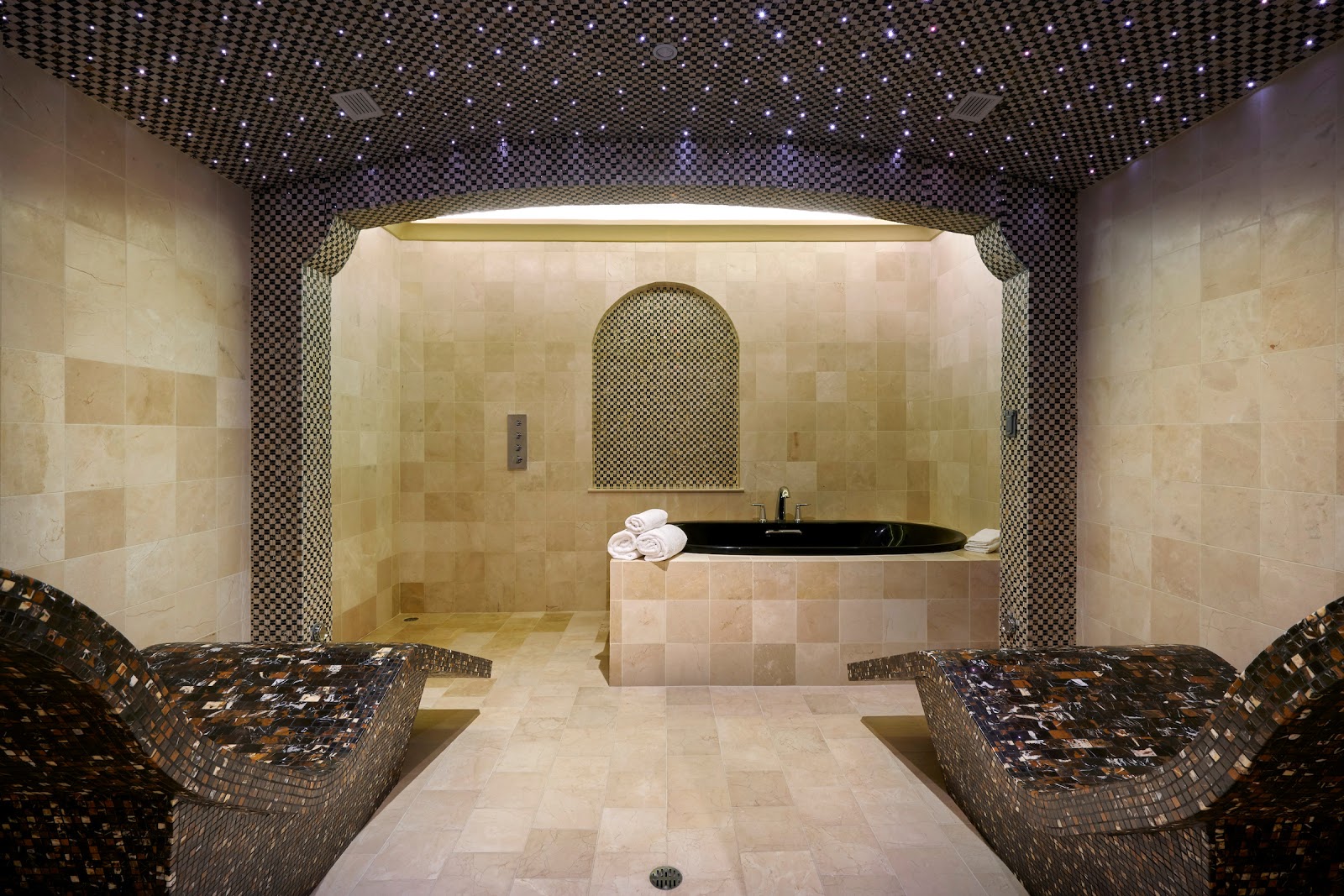 16 Calle Virginia's starlight sauna offers an in-home recovery option, and the chance to keep your rest and routine in line while on location
16 Calle Virginia is on the hillside in Las Catalinas, and offers a relaxing home base in this walkable town surrounded by ocean and forests. A private outdoor terrace and pool patio, as well as a balcony in the master bedroom offer a number of peaceful spaces in the outdoors. At the center of the home, the custom starlight sauna on the master bedroom level offers the familiar ritual, routine, and recovery of home during a stay in Las Catalinas.
One of the many challenges with a destination race is keeping your training, nutrition, and recovery routine in a new place. Thanks to town's walking distance access to trail, water, and exercise facilities, as well as its versatile dining options, training and nutrition can keep to a familiar baseline, and 16 Calle Virginia adds in-home recovery with its private pool and custom starlight sauna.
Twin steam generators with temperature and volume control provide a fine tuned steam room experience, with custom heated fiberglass chairs, a full bathtub, rain shower, and adjustable LED lighting that provide an exceptional space to recover during preparation and after the race.
9CLR | Ride-in/Ride-Out Trail Access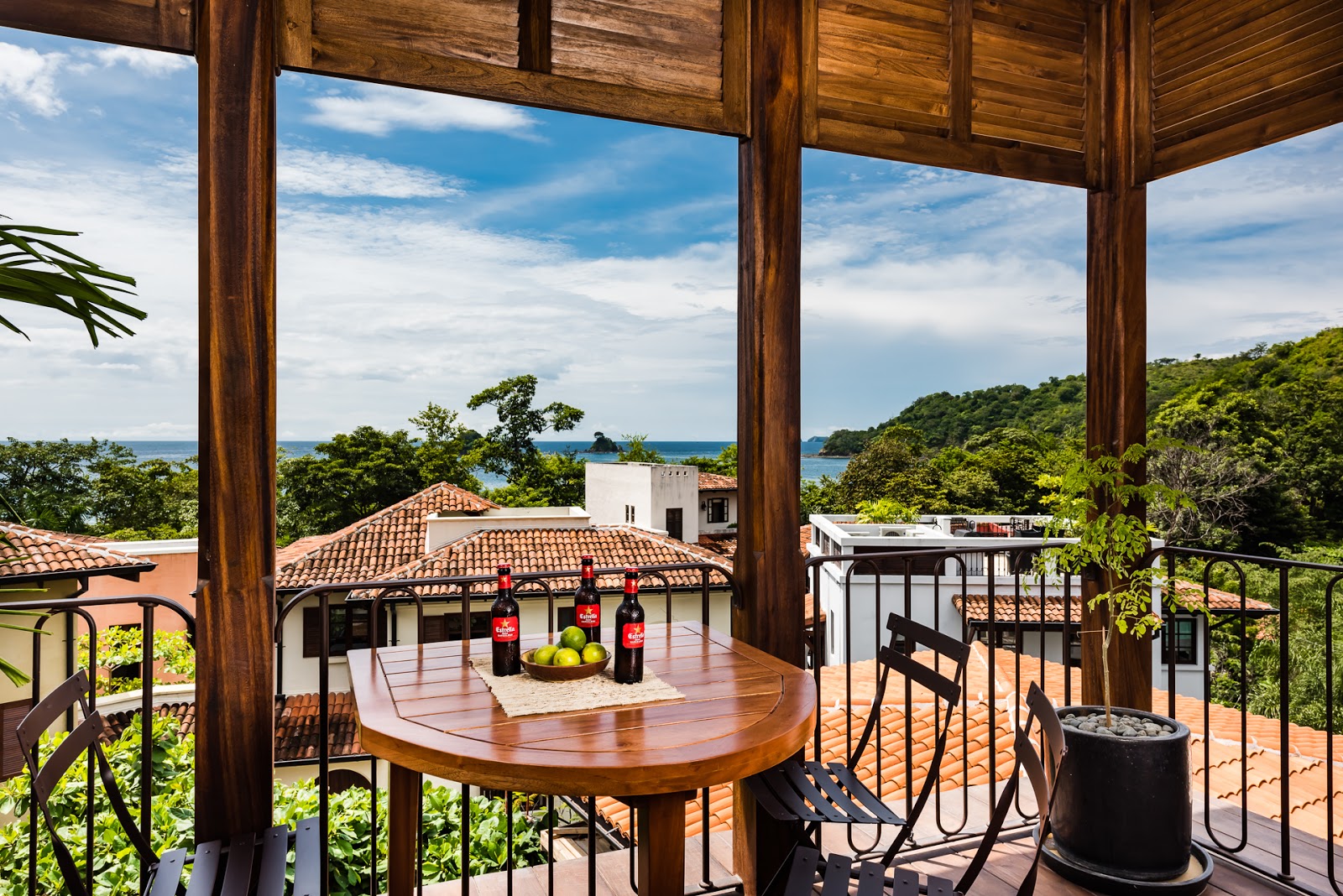 9 Calle La Ronda's ride-in/ride-out access on two separate floors puts living room to trail time at less than two minutes
Bike-up access on two floors and a two-minute bike ride to the trail head make Casa 9 Calle La Ronda the perfect ride-in/ride-out launching point for mountain biking on the more than 40 km of single track through 1000 acres of coastal tropical dry forest reserve in Las Catalinas. Inside, three floors offer separate private spaces to rest and relax as well as a central hub to prepare quality home cooked meals and come together between moments out and around.
For the week leading up to the triathlon, the trails at Las Catalinas come to life with riders out familiarizing themselves with the route and conditions, keeping skills and fitness at their peak, and sharing in the love of the sport. Casa 9 Calle La Ronda puts the trails at your doorstep, which makes training the week or weekend before a joy. No setup time, just open your door and ride, with a welcoming space to return to at the end of the day.
Casa Mar y Sol | For the Whole Team and Family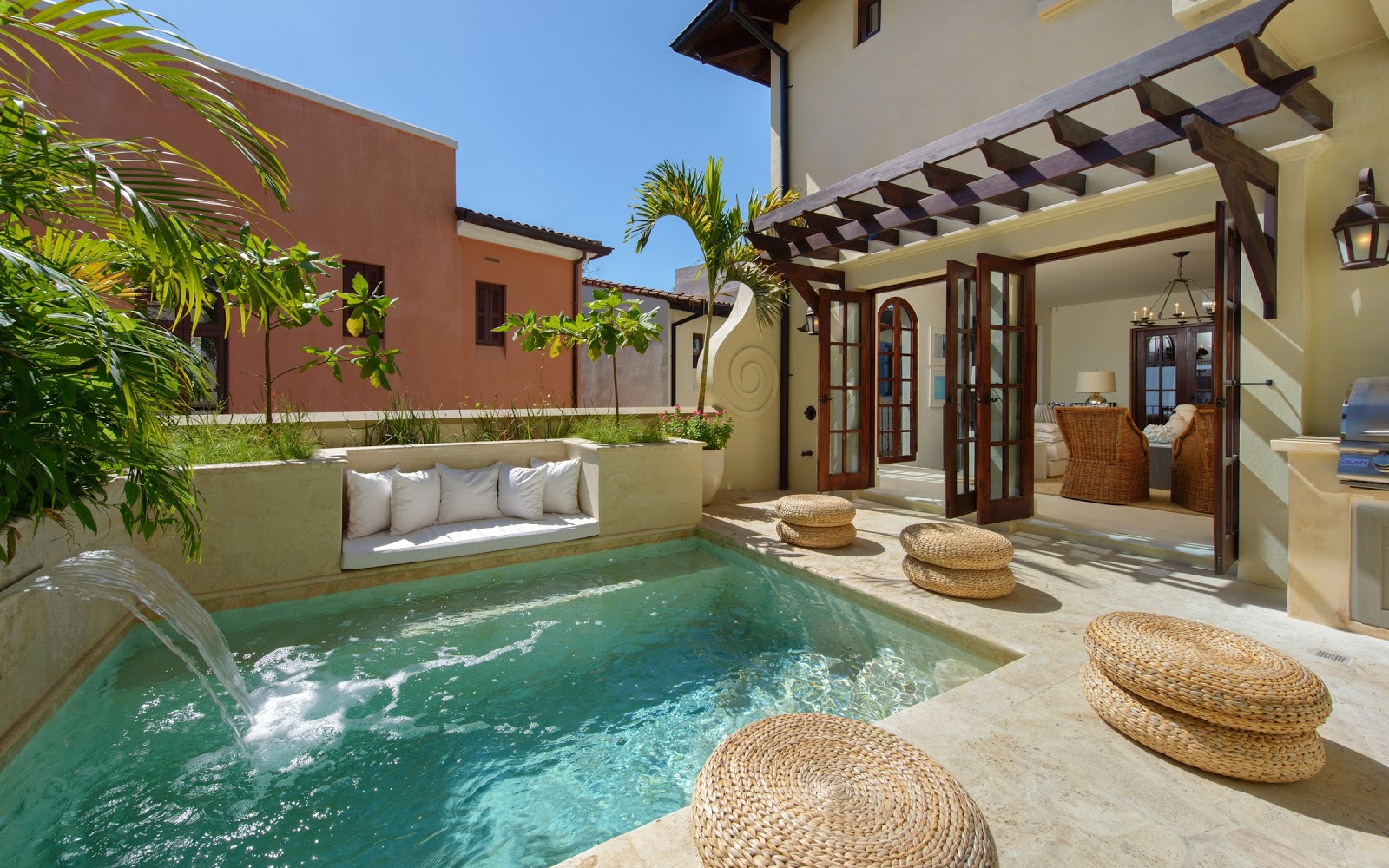 Casa Mar y Sol's wide array of living spaces and common areas makes it ideal for multiple athletes and their families traveling to the TRI together
A pool courtyard and cabana sit at the center of Casa Mar y Sol, where kids and adults can enjoy sun, shade, and water. Combined with a central location in town with easy access to beaches, trails, and activities, and a diversity of spaces ranging from expansive to intimate, this seven bedroom home naturally facilitates time together with the family.
During TRI weekend, Casa Mar y Sol is ideal for multiple families traveling together. Separate living sections mean each family has their own space, easy access to town and nature makes the trip a delight for non-athletes, and the home's large and varied social areas provide a platform for evening celebrations after the race.
Santarena Hotel | Wake Up on the Starting Line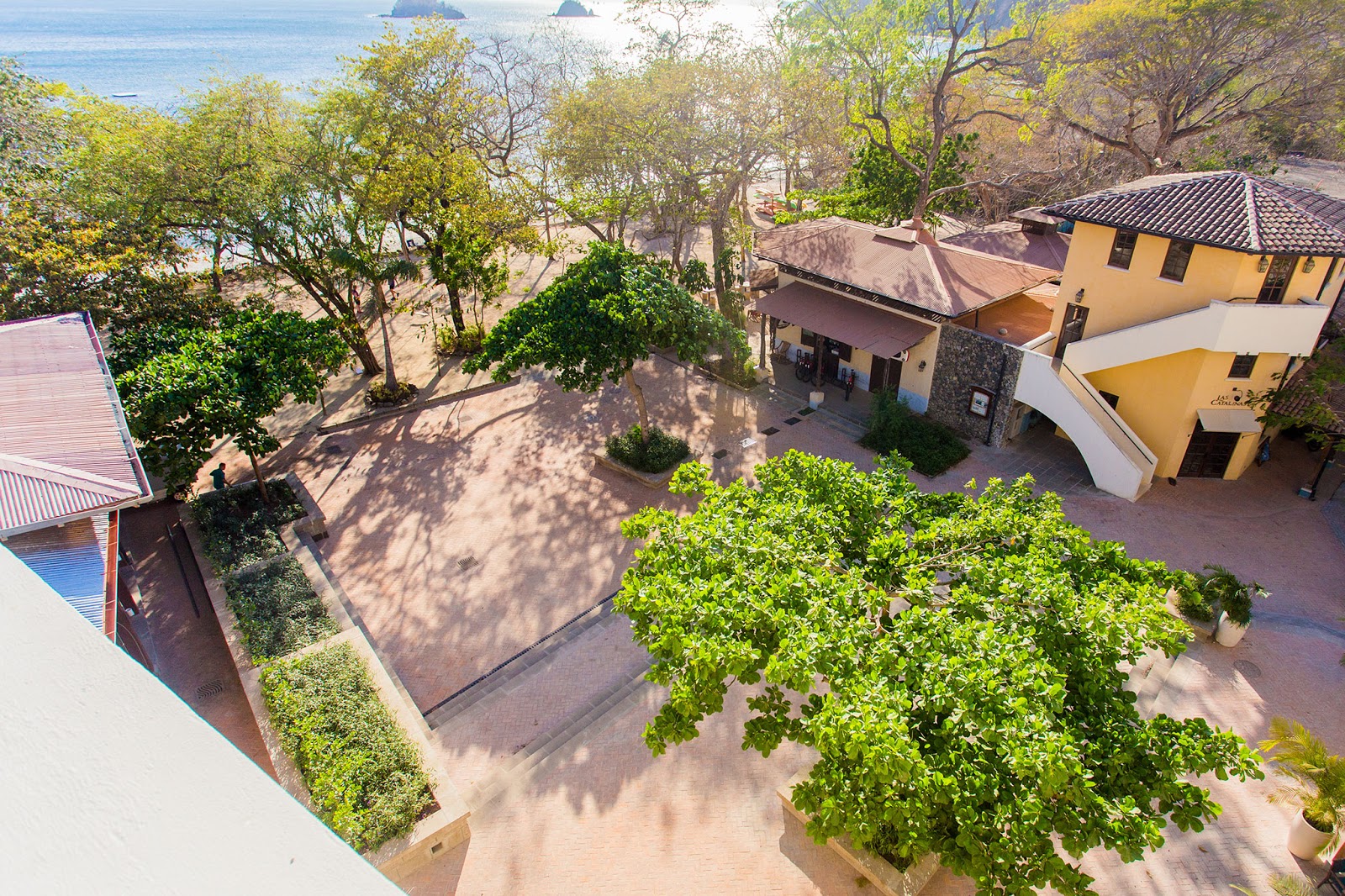 Santarena overlooks Plaza Danta, and the starting line of el TRI just past on Playa Danta
Santarena is an homage to the old mansions of the great coastal cities of Havana and Cartagena, a traditional gem perched just steps from the sands of Playa Danta which blends a casual elegance, a focus on people and their wellbeing, an adventurous spirit, and a love for nature.
It's an atmosphere that fits with el TRI in many ways, and thanks to its location overlooking el TRI's starting line on Playa Danta there's a sense of cohesion to the entire stay on TRI weekend. Restaurants, outdoor outfitter, and both ocean and trail are right nearby, and on the day of racers can simply step out from the front door ready to race.
Casa Maya | Team Dinners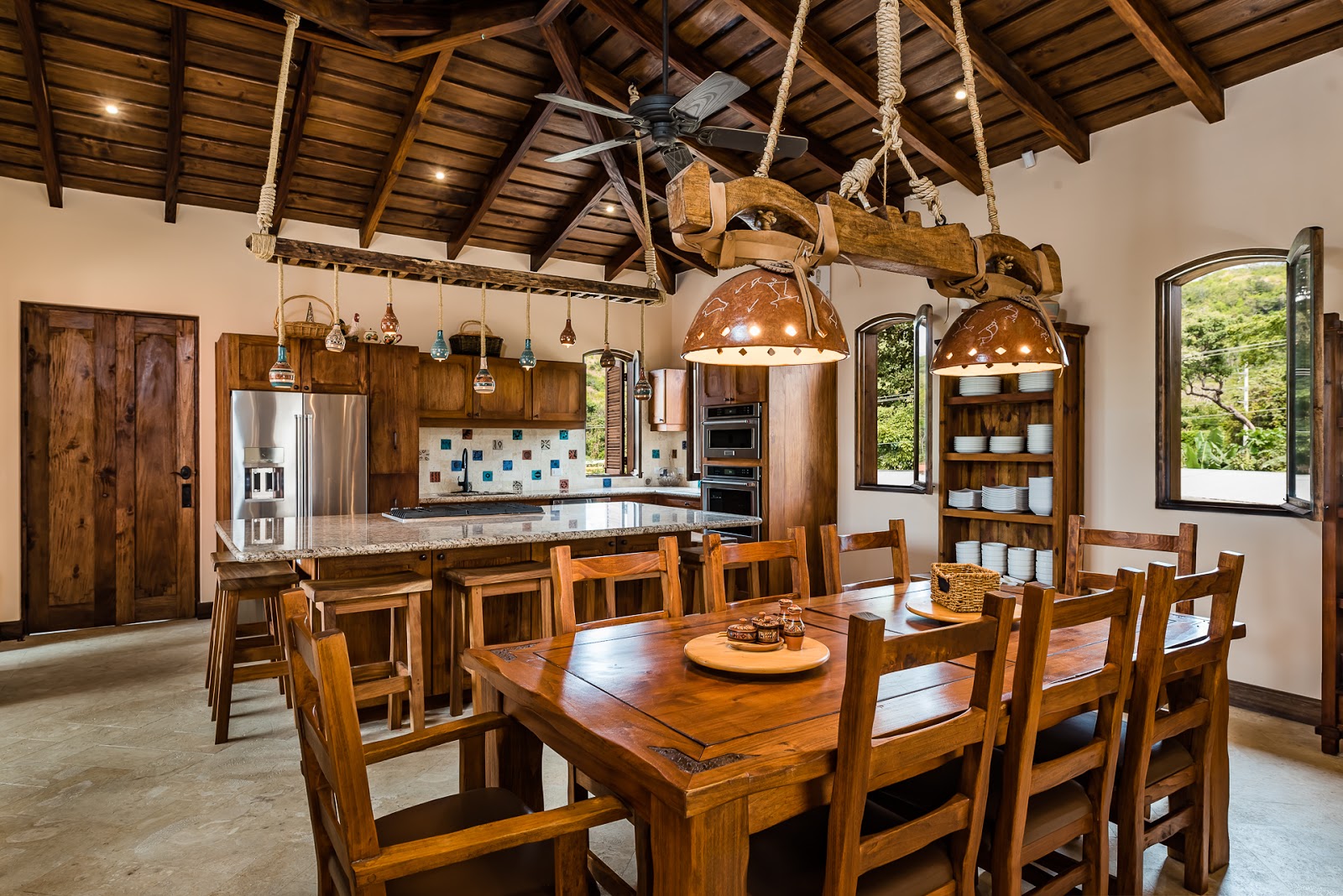 Casa Maya's in-home dining for up to 18 is ideal for hosting pre-race dinners to keep the whole team in peak condition
Casa Maya is a richly decorated five bedroom home just steps from the beach in Las Catalinas. Characterized by the civilization for which it is named, Casa Maya features textiles, hieroglyphics, and decor that embody and pay tribute to Mayan culture. Spacious and centrally located in town this home offers a place to connect with friends and family during time in town.
The large dining setup with room for 18 to dine at Casa Maya is well-suited to home cooked meals for the whole team. With groceries provided by Copper & Stone Gourmet Grocery that can accommodate a wide variety of dietary needs, and the option for in-home dining from town chefs, this home functions as a central base to gather in the nights before the TRI.
Casa del Alba | A Tranquil Spot for a Lively Week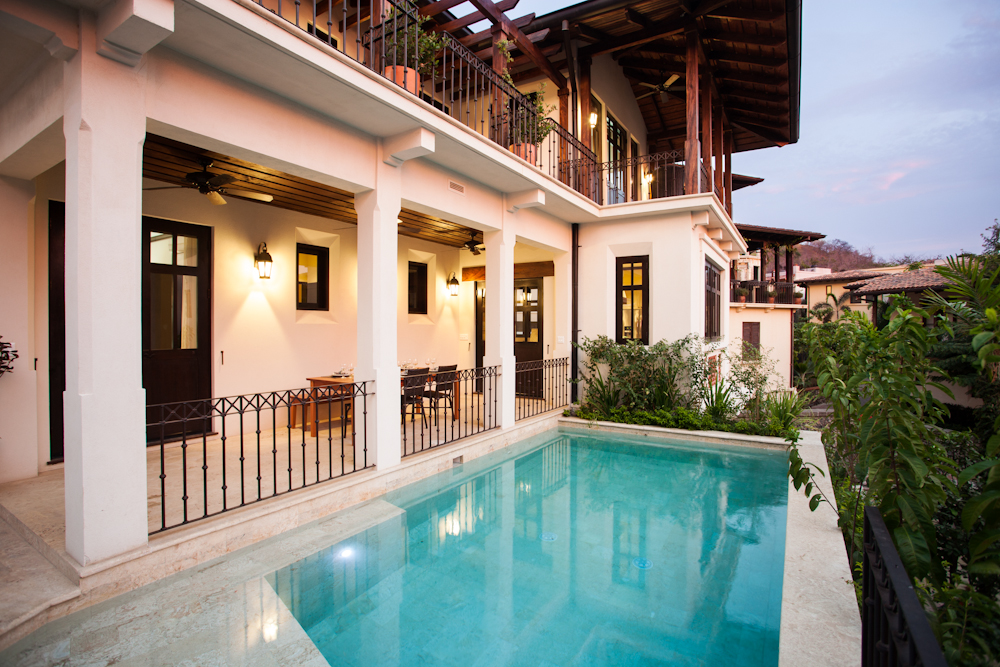 Casa del Alba's natural privacy and location just steps away from Plaza Escondida and Wake Day Spa make it a tranquil home base to stay rested and relaxed before el TRI
Casa del Alba is surrounded by peaceful pedestrian streets and plazas, and has a view from the pool over Plaza Escondida. A welcoming living area, two open air terraces, and the surrounding nature of town make Casa del Alba a peaceful home base surrounded by beauty, where it's easy to smoothly transition from home into the activity of town.
For TRI weekend, Casa del Alba provides a place to relax, settle in after a day of training or preparation, and relish time spent at home to recharge for the event. To recover even further, Wake Day Spa is just outside the front door, offering sports recovery massages and spa treatments to ensure that you're in peak condition come race day.
Cartagena Flats | Something for the Supporters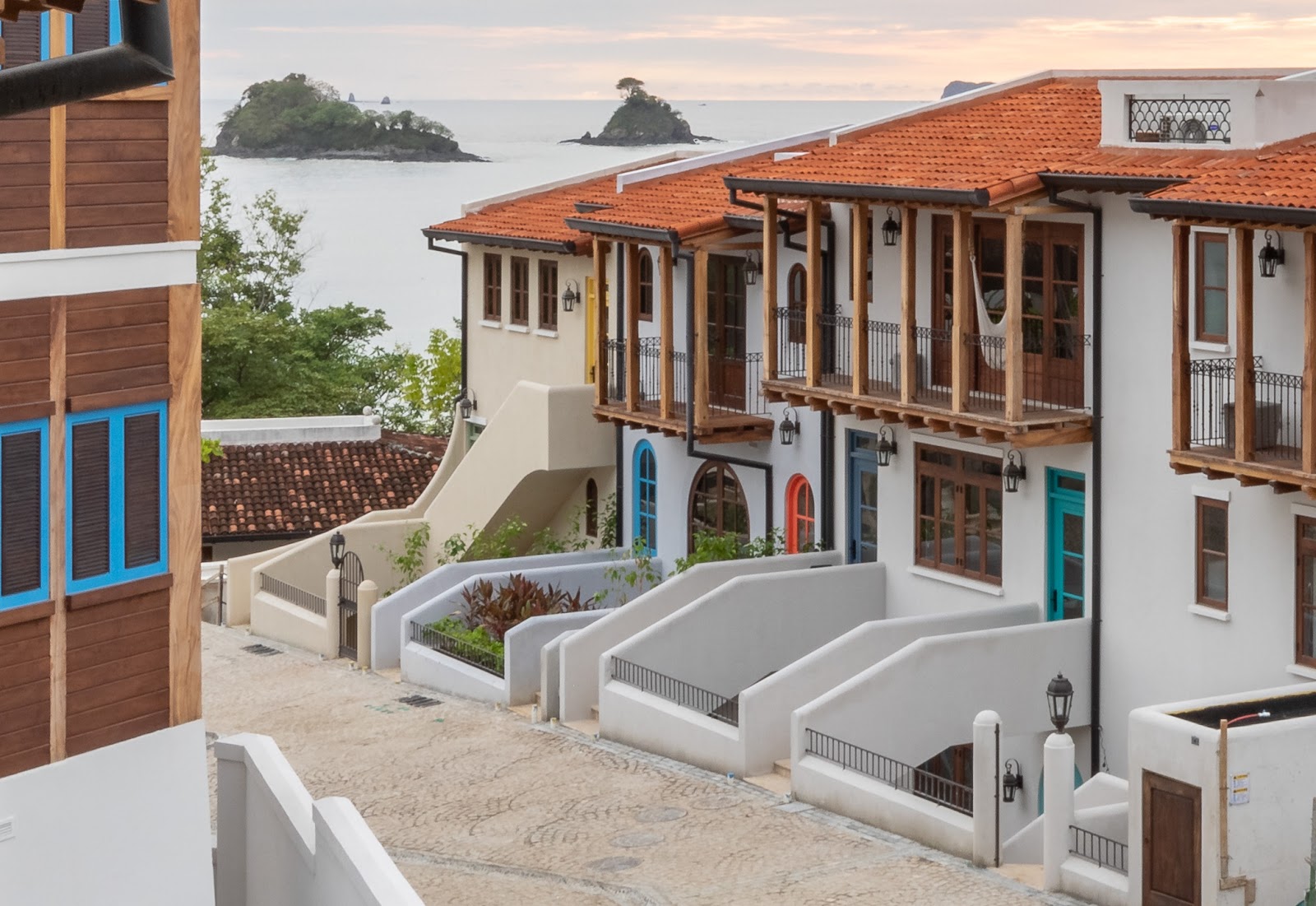 The Cartagena Flats' location just a few steps from the beach, the Las Catalinas Beach Club, and town's shops and restaurants makes them a jumping off point for family activities around town during the weekend
The Cartagena Flats are one and two bedroom flats just a few steps from the beach and the Beach Club, looking towards Calle Cartagena in one direction and the Monkey Corridor in the other. The homes make use of these views and outdoor space in a number of different ways, ranging from open-air grottoes to ocean view plunge pools to back terrace patio grills and more.
For the TRI, these flats serve as a platform for the whole family to enjoy the weekend. Pools, ocean, trails, shops, and restaurants are all nearby through a town of extraordinary beauty, ensuring that TRI weekend is a memorable trip for everyone.
Villa del Sol | A Fitting Finale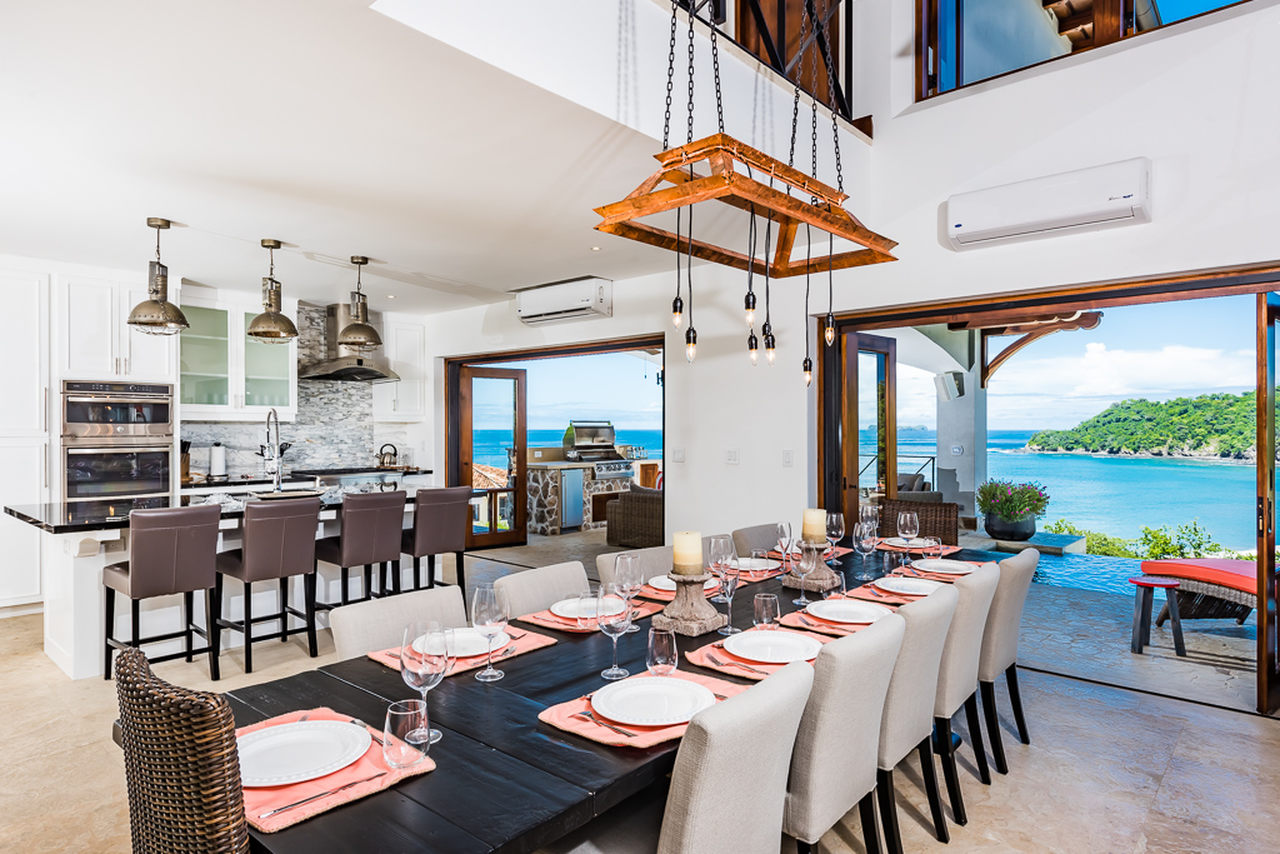 Villa del Sol's panoramic views, indoor-outdoor social space, and full cooking/grilling environment makes it a suitable location to host a post-race celebration
Villa del Sol looks out over the entire town of Las Catalinas, with panoramic views of trail, ocean water, and town. At the heart of the home is the indoor-outdoor social floor, which has a large infinity pool terrace, jacuzzi, a covered barbecue terrace, living room, and dining room, and the home also has sleeping for 12 in its four bedrooms. With this vibrant and diverse first floor space, Villa del Sol presents a home that is ideal to spend time with family and friends in town.
For the evening after the TRI, Villa del Sol is a perfect place to host a finale for the event. There is a cooking and grilling environment for a home cooked meal or in-home dining from a personal chef, the vibrant beauty of the home and the surrounding areas suits an atmosphere of occasion, and thanks to Villa del Sol's vantage point there are panoramic views covering nearly the entire TRI route, to celebrate the time, training, and teamwork that went into a race well done.
Stay in Town for the TRI
Both the Santarena Hotel and the homes and flats of the Las Catalinas Collection vacation rentals are offering special packages for the TRI, which you can find along with all of the information about the TRI here: