Las Catalinas is a walkable town where homes, nature, and experiences are all just a short ways away through a town of great beauty. For groups visiting town, this walkability and proximity offers the chance to combine multiple homes for diverse travel experiences throughout Town.
As Semana Santa (Easter Week) approaches, the following combinations of homes provide a glimpse of some of the many possibilities for groups traveling to Las Catalinas, ranging from creating a home base for a family trip, setting out for sports and the outdoors, exploring Guanacaste's culinary landscape, pursuing a wellbeing retreat, immersing in the dry forest, national parks, and conservation projects around Las Catalinas, doing outreach in the area, and more.
Casa Brewer and StuCasa | Combining Homes for a Family Trip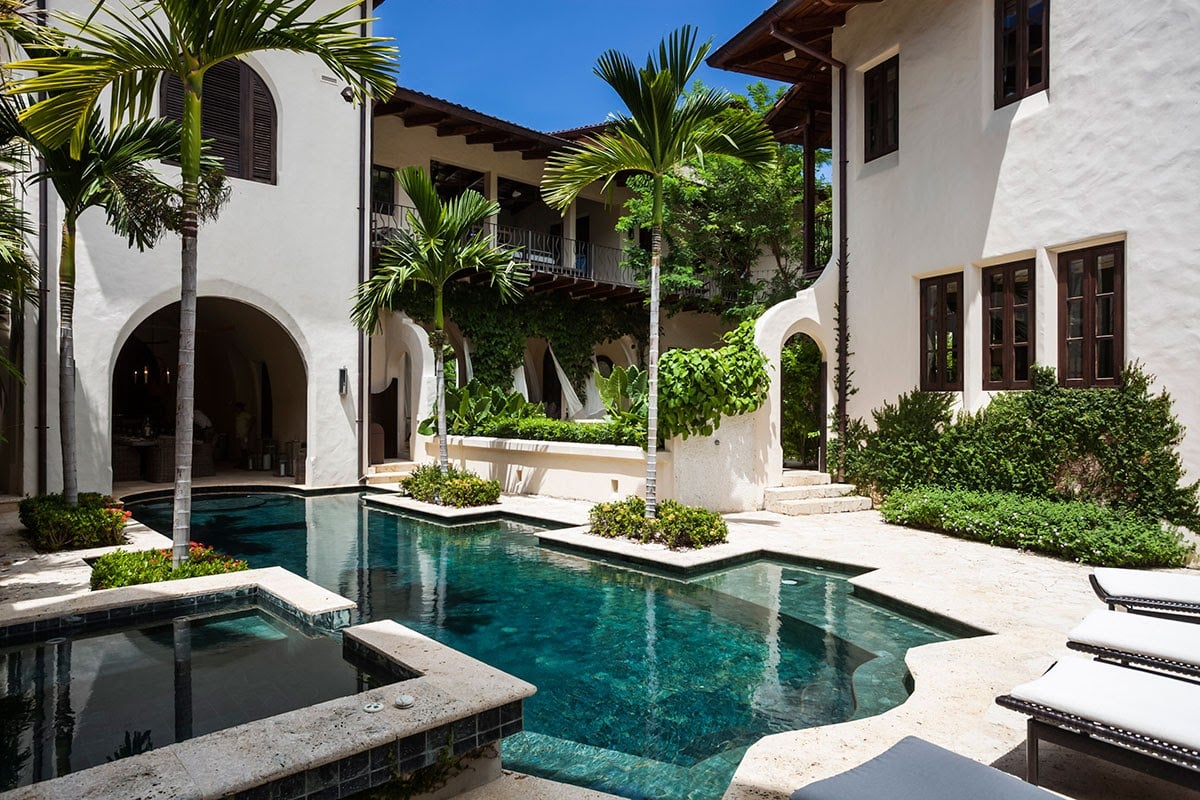 Casa Brewer, a six-bedroom home on Paseo del Mar
Located steps from Playa Danta on Paseo del Mar, Casa Brewer, 19 Paseo del Mar and StuCasa, 21 Paseo del Mar are both six-bedroom homes that combine to create a joint home ideal for a big family vacation. Connected by a garden door, the pool areas of both homes combine into an open-air oasis with three pools for teens and kids, dining for 20+, and lounge areas where an entire extended family can intermingle over sunset cocktails or a private chef dinner, all handled for you by chef and culinary teams.
Las Catalinas is a versatile vacation destination with activities on land, at sea, and throughout town, where the whole family can seamlessly pursue different interests throughout the day while only a short walk away from each other and from home. With two guest houses, bunk rooms for younger kids, multiple master suites, and two separate spaces for hosting, the combination of StuCasa and Casa Brewer form a home base around which these activities can center.
Sleeping Arrangements: 12 Bedrooms, 2 Guest Houses, and Capacity for 24
Features: Two Pools, Joining Door, Outdoor Dining for 20+, Multiple Gathering Spaces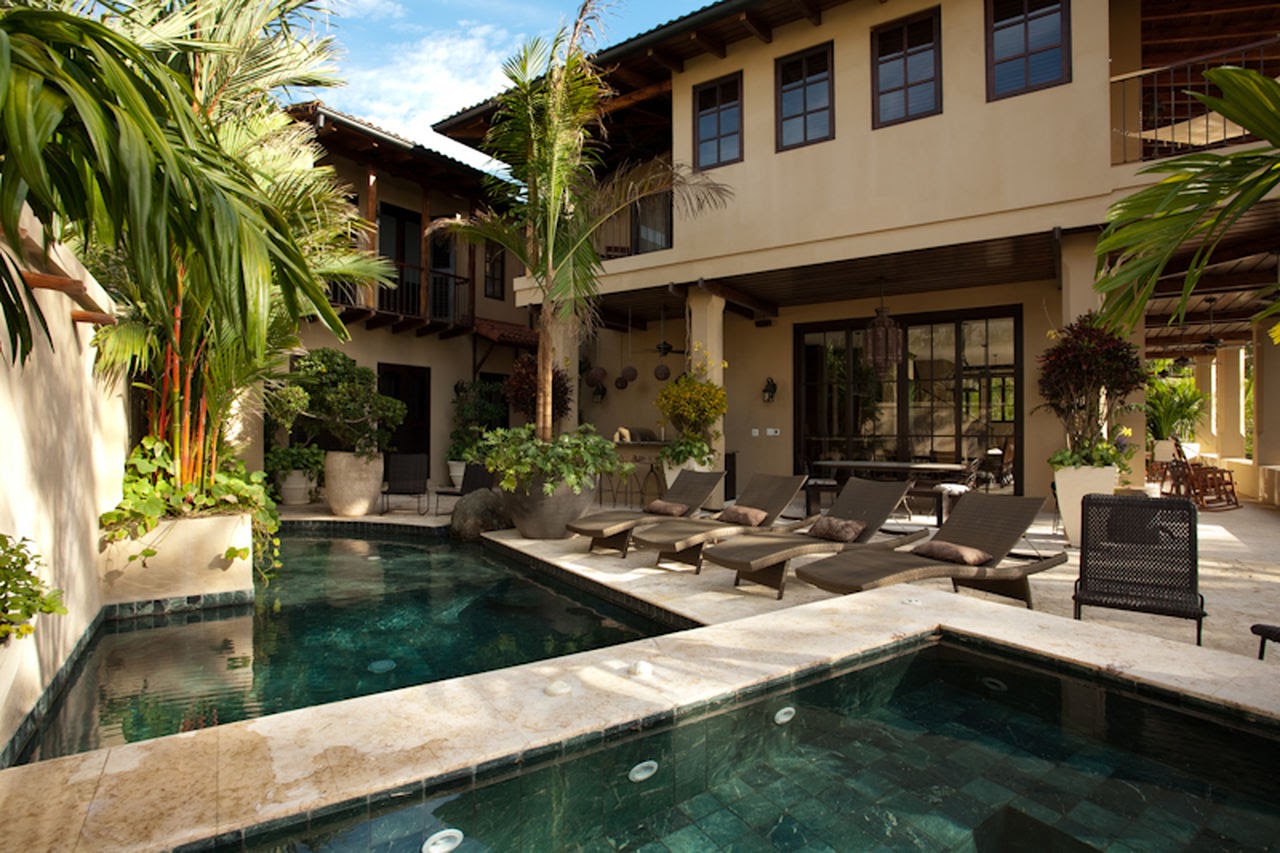 StuCasa, a six bedroom home on Paseo del Mar
Casa Acuarela and Casa Piper | Sports and the Outdoors for Active Vacations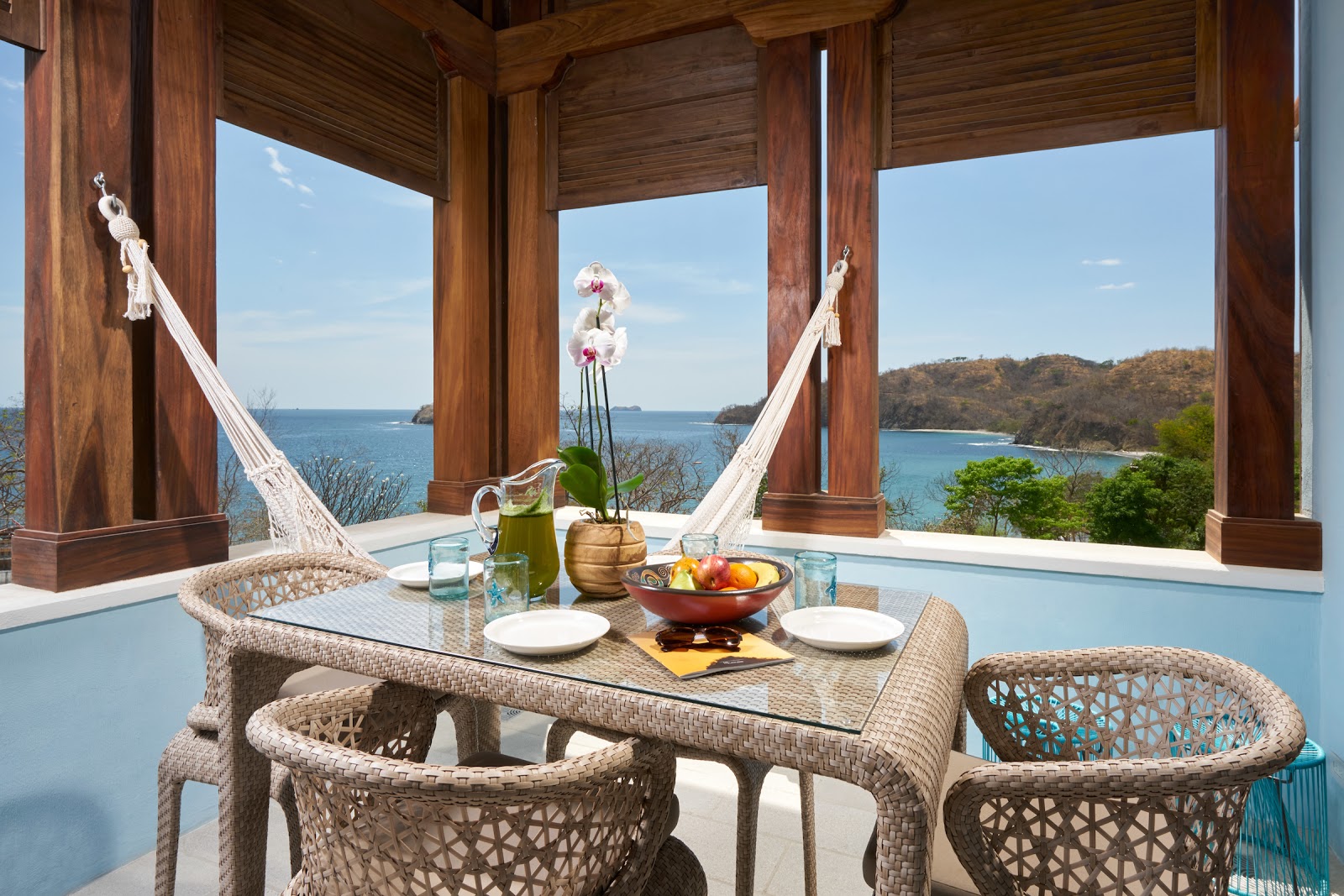 The ocean view from Casa Piper's covered dining terrace
Las Catalinas is nestled between two beautiful beaches and 1000 acres of restored tropical dry forest, providing access to sports and the outdoors at a moment's notice. Paddleboarding, kayaking and snorkeling, surfing, and scuba diving are all available from ConnectOcean Aquatic Academy and Dive Center as well as Pura Vida Ride Outdoor Outfitter. Pura Vida Ride also provides mountain bike rentals to explore over 50km of multi-use single track trails through a thriving nature reserve, for a blend of terrestrial and aquatic activities that is second to none.
On either side of Plaza Celaje, Casa Piper, 15 Calle Cartagena and Casa Acuarela, 17 Calle Cartagena offer the perfect joint launching pad to Town's many outdoor activities, with ride-up access to the trails, the beachfront just a minute's walk away, and both Wake Day Spa and the Las Catalinas Beach Club just across the plaza. These homes also serve as a gathering point throughout the day, suited to offer restful spaces to recover, full kitchens to organize outdoor dinners in Plaza Celaje, and Casa Acuarela's media room and den for interludes between outings.
Sleeping Arrangements: 8 Bedrooms, Sleeping for 21, two bunk rooms
Features: Media Room and Den, Indoor-Outdoor Dining, Shared Public Plaza, Immediate Access to Beaches and Trails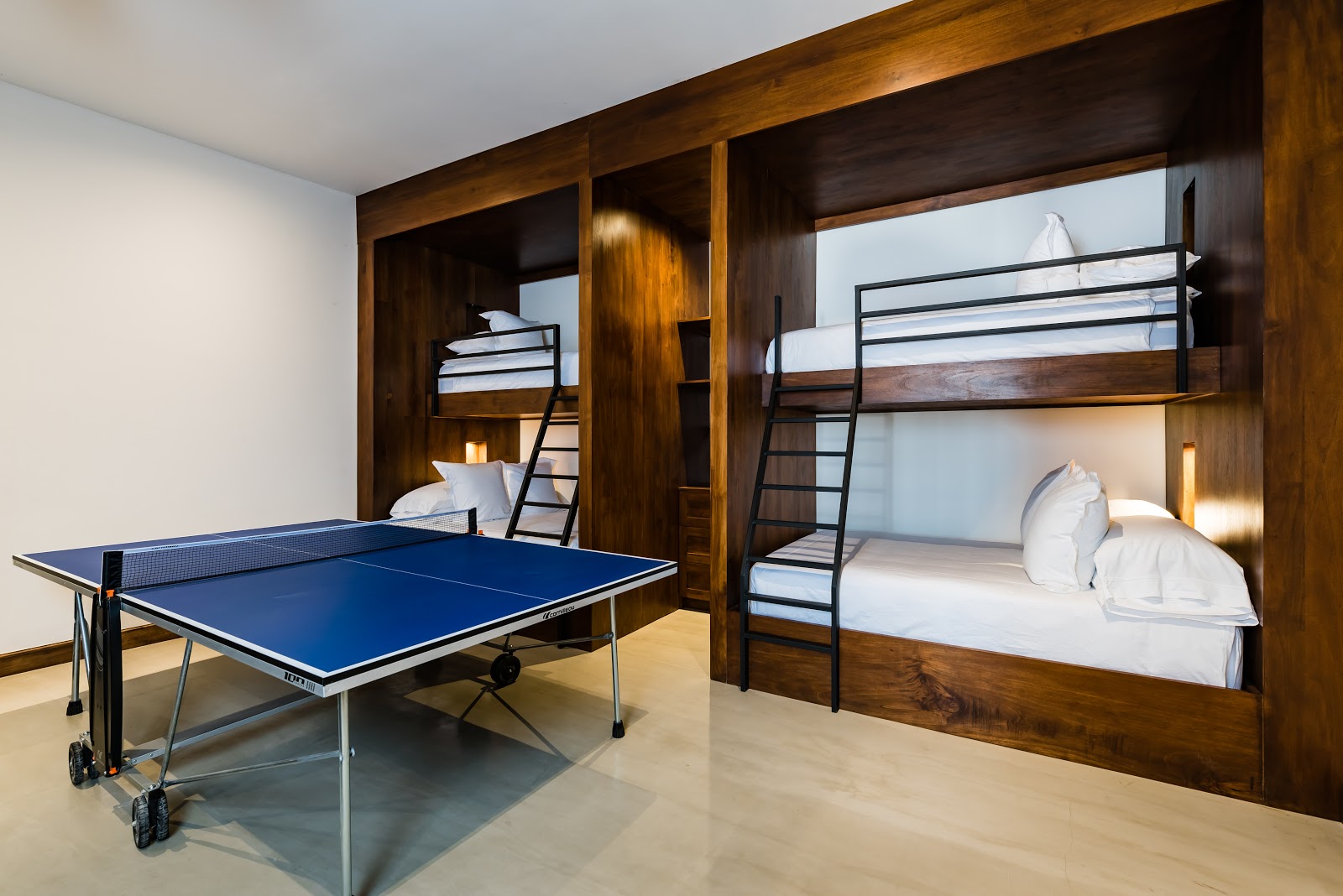 Casa Acuarela's Den/Media/Bunk Room
Castillo del Mar and Casa Blanca | Exploring the Culinary Landscape of Guanacaste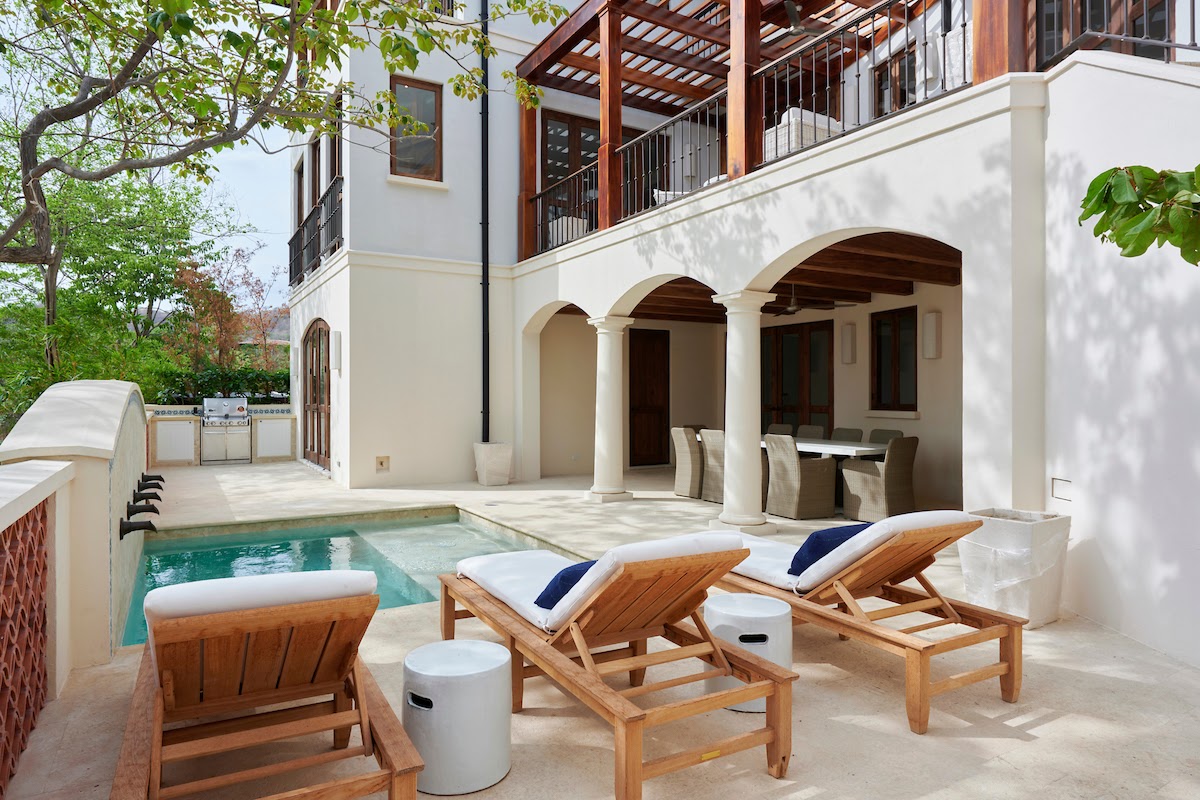 Castillo del Mar's Beachfront Terrace
The coast of Guanacaste has become a hub for Costa Rica's thriving culinary scene, thanks in part to its diverse terrain which features a collection of ingredients sourced from mountain, farm, and sea. In Las Catalinas, these ingredients come to life at restaurants like Sentido Norte and Ponciana, casual options like Cuatro Calle la Ronda and Limonada, and events like Guanacaste Nights and in-home dining.
Surrounded by the rich local ingredients of Guanacaste and the culinary offerings in town, Castillo del Mar, 18 Calle Cartagena, and Casa Blanca, 19 Calle Cartagena provide a place for trips based on cooking and cuisine. Steps from the beach, with four dining tables, two full kitchens, two outdoor grills, two pools, plentiful common areas, and gourmet groceries available nearby these two elegant homes are fully equipped both to cook for yourselves or simply enjoy the food of the region with local chefs. Add in the many culinary experiences available to have around town and beyond, like forage-to-table meals, artisan fishing source-to-table, and wine tastings, and these oceanfront homes offer the perfect platform for a chef retreat or a foodie's excursion.
Sleeping Arrangements: 10 Bedrooms, Space for 22 persons
Features: Two 10+ Person Dining Rooms, Two Full Kitchens, Beachfront Access, Two Pools, Gourmet Grocery Steps Away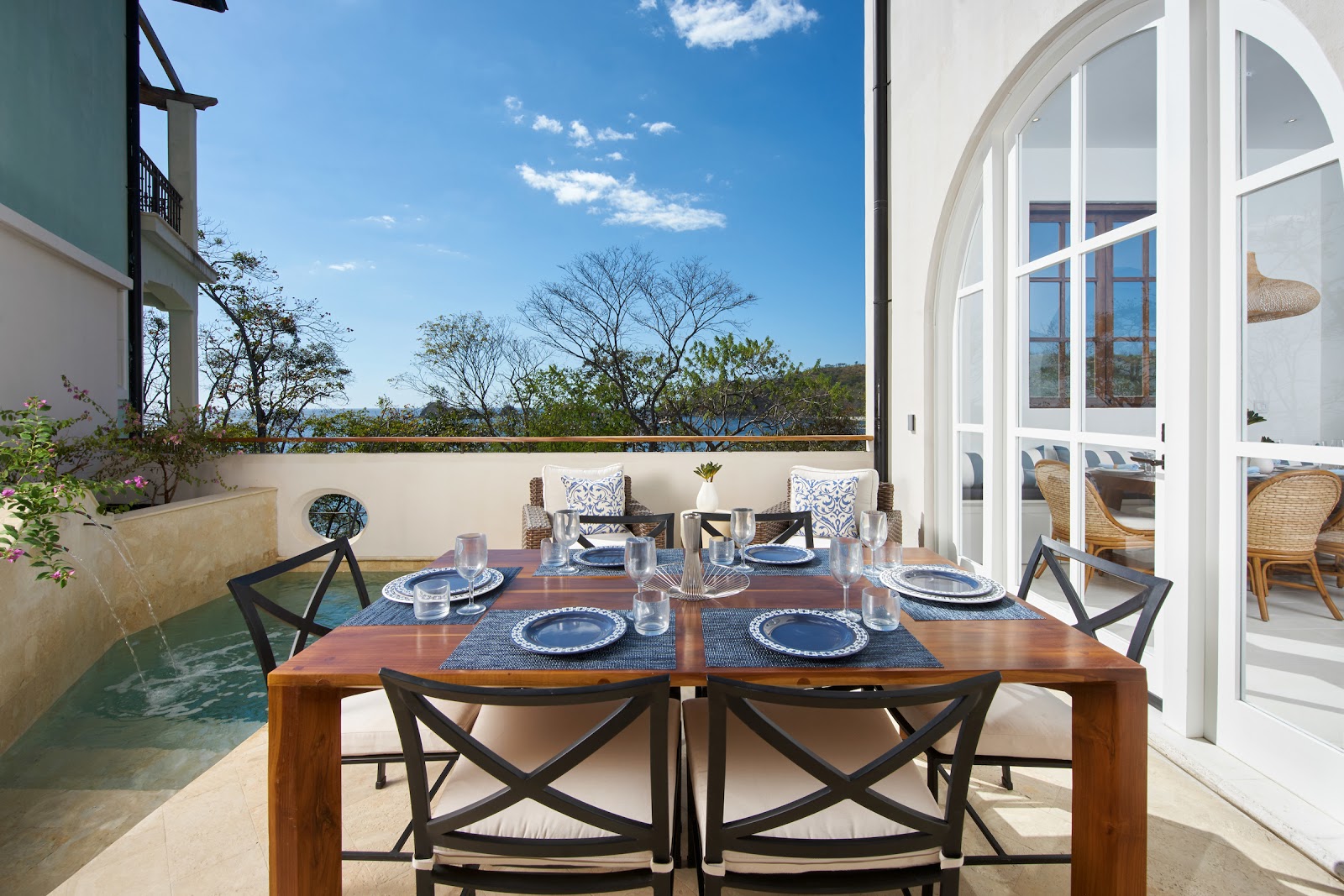 Casa Blanca's Second Floor Dining Terrace
Villa del Sol and Casa Colina | Hillside Wellbeing Retreats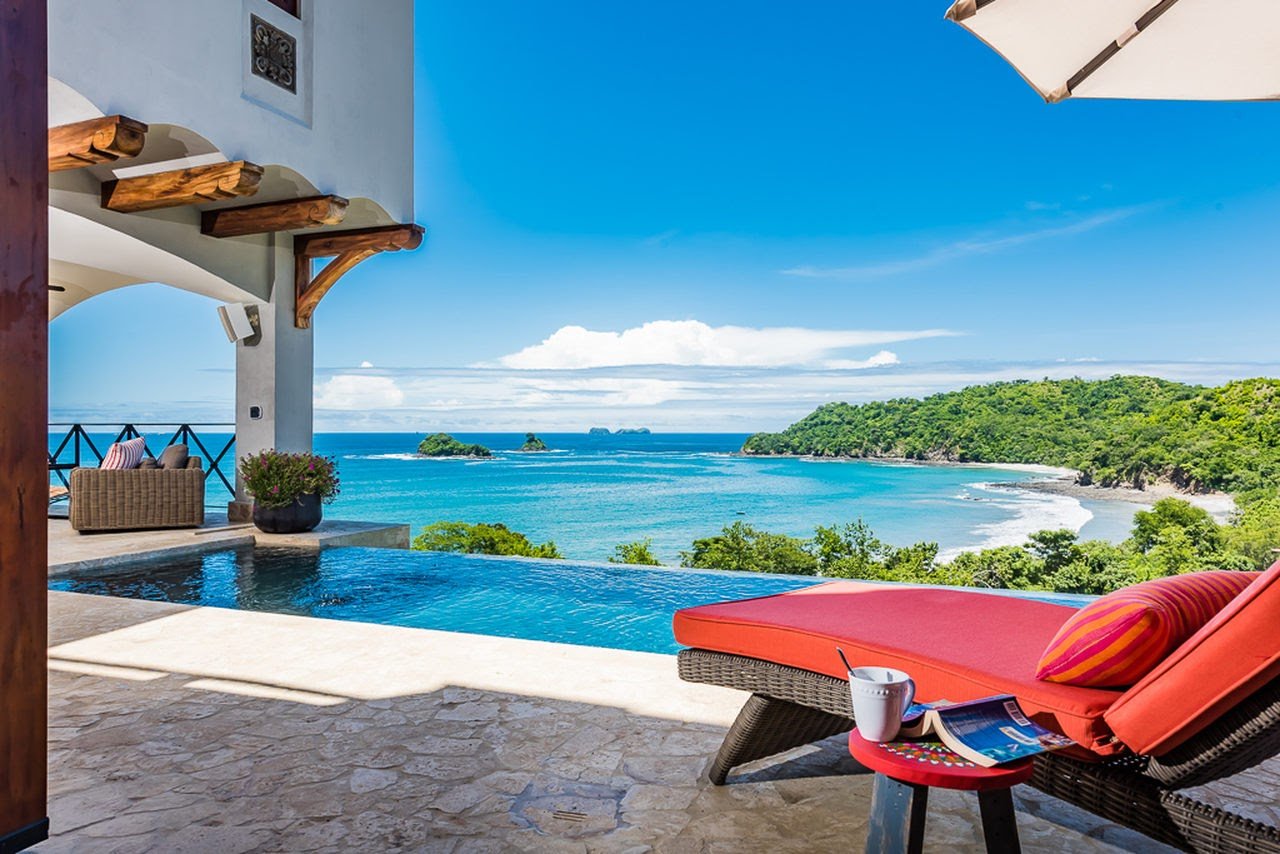 The view from Villa del Sol
Costa Rica has become an international wellbeing destination, with visitors drawn to the country by its beauty and natural way of life that is healthier for both the body and the mind. Las Catalinas takes this vision a step further, as a walkable, car-free beach town built for people and their wellbeing. In town, the access, services, and close sense of community of a dense neighborhood combines with natural and manmade beauty on the coast of Guanacaste, offering a simpler, more grounded way of life in which to pursue many different forms of practice and wellbeing, like hiking and trekking, breathing exercises and meditation, barre, yoga, and more.
Perched on the hillside of Punta Penca, Villa del Sol, 02 Punta Penca and Casa Colina, 10 Punta Penca are both homes that embrace the beauty and connection to the outdoors upon which Costa Rica's culture of wellbeing has been founded. Both homes have a slightly heightened feel of privacy due to their elevation and the extra space between homes on Punta Penca, both homes emphasize panoramic views of town and the coast on their infinity pool terraces and throughout indoor living areas, an throughout both homes an emphasis on indoor-outdoor living provides both modern comfort and a connection to nature.
For wellbeing travel in Las Catalinas, these homes feel like true retreats, personal but never feeling separated. The poolside terraces in both homes can host sessions like meditation, yoga, breathing, and other practice in the open air surrounded by panoramic views of town and nature, and common areas double as gathering places for discussions and occasions after retreat days.
Sleeping Arrangements: 9 Bedrooms, Space for 24 persons
Features: Two Infinity Pool Terraces with Panoramic Views, Large Living/Dining Areas for Meetings and Talks, Views throughout each home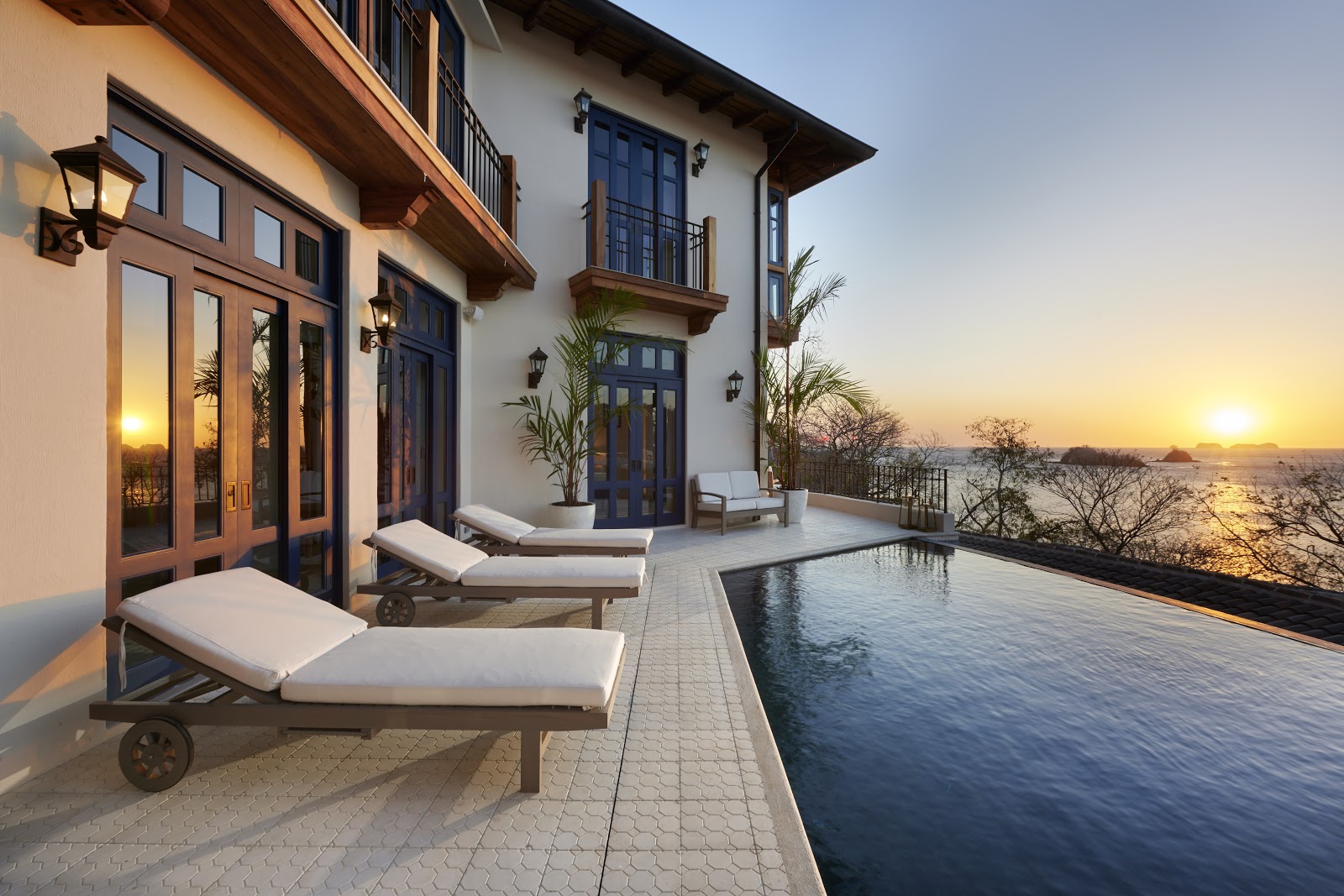 Sunset at Casa Colina
Casa Sonrisa and Casa Cielo | Immersion in Nature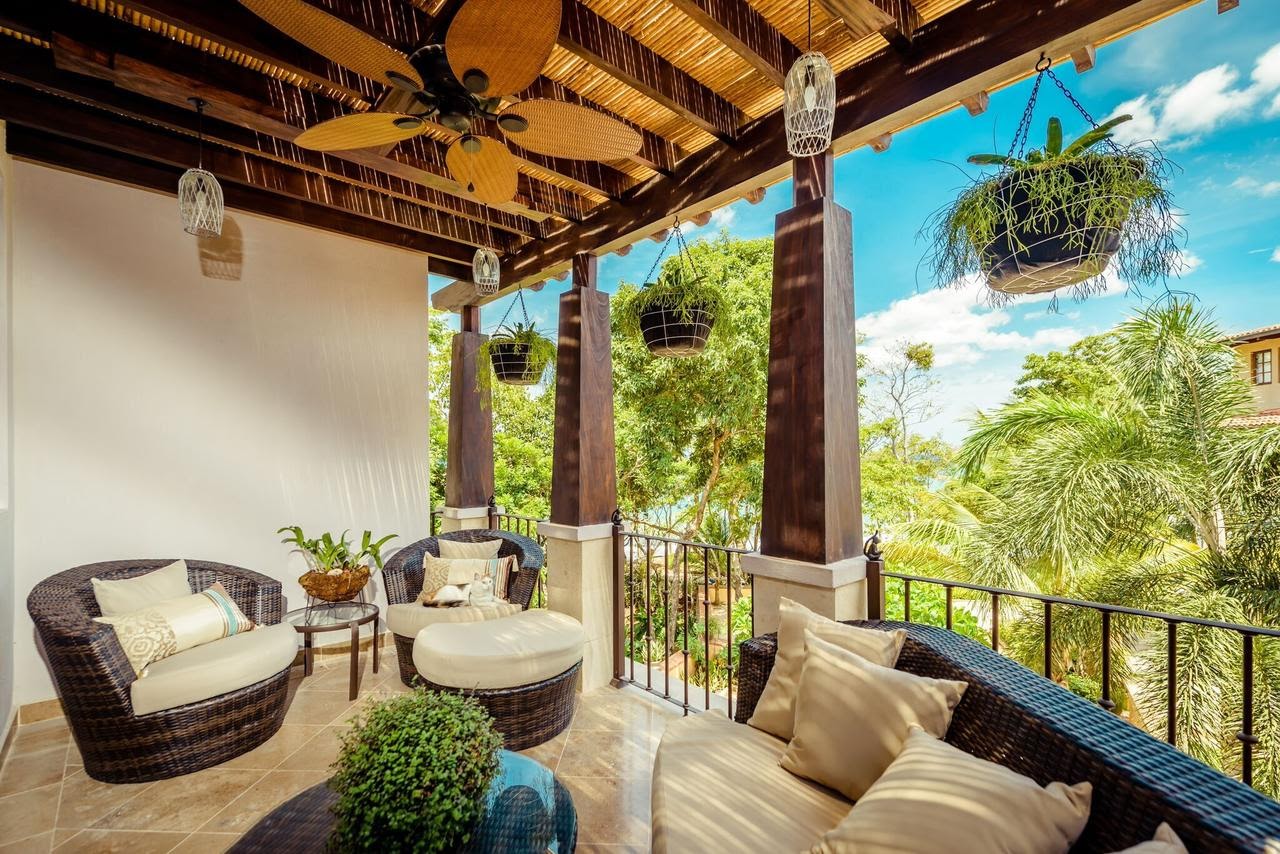 Casa Sonrisa's terrace
Costa Rica is one of the most biologically intense countries on the planet, hosting more than 6% of the world's biodiversity on less than half a percent of its landmass, with dozens of unique habitats and over 300 distinct microclimates. Costa Rica is also one of the foremost leaders in the world in the restoration and protection of nature, with more than a quarter of its land area designated as national parks and protected areas, and a growing portion of its much larger aquatic territory.
Guanacaste in particular has been one of the hubs at the leading edge of Costa Rican conservation, due to partnerships between national wildlife organizations and independent conservation groups. For example, the work done by the Guanacaste Dry Forest Conservation Fund (GDFCF) in the Area de Conservación Guanacaste (ACG) has been a leading model for independent nature preservation, involving the community in conservation, and the promotion of ecoliteracy, and has been a precursor to projects like the dry forest restoration project in Las Catalinas as well as ConnectOcean.
Casa Cielo, 23 Paseo del Mar and Casa Sonrisa, 27 Paseo del Mar both present homes immersed in the nature around Las Catalinas, from which to explore the vibrant natural world of Guanacaste and the conservation projects ongoing in the region. In both homes, a strong emphasis on indoor-outdoor living provides a constant connection to the vibrant nature just steps away, inviting the sound of the waves and the sounds of the beachfront into the home. Interior designs of both homes evoke the beauty of the natural world, through Casa Sonrisa's art and detail work and both homes' prominent foliage throughout. Whether exploring the dry forest reserve, documenting manta rays and wildlife with ConnectOcean, or venturing out to the national parks and projects in the area, these two homes offer a consistent experience surrounded by nature.
Sleeping Arrangements: 7 Bedrooms, Space for 14 persons
Features: Emphasis on Indoor-Outdoor Living and Connection to Nature, Walk-Up Access to the Beach and the Trails, Proximity to Beach Club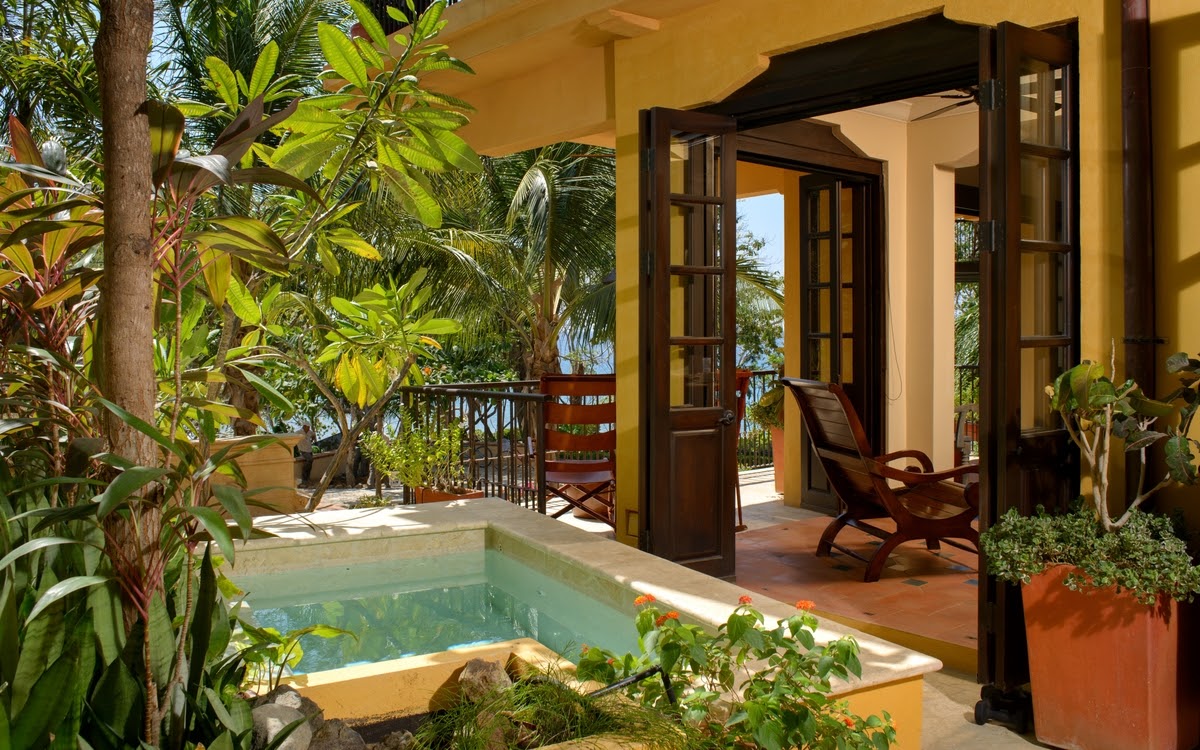 Indoor-outdoor living at Casa Cielo
Posada San Rafael and Casa Naranja | Embracing Outreach
Posada San Rafael's design emphasizes art and artifacts from around Central America
For centuries, posadas have been gathering places for travelers, providing both a glimpse into the local history and way of life as well as the possibility for exchange of culture and experiences.
Posada San Rafael, 25 Calle Cartagena embraces this dual nature of traditional posadas through the coming together of four suites, each with their own patron saint and unique collection of Central American art and artifacts, with communal spaces at center and on the rooftop to meet with others while traveling in Las Catalinas. Just next door, Casa Naranja, 23 Calle Cartagena extends this spirit of gathering places with its open-concept first floor and pool terrace, providing an expanded living space for social occasions and bringing the total bedrooms for both homes to ten.
Immersed in history and brought together with fellow travelers, Casa Naranja and Posada San Rafael serve as an ideal platform to come together and participate in local outreach, through organizations like Abriendo Mentes and CEPIA. Both Abriendo Mentes and CEPIA provide the chance to work directly with students and families through activities like tutoring english, teaching classes and arts, helping contribute to projects in the area, and even community art and field days. Both groups recognize the exchange of perspectives, skills, and cultures found during outreach travel, and travelers are welcome to come up with their own ideas of how to contribute.
The possibility of involvement in other projects for the better of the community, like the many partners of the Guanacaste Fund, means that provides a platform upon which to make a tangible impact during your time in Guanacaste.
Sleeping Arrangements: 10 Bedrooms, Space for 22 persons
Features: Rich History and Artwork in Posada San Rafael, Two Rooftop Terraces, an Open-Concept First Floor with Large Pool, Smaller Gathering Spaces, Privacy of Individual Suites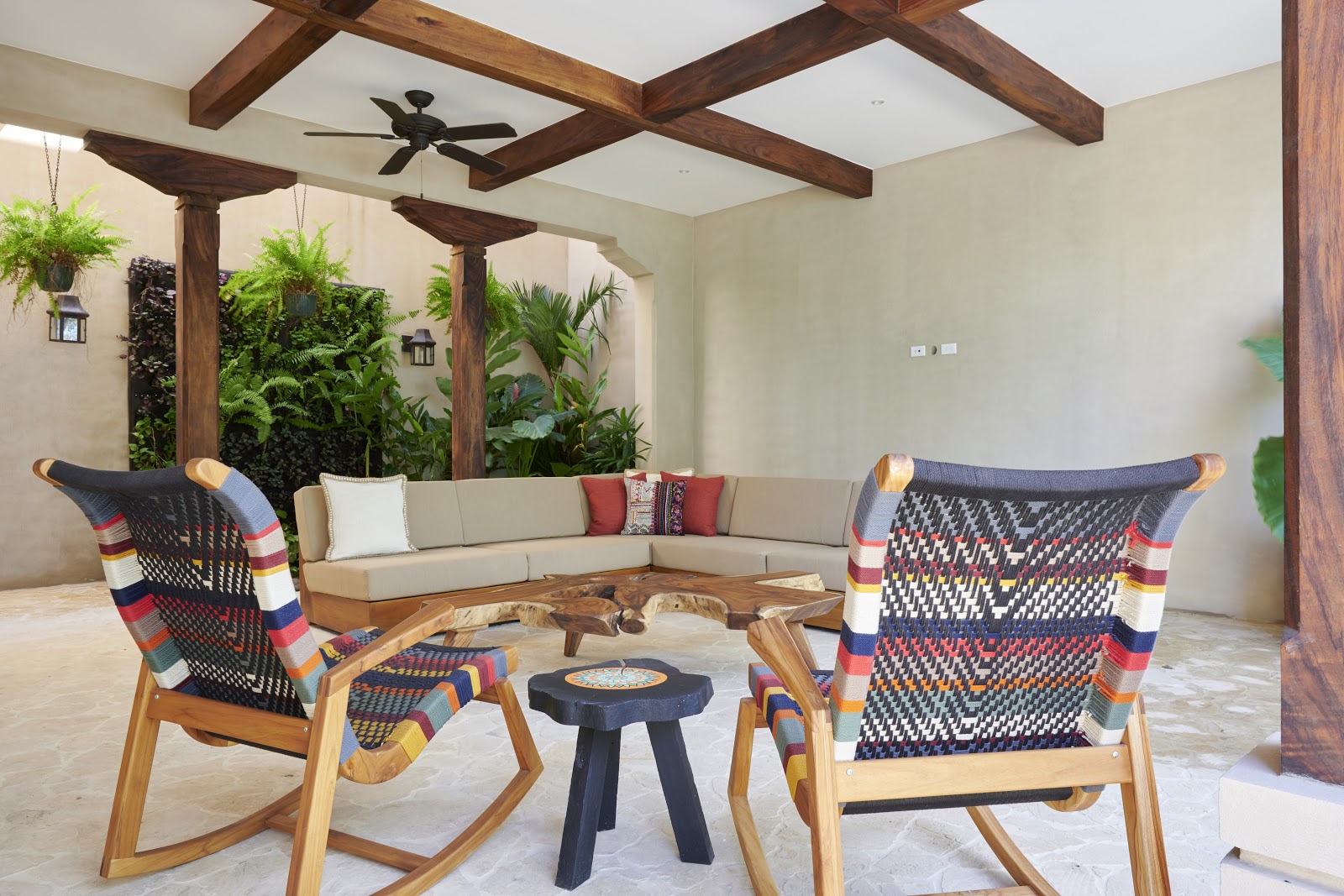 Casa Naranja's outdoor terrace
Travel with Your Group to Las Catalinas
These combinations of homes each offer a glimpse into some of the many different experiences possible in Las Catalinas. Focusing on cuisine, spending time in sports and the outdoors, performing social outreach, exploring nature, pursuing wellbeing, and vacationing with friends and family are just a few examples of what's possible in town. For these trips, and many more, there's a home or group of homes available, as well as the Santarena Hotel.
As Semana Santa approaches, one of the liveliest times of year in Costa Rica, you can book any homes, flats, and hotel rooms directly through the Las Catalinas Collection vacation rentals page and the Santarena Hotel website, or by emailing the reservations team. If you're looking to elevate your group's travel experience with itinerary planning and dedicated support, reach out to town's group travel liaison.